Coming Next: A Senate Deal On Immigration
The Senate looks like it's about ready to take up a bipartisan immigration reform package.
\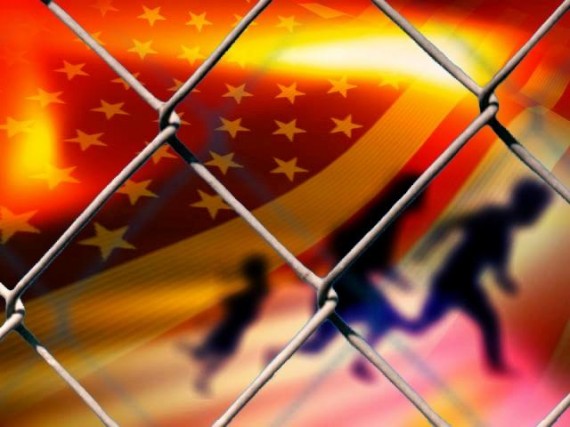 There has been an uncharacteristic amount of action going on in Congress this year. In addition to moving forward on a Gun Control bill that includes a bipartisan compromise deal on background checks, it looks like there's been significant movement on the immigration front as well:
The Senate's immigration Gang of Eight plans to announce a deal within a week but a committee markup is not expected until at least the week of May 6, providing a long period for debate and changes, Senate aides said Tuesday.

Aides said the legislative proposal could be released as soon as Thursday, but is more likely to be ready early next week. The schedule outlined by the aides is meant to satisfy Sen. Marco Rubio (R-Fla.), who has said repeatedly that he wants a full debate and amendment process, to maximize the chances that the final vote is an overwhelming majority.

A Senate aide told POLITICO: "The senators had a good discussion with [Judiciary Committee] Chairman [Patrick] Leahy this afternoon. We are optimistic that we will be able to introduce legislation soon. Chairman Leahy has agreed to hold a hearing as soon as possible after the legislation is introduced, and has promised to have unlimited debate and amendments during the committee markup.

"Assuming Republican members push for as much time as possible, the committee debate will last through the next recess, giving plenty of time for public debate and review," the aide added.
The Wall Street Journal has some of the details:
Immigrants in the U.S. illegally would not gain green cards under a bipartisan Senate bill until law-enforcement officials are monitoring the entire southern border and stopping 90% of people crossing illegally in certain areas, according to people familiar with the plan.

The border-security proposal, part of a broader immigration bill being written by eight senators, sets several goals that would have to be met before any of the estimated 11 million immigrants in the U.S. illegally could apply for permanent legal residency, also known as a green card, according to the people familiar with the Senate talks. Meeting all the goals is expected to take 10 years.

In a major change for businesses, all employers would be required after a five-year phase-in period to use the government's E-Verify system, which screens for illegal workers. E-Verify now is largely voluntary, though some states require it. Some 409,000 employers had enrolled in the program as of last year, the federal government says, a tiny fraction of the estimated six million private U.S. employers, many of which have only a handful of employees.

Along the U.S.-Mexican border, 100% of the border would have to be under surveillance, and law enforcement would have to catch 90% of those who cross the border illegally at "high risk" sections—a term that people following the Senate talks did not define. In 2010, the Department of Homeland Security reported that only 44% of the border was under operational control, meaning officials had the ability to detect and block illegal activity there.

In addition, the government would have to create an electronic system to monitor everyone who exits from the U.S. through airports or seaports, in an attempt to identify people overstaying their visas. People who overstay visas account for a large share of illegal immigrants, as much as 40% by some estimates.

Once all of those measures are met, immigrants could begin qualifying for green cards. In the meantime, the legislation would grant probationary status to illegal immigrants who passed a criminal-background check, paid a fine and met other conditions. The legislation, which would also set special rules for agricultural workers, is not fully drafted and has not yet been released publicly.

Setting tougher border-security measures as a prerequisite to offering legal status to illegal immigrants could ease the way for many lawmakers, particularly Republicans, to support the immigration-law overhaul. Many Republicans have said the border must be secure before they would consider any change in the status of illegal immigrants.
There are some major differences between this proposal and the one that Rand Paul announced several weeks ago. The most notable is the fact that this plan would require pretty much all employers in the country to sign on to an electronic system to verify that the people they hire are eligible to work. Today, all they are required to do is have each employee sign off on an I-9 form wherein they verify this information. The extent to which any of it is actually ever checked remains unclear. Personally, I'm of two minds about E-Verify. On the one hand, I recognize that it is a potentially powerful weapon in cutting down on own of the major attractions of illegal immigration, employment. If it becomes virtually impossible for someone who isn't here legally to get a job, that's going to be a strong disincentive to illegal immigration. On the other hand, a system like this imposes costs upon businesses and has the potential to become a serious privacy concern for all Americans. Finally, there's the point that even under an E-Verify system, it's entirely possible for people to operate on a strictly off-the-books basis. Indeed, that's likely how many of the industries that hire illegal immigrants, such as construction, have been operating for quite some time. These transactions are difficult if not impossible to track since they are all conducted on a cash basis.
This plan is similar to the Paul proposal,though, in that it mandates that there can be move toward Permanent Residency for the people currently here illegally until progress has been made on border security. The difference is that it appears that the triggers in this plan are less stringent than the Paul proposal, and they do not require explicit Congressional approval to move forward as his plan does. As I've noted before, I think that the entire idea of "border security" is amorphous and I worry that any law that places explicit benchmarks on it before further reforms can be adopted will just be a recipe for ensuring that nothing really gets done. That said, it is a political reality that nothing will get done on immigration reform without Republican votes, and Republicans aren't going to vote for a bill that doesn't address border security in what they believe to be a serious manner. If these conditions are the price of getting a deal done, then I really don't see a problem with them,