Coming to Grips with Reality
In a sane world, Joe Biden's election win would not have come as a surprise. Alas . . . .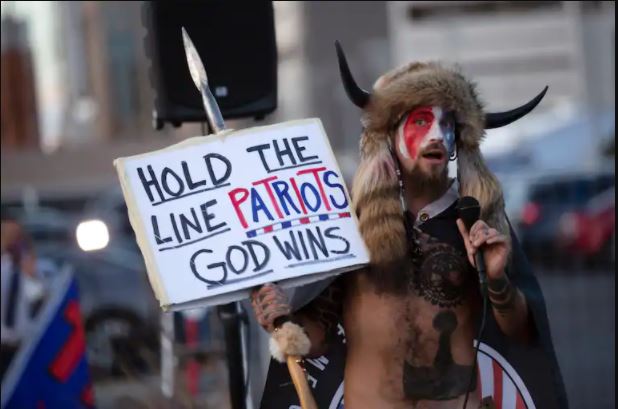 Yesterday, I pointed to a poll showing 70 percent of Republicans believe the 2020 election was unfair after months of President Trump laying the groundwork to delegitimize mail-in votes and charging election officials with malfeasance. Thankfully, there is also strong evidence that people are coming around.
Reuters ("Nearly 80% of Americans say Biden won White House, ignoring Trump's refusal to concede – Reuters/Ipsos poll"):
Nearly 80% of Americans, including more than half of Republicans, recognize President-elect Joe Biden as the winner of the Nov. 3 election after most media organizations called the race for the Democrat based on his leads in critical battleground states, according to a Reuters/Ipsos poll.

[…]

The Reuters/Ipsos national opinion survey, which ran from Saturday afternoon to Tuesday, found that 79% of U.S. adults believe Biden won the White House. Another 13% said the election has not yet been decided, 3% said Trump won and 5% said they do not know.

The results were somewhat split along party lines: about six in 10 Republicans and almost every Democrat said Biden won.
Granting that one would like to see the number much closer to 100 percent and less divided on party lines, this is rather comforting. Despite their President claiming that he won on election night and then shifting to a "the election is not over" narrative, essentially nobody believes it. And this was polling that began hours after the news networks called the election.
More good news:
It showed that 70% of Americans, including 83% of Democrats and 59% of Republicans, trust their local election officials to "do their job honestly."

The poll also found that 72% think the loser of the election must concede defeat, and 60% think there will be a peaceful transition of power when Trump's term ends in January.
Again, one would hope the numbers were even higher. Still, given an incredibly fraught four years of rage and distrust, this is rather encouraging.
I also take some solace from this WaPo report ("'My faith is shaken': The QAnon conspiracy theory faces a post-Trump identity crisis"):
President Trump's election loss and the week-long silence of "Q," the QAnon movement's mysterious prophet, have wrenched some believers into a crisis of faith, with factions voicing unease about their future or rallying others to stay calm and "trust the plan."

The uncertainty has been compounded by the abrupt public resignation, also last Tuesday, of Ron Watkins, the administrator of Q's online sanctuary on the message board 8kun.

Q has gone quiet before. But the abrupt lack of posts since last Tuesday — Election Day, which the anonymous figure had touted for months as a key moment of reckoning — has sparked speculation and alarm among the movement's most ardent followers.

Some QAnon proponents have begun to publicly grapple with reality and question whether the conspiracy theory is a hoax. "Have we all been conned?" one user wrote Saturday on 8kun.

Wrote another: "HOW CAN I SPEAK TO Q???? MY FAITH IS SHAKEN. I FOLLOWED THE PLAN. TRUMP LOST!!!!!!!!!!! WHAT NOW?????? WHERE IS THE PLAN???"

Trump's defeat threatens to undermine the tale that Q, a supposed top-secret government operative, has woven over years: that Trump and his allies would soon vanquish a cabal of "deep state" child abusers and Satan-worshiping Democrats, exiling some to the U.S. detention facility in Guantánamo Bay, Cuba.

QAnon believers treat Q's thousands of cryptic posts as scripture, and many stretch to connect them to real-world events, often in nonsensical ways. Some prominent Q believers said Trump's back-to-back golf outings over the weekend were proof that the president was in control and that all was going according to plan.

Others connected Rudolph W. Giuliani's bizarre Saturday news conference at Four Seasons Total Landscaping, on an industrial block in Philadelphia between a crematorium and an adult-video store, with two Q posts in the past year in which he used the words "landscape."

One QAnon account, known as Praying Medic, told its more than 400,000 Twitter followers that many supporters "had to be talked off the ledge" in the past week but that Trump's strategy remained in motion. Praying Medic tweeted: "He's going to stick the knife in and twist it. He has no plans to leave office. Ever."

Travis View, a researcher and co-host of the podcast "QAnon Anonymous," said he expects that whoever is behind the Q "drops" — as Q's messages are known — is just waiting to see how things shake out. Q has disappeared for weeks at a time before, shaking some loyalists, including during a three-month absence last year following a public revolt over the message board's ties to real-world terrorist attacks.

In the meantime, QAnon's devoted fan base has been left to struggle with the meaning of Trump's election loss — which many argue was actually a win.

"The majority reaction from QAnon followers has been outright denial," View said. Many expect Trump will seal his reelection through his team's so-far-unsuccessful legal skirmishes, and "if that doesn't happen and Joe Biden is inaugurated on Jan. 20, the cognitive dissonance will be absolutely as big as it's ever been for QAnon followers."
That a meaningful number of Americans believe in wildly nonsensical, conspiratorial bullshit is, on the one hand, pathetic. But the nature of the Internet is that it allows these people to congregate rather than simply live anonymously among us. Still, it appears that even these nutballs are coming to grips with reality.
Meanwhile, another Reuters report ("U.S. Republicans hint at limited time for Trump to make his post-election case") gives more reason for hope that the charade may be over soon.
Top Republicans in the U.S. Congress for now are supporting President Donald Trump's attempt to challenge President-elect Joe Biden's victory, but some senior aides said Trump must soon produce significant evidence or exit the stage.

A handful of Republican senators have said they recognize Biden as last week's winner. Many more have not but are suggesting limits to their patience in giving Trump the benefit of the doubt.

Senator Rob Portman of Ohio, a state that Trump won handily last week, said in a statement that Biden is leading in enough states to win election "and President Donald Trump's campaign must produce evidence to support allegations of election fraud." Portman added that he hoped states and courts would move "expeditiously" to resolve the matter.

Behind the scenes, some were more explicit.

"I think the goal here is to give the president and his campaign team some space to demonstrate there is real evidence to support any claims of voter fraud. If there is, then they will be litigated quickly. If not, we'll all move on," said one senior Senate Republican aide.

A second such aide, while noting that most Republican senators support Trump's right to refuse to concede, added that failing any surprise revelations, "At some point this has to give. And I give it a week or two."

Senate Majority Leader Mitch McConnell, Congress's top Republican, delivered a stinging speech that sounded more like a continuation of 2020 campaign rhetoric than a post-election call for getting down to business. While defending Trump's challenge of the election result, McConnell took time to chastise "far-left mobs" that engaged in "summertime rioting" following the death of George Floyd while in police custody.

McConnell also hinted at something far less than prolonged litigation, such as was seen in the 2000 contest between George W. Bush and Al Gore: "Suffice to say a few legal inquiries from the president do not exactly spell the end of the Republic."

Meanwhile, Republican Senator Marco Rubio late on Monday refused to recognize Biden as the president-elect yet. But responding to reporters' questions about unsubstantiated fraud allegations in hotly contested states such as Pennsylvania, Rubio said he was in no position to know what was going on anywhere outside his home state of Florida.
Admittedly, that's not much. I would certainly prefer that they were demonstrating more spine and putting a stop to Trump's damaging nonsense already. But it certainly sounds like patience is wearing thin.
For political junkies refreshing the news every few minutes, Saturday's declaration and certainly last Tuesday's election itself seem ages ago. But Biden has been President-Elect for less than four full days and already most of the country has come to grips with that reality.
Trump's lawsuits will go nowhere. He's already been laughed out of more than one courtroom. Republican officials will acknowledge that soon enough even if the President does not. And most of the rest of the public will recognize that it's over and that Biden will be the next President.