Comparing Border Counties
Not surprisingly, there is a great deal of disparity in terms of development on the two sides of the US-Mexican border.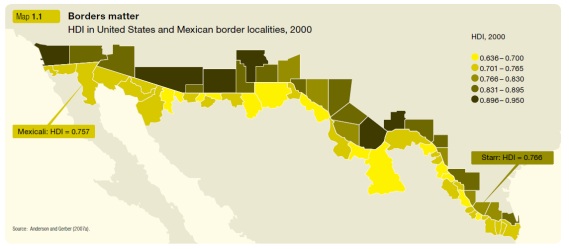 The above graphic (which is from the 2009 Human Development Report, page 10) shows the disparity between development in US border counties as compared to their Mexican counterparts.
The basis for comparison is the Human Development Index (HDI:  see here for more info) which measures development on a scale from 0.0 to 1.0 (higher is better).  What is interesting is that the lowest HDI county on the US side (Starr County Texas) is higher than the highest HDI municipality in Mexico (i.e., Mexicali).
This is, of course, likely not a shock to anyone paying even a modicum of attention to the situation.  Still, it continues to underscore that fundamental aspect of this situation:  it is the disparity of wealth between the two countries that continues to create the synergy of migration over the border.  As I keep saying:  any policy that ignores this fact will fail.  As such, calls for massive deportations or that assumes it is possible to stop migration over the border is naught more than fantasy.  "Seal the border!" is a slogan, not a viable policy.
The 2009 Report is interesting, as it looks at the question of global migration and has a host of stats that clearly explain the dynamic in question.  For example:
a family who migrates from Nicaragua to Costa  Rica increases the probability that their child will be enrolled in primary school by 22 percent (10).
The ability to improve the lives of oneself and one's family is a huge incentive–and one that is difficult to legislate away.