Composer Marvin Hamlisch Dead At 68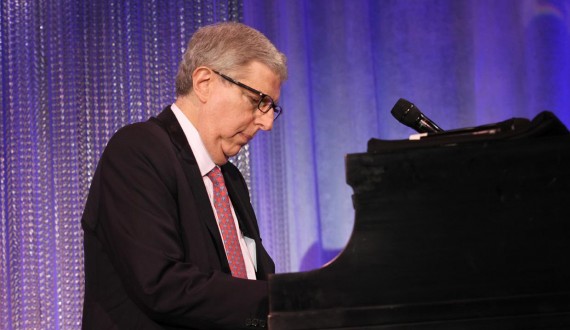 Marvin Hamlisch, who gained his greatest fame when he wrote the music for A Chorus Line and a number of Hollywood films, died today at the age of 68:
Marvin Hamlisch, the stage and film composer who created the memorable songs for "A Chorus Line," has died at 68. The composer died on Monday in Los Angeles after collapsing from a brief illness, his family said in a statement.

One of the most decorated composers in entertainment, Hamlisch had won a Tony Award, three Academy Awards, four Emmy Awards and the Pulitzer Prize for drama.

Hamlisch was still active just weeks ago. In his role as lead conductor of the Pasadena Pops, he conducted a July 21 concert at the Los Angeles Arboretum with Michael Feinstein.

Hamlisch was a kibitzing emcee during the salute to Cole Porter, sharing jokes with the audience and trading patter with Feinstein as he conducted the orchestra. The two ended the show playing a lively medley of musical chestnuts on two grand pianos. For the encore, Feinstein fittingly sang Hamlisch's indelible "The Way We Were."

Hamlisch made his mark in the musical theater world with "A Chorus Line," which originated at New York's Public Theater in 1975 before transferring to Broadway, where it ran for nearly 15 years. Hamlisch wrote the music for the show, working with lyricist Edward Kleban.

The musical tells the story of a group of aspiring theatrical performers braving a cattle-call audition, and features such memorable songs as "One," "I Hope I Get It" and "Dance: Ten; Looks: Three." The show is one of the most honored musicals in Broadway history, receiving multiple Tonys and the Pulitzer for drama.

Hamlisch's other musical stage work includes the scores for "They're Playing Our Song," "The Goodbye Girl," and "Sweet Smell of Success." Most recently, he wrote the score for the stage adaptation of "The Nutty Professor," which recently opened in Nashville. He was also expected to work on on a new Broadway musical titled "Gotta Dance."

In Hollywood, Hamlisch wrote music for the movies "The Way We Were," "The Spy Who Loved Me" and "Sophie's Choice." In recent years, he teamed with director Steven Soderbergh on "The Informant!" and the upcoming "Behind the Candelabra," a biopic of Liberace.
Far too young for such a great talent.