Congress Rebukes Obama On Trade, And Thus The Lame Duck Era Begins
House Democrats defied President Obama on an important trade deal today, thus arguably marking the official beginning of his lame duck status.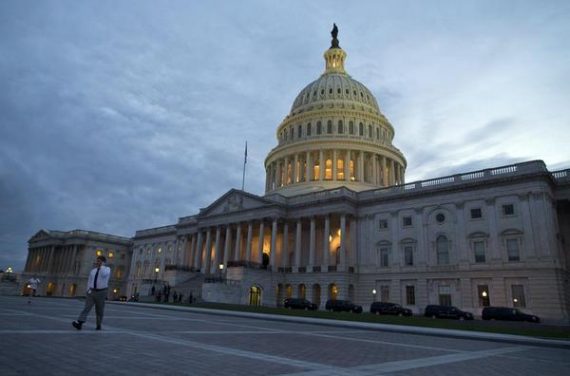 After an unusual last minute visit to Capitol Hill to personally lobby Democratic members of the House, President Obama suffered a big loss today in a vote on trade promotion authority:
WASHINGTON — House Democrats rebuffed a dramatic personal appeal from President Obama on Friday, torpedoing his ambitious push to expand his trade negotiating power — and, quite likely, his chance to secure a legacy-defining trade accord spanning the Pacific Ocean.

In a remarkable rejection of a president they have resolutely backed, House Democrats voted to kill assistance to workers displaced by global trade, a program their party created and has stood by for four decades. By doing so, they brought down legislation granting the president trade promotion authority — the power to negotiate trade deals that cannot be amended or filibustered by Congress — before it could even come to a final vote.

"We want a better deal for America's worke

rs," said Representative Nancy Pelosi of California, the House minority leader who has guided the president's agenda for two terms and was personally lobbied by Mr. Obama until the last minute.

Republican leaders tried to muster support from their own party for trade adjustment assistance, a program they have long derided as an ineffective waste of money and sop to organized labor. But not enough Republicans were willing to save the program.

Republican leaders then passed a stand-alone trade promotion bill, 219 to 211. That measure cannot go to the president for his signature because the Senate bill combined both trade adjustment and trade promotion.

Republican leaders now have two legislative days, beginning Monday night, to bring back the trade adjustment legislation for another vote.

"We are not done with this," said Representative Kevin McCarthy of California, the majority leader.

But the sheer number of lawmakers who would have to change their votes make passage a second time doubtful, Republican leadership aides conceded.

The vote was an extraordinary blow to Mr. Obama, who went to the Capitol on Friday morning to plead personally with Democrats to "play it straight" — to oppose trade promotion if they must, but not to kill trade assistance, a move he cast as cynical. On Thursday night, he had made an unscheduled trip to the annual congressional baseball game to try to persuade Ms. Pelosi.
As with most things the come out of Congress, the Trans Pacific trade legislation if far from ideal, but it is generally a move in the right direction. As a rule, I'm troubled by these huge international, bureaucratic trade deals, but the reality in international politics is that these types of agreements are basically the only way to open trade with nations that have been historically protectionist toward foreign goods and competitors. The real issue here, though, hasn't so much been the idea of a trade bill that would open up markets between the United States and dozens of Asian and Pacific nations, but the authority that is being granted to the President to negotiate the deal and then present it to Congress under a procedure that would limit the ability of the House and Senate to attach amendments that could potentially kill the deal. Again, this is less than ideal way to get the job done but in the context of complex international negotiations such as these the idea that a trade deal could be wrecked by a House intent on attaching a bunch of protectionist amendments would mean, most likely that no deal would be negotiated at all. Instead, what Congress will be able to do is give the deal an up-or-down vote. Given how much this raises the stakes, it makes it less likely that Congress would rebuke the President, of course, but it also ensures that a deal can be negotiated without the parties worrying about everything being wrecked later down the line for reasons that have nothing to do with trade, and everything to do with domestic American politics. On the whole, because of the demonstrable benefits to the American economy that would result from a trade deal like this, these seem like me to be acceptable procedural trade-offs in exchange for a deal that would vastly help the American economy.
Outside of the merits of the trade deal itself, though, the big news here is the rebuke to President Obama from so many of his fellow Democrats. Yesterday evening, President Obama made an appearance at the annual Congressional Baseball Game during which he spent a considerable amount of time talking to Democratic Congressmen, most likely about the vote today. Then, this morning, he took the unusual step of appearing before the Democratic Caucus's morning meeting to make his case and he ended up getting humiliated. Minority Leader Nancy Pelosi, who had largely been silent on the issue and had even been rumored as leaning in favor of the bill, came out against the bill publicly, and then it was all downhill from there. These tweets from CNN's Jake Tapper relating what he was told by two Democratic Congressman are particularly revealing:
House Democratic Rep #1 re: POTUS visit to Hill: "He was fine until he turned it at the end and became indignant and alienated some folks."

— Jake Tapper (@jaketapper) June 12, 2015
House Dem Rep. #1 re POTUS: "Bottom line, he may have swayed some Ds to vote yes, but Pelosi sealed the deal to vote no."

— Jake Tapper (@jaketapper) June 12, 2015
House Dem Rep #2: POTUS visit "absolutely" hurt the bill. "Democrats believe they often are taken granted and not appreciated" by POTUS.

— Jake Tapper (@jaketapper) June 12, 2015
Chris Cillizza contends that this is proof that the Presidential "bully pulpit" is largely overrated and that its power has been reduced in the modern political age. To some extent, his argument has merit, but the reality is that this rebuke on the trade deal is part of a very long pattern for this President. Even when it comes to his own party, President Obama has been singularly unable to advance his agenda on Capitol Hill. The stimulus bill that was passed in the first months of the Presidency was largely a collection of wish list items that Democrats had been making in the years since they'd lost control of Congress in 1994. Drafting and passage of the Affordable Care Act was largely left to Congress itself despite the fact that the White House was claiming it to be the most important piece of legislation of Obama's entire Presidency. And, in other instances, the President has been shown to be markedly ineffective at keeping hold of the support of the members of his own party. Add into that the problems he's had with Republicans, and one can only conclude that this President simply lacks the legislative and persuasive skills of someone like Bill Clinton or Ronald Reagan, both of whom were able to get action from Congress notwithstanding the fact that it was controlled in whole or in part by the opposing party. Some have suggested that this is due to the fact that Obama is singularly bad at forming relationships with people in Congress, or that he simply didn't have any experience dealing with a recalcitrant legislature before becoming President, but whatever the reason is, it has happened often enough over the course of this Presidency that it seems to be undeniable, and it will likely go down in history as one of the defining characteristics of his time in the White House.
If this defeat means anything, though, it means that we are now well into Barack Obama's lame duck period. It's not surprising that Obama was unable to persuade his fellow Democrats today, because they really don't have any reason to fear him anymore and there's very little that he can do for them. Many of these members, no doubt, are already looking at Hillary Clinton as the de facto leader of their party, and the fact that she has been silent on this issue should speak volumes. If Clinton had spoken out in favor of the trade deal, it likely would've passed today. She's staying silent, though, most likely because she doesn't want to upset the progressive wing of the party that has been lobbying against the deal. In other words, Clinton could have saved Obama from this defeat today but instead she has her own interests in mind, and so do the members who rebuked him. That's the definition of a lame duck.