Congressman Kicked Off House Floor For Wearing Hoodie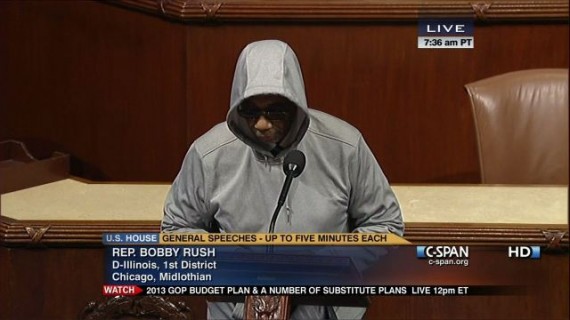 Congressman Bobby Rush tried to make a statement about the Trayvon Martin case today, but it didn't go so well:
Rep. Bobby Rush (D-Ill.) on Wednesday morning was asked to leave the House floor after removing his suit jacket to reveal a "hoodie," then putting the hood of his sweatshirt on his head to protest the Trayvon Martin killing in Florida. A photo of Rush can be seen here.

"Racial profiling has to stop," Rush said. "Just because someone wears a hoodie does not make them a hoodlum." Rush also put on sunglasses.

Rush quoted the Bible while presiding officer Gregg Harper (R-Miss.) repeatedly interrupted him, then asked the Sergeant at Arms to enforce the House prohibition on hats in the chamber.

"The chair must remind members that clause 5 of rule 17 prohibits the wearing of hats in the chamber when the House is in session," Harper said after Rush left. "The chair finds that the donning of a hood is not consistent with this rule. Members need to remove their hoods or leave the floor."
The whole hoodie meme, of course, has nothing to do with what actually might have happened between Zimmerman and Martin and everything to do with one stupid comment made by an idiot named Geraldo Rivera. The whole thing is really rather silly. In any case, Rush's action was dumb, and in violation of House Rules, so it seems like he kind of deserves what he got.
Here's the video:
Photo via Howard Mortman on Twitter