Conservatives Outnumber Liberals in 49 of 50 States
Mississippi is more conservative than Massachusetts is liberal.
Annie Lowrey tweets,"Thing I learned today: Most-liberal D.C. is not as liberal as most-conservative Mississippi is conservative."
She links to a Gallup survey from February headlined "Mississippi Most Conservative State, D.C. Most Liberal." The topline results: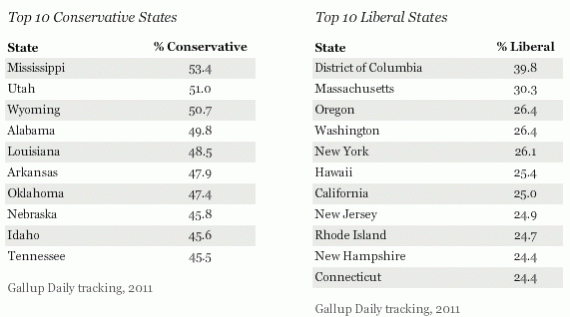 So, yes, the states that we naturally think of as "conservative" all contain majorities or near-majorities who self-identify as "conservative" whereas even the most liberal states register only a quarter who self-identify as "liberal."
But that's hardly surprising.  Going back at least three decades, "liberal" has been something of a dirty word. Indeed, liberals now mostly eschew the label altogether, preferring instead to resurrect the term "progressive" from a century ago.  How far does this go?
Only in the District of Columbia and Massachusetts did liberals outnumber conservatives.
That's pretty stunning; but it likely tells us as much about labeling as ideology. Additionally, though, there's the religiosity factor. While DC's African American population is the most reliable Democratic voting bloc in the country, a huge chunk of them are avid church goers and Alabama-level conservative on some of the social issues, notably such hot button issues as gay marriage.