Cops Aren't Soldiers
The similarities are obvious. The differences are more important.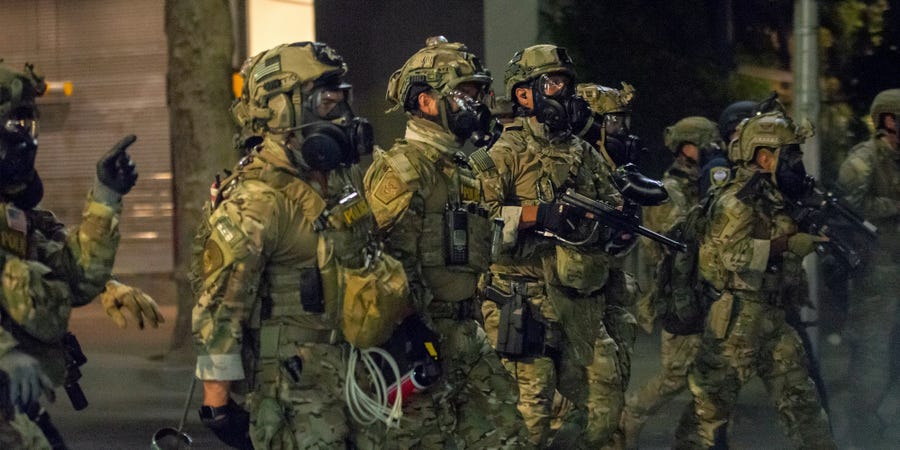 Two Naval Academy graduates have confronted police officers lately about their oaths to the Constitution. Alas, the cops have no idea what they're talking about.
The Guardian ("'That's an illegal order': veterans challenge Trump's officers in Portland"):
The Black Lives Matter protest in Portland looked to be winding down last Saturday night when US marine corps veteran Duston Obermeyer noticed a phalanx of federal officers emerge from the federal courthouse.

They shot teargas at the crowd and pushed a protester to the ground with such force that, Obermeyer said, she slid 6ft across the pavement.

The 42-year-old had driven about 40 minutes from his home in the Molalla area for his first protest after hearing the many recent reports of federal personnel in tactical gear emerging from unmarked cars with automatic weapons to pick up protesters. His plan was to observe first-hand what was happening.

But in that moment, he said, he realized he couldn't stand by and simply watch.

In a Pokémon hat and Superman T-shirt, and with a cotton mask protecting his face, the 6ft 4in, 275lb man walked up to the officers and asked whether they understood their oath to defend the constitution.

"They are not supposed to be coming and attacking protesters," Obermeyer told the Guardian. "They didn't even give any warning, there was no 'hey you need to move', 'hey back up'. There was basically them walking out and assaulting a protester just to prove that they could."

Just a few feet away, Obermeyer was aware of another man, US navy veteran Chris David, asking virtually the same question.

Despite both being graduates of the naval academy, David is 11 years older and thus the pair had never met. But after more than 50 consecutive days of anti-racism and anti-police brutality protests in Portland, following the killing of George Floyd by police officers in Minneapolis, and the recent deployment of militarized federal agents by Donald Trump, both veterans had decided simultaneously now was the time to start asking questions.

"I'm not a big believer in coincidence," said Obermeyer. "I believe that we both have similar feelings because we come from similar places and we truly believe in the constitution as it's currently written and as it's taught in grade school. And this is a violation of constitutional rights."

David, who came dressed in a Naval Academy sweatshirt and Navy wrestling hat, told the Guardian he believes they both came out that day because of their time at the naval academy, which instills "a deep level of integrity" in graduates. But also, he said, for perhaps an even simpler reason.

"We have the ability to see what is right and what is wrong. And what we both saw was wrong and we wanted to go out there and talk to those officers."

Obermeyer also asked the officers whether they understand what an illegal order is, referencing the fact that military officers are required by law to disobey illegal or unconstitutional orders.

"Assaulting an unarmed protester who is exercising their first amendment rights is illegal, that's an illegal order," he said.

That's when teargas was fired on the two men. When that didn't deter them, Obermeyer said an officer tried to hit him with a baton, but he caught it and quickly pushed him back. Another officer repeatedly beat David with a baton, breaking his hand in two places, an injury that will require surgery on Monday. He was also sprayed in the face with a white chemical irritant that he said "felt like flaming gasoline."
So far as I know, I've never met David or Obermeyer. But they've had a world class education and endured a process designed to weed out people of low character. Although, sadly, men like Roy Moore and Mike Pompeo demonstrate that the process isn't a hundred percent successful. (Indeed, Pompeo graduated at the very top of his class.) Literally from Day 1, the emphasis is on Duty, Honor, Country.
The vast majority of police forces in America are employed by municipalities. Most of them are poorly paid, poorly screened, and poorly trained. State troopers tend to be better, as do police in bigger cities, which can pay more and have better academies.
At the federal level, there are a handful of elite police forces. The FBI is the most notable, of course, but there are other highly-selective, superbly trained forces. But they're the exception even at the federal level.
It's not fully clear who the cops in Portland are. The city's police force has come under serious criticism for heavy-handed tactics and, depending on one's view, either paradoxically or therefore have been unsuccessful in quelling violence and mayhem. The federal agents sent in appear to be some combination of Federal Protective Service, Border Patrol, and private security contractors. None of them have anything like the training David and Obermeyer underwent.
I've come to the conclusion that most policing in America is analogous to a military without an officer corps.
While some of our commissioned officers are "mustangs" who have significant enlisted experience, the vast majority started their careers as lieutenants or ensigns after completing a four-year college education at one of the academies or an ROTC program. Others go through officer candidate school directly out of college.
They're must less experienced, at first, then the NCOs/petty officers and enlisted troops they lead. But they're educated and imbued with a sense of the bigger picture: the higher mission, civil-military relations, the law of armed conflict, and the like.
Our NCOs and petty officers are the lifeblood of the force. But, ultimately, they're technicians focused on getting the job done.
The vast majority of our cops have little education beyond high school. After a brief stint at a police academy, they undergo on-the-job training under the tutelage of more senior beat cops. The most talented move up the ranks to corporal, sergeant, lieutenant, captain, and beyond.
Even at the smallest unit level, soldiers and Marines are at least indirectly supervised by officers. There's, therefore, always someone around who's supposed to question whether orders are illegal, whether a given tactical action is detrimental to the higher mission, and, yes, about the oath everyone from private soldier to four-star general has taken to the Constitution.
The police forces—let alone private contractors—David and Obermeyer were talking to have none of that. Some of them are simply bullies who enjoy exerting their dominance. Most are only minimally trained in crowd control and are scared. And they're in a culture where they view themselves in a "war."
Both soldiers and police see those not in their uniform as "civilians." Both the word has very different meanings. Soldiers, at least American soldiers, are trained to see themselves as subordinate to civilian authorities and charged with protecting civilians, even at increased risk to their own lives. Police, meanwhile, see their fellow citizens as a threat to their survival.