Cost Overruns On USS Gerald Ford Could Top $1 Billion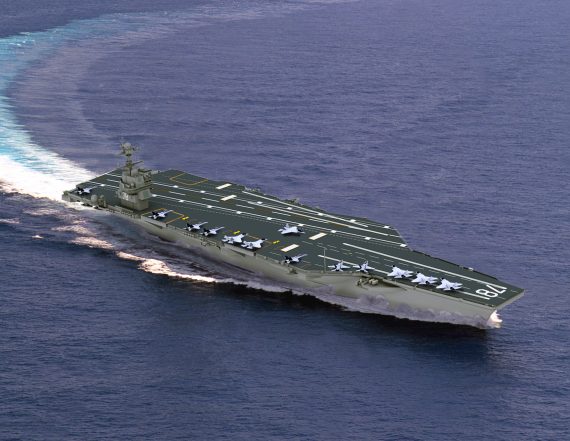 The first in the Navy's new class of supercarriers is likely to end up costing a lot more than anticipated:
The U.S. Navy has estimated a worst-case cost overrun of as much as $1.1 billion for the aircraft carrier USS Gerald R. Ford, the service's most expensive warship.

The carrier is being built by Huntington Ingalls Industries under a cost-plus, incentive-fee contract in which the Navy pays for most of the overruns. Even so, the service's efforts to control expenses may put the company's $579.2 million profit at risk, according to the Navy.

A review of the carrier's rising costs began in August after the Navy's program manager indicated that the "most likely" overrun had risen to $884.7 million, or about 17 percent over the contract's target price of $5.16 billion. That's up from a $650 million overrun estimated in April, according to internal Navy figures made available to Bloomberg News. The worst-case assessment would be about 21 percent over the target.

"Regular reviews of the cost performance indicated cost increases were occurring," Capt. Cate Mueller, a Navy spokeswoman, said in a statement.

Some rising costs are tied to construction inefficiencies, the Navy said. Sean Stackley, Navy assistant secretary for acquisition, directed the review "to determine specific causes and what recovery actions could be put in place," Mueller said.

Even as the Navy conducts its internal review, it is trying to assure U.S. lawmakers and Pentagon officials that costs of major vessel programs are being controlled. The Pentagon is evaluating strategy, retirement health benefits, weapons programs and military service budgets to find as much as $488 billion in reductions through 2021. The service has already offered to delay construction of the second Ford-class vessel, the CVN-79 John F. Kennedy, by two years.
As the first of its class, it's not unusual for cost overruns to occur in this type of situation I suppose. And it's worth taking into account that we're talking about a ship that could have a useful life span of half a century or more. The ship the Ford is replacing sometime in 2015 when it's ready, the USS Enterprise (CVN-65) was launched in 1961 and will have had some 55 years of active service by that time.
Artists depiction of USS Gerald Ford via Wikipedia