Could Gingrich Win The GOP Nomination?
Could Newt Gingrich really become the Republican nominee? Stranger things have happened.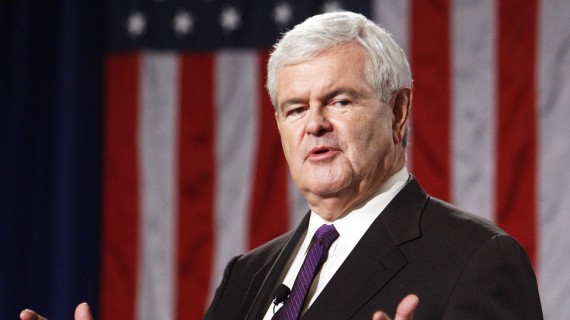 Newt Gingrich's status as the newest "not Romney" frontrunner  is now firmly established. He is leading the national polls, he leads in Iowa and South Carolina, and he looks to be starting to chip into Mitt Romney's previously impervious lead in New Hampshire. Perhaps most surprisingly, Gingrich is also surging in Florida, the state that will serve and the denouement to January's whirlwind of early primaries. In three new polls — from Insider Advantage, American Research Group, and Public Policy Polling — Gingrich leads Romney by more than 20 points. As we head into the final two debates before the Iowa Caucuses, and the holiday season, it seems rather unlikely that there will be any major changes in the state of race between now and the evening of January 3rd when Iowans go to their caucus locations. Absent any major gaffes by Gingrich, it's quite likely that he'll go into caucus day as the presumptive leader in the GOP race, although his lack of organization there makes one wonder if he could actually pull off a victory notwithstanding what they polls say.
The conventional wisdom up until now, which I have generally agreed with, is that Mitt Romney is still the inevitable nominee despite all of the sturm und drang that we've been through over the past several months. They may prefer a more hard-core conservative on principle, this argument goes, but in the end Republicans want to go into the General Election with a candidate who can win, and by all accounts the only person that describes right now is Mitt Romney. But, let's posit an alternative scenario If Gingrich manages to win Iowa, South Carolina, and Florida, or even just two of those three, while coming closer in New Hampshire than anyone expected. Leaving aside for the moment the delegate count, which is what really matters in the end, this means Gingrich would end the first month of voting having won the majority of the races. Usually when that happens, the momentum of the race starts moving in the direction of the frontrunner. Romney would be faced with the dilemma of having to be the comeback candidate, and he'd probably have to spend his own money to do it. It's not inconceivable that Gingrich's January momentum would carry him to Super Tuesday on March 6th, and beyond, as the other Tea Party candidates melt away and their supporters line up behind him. If that happens, Romney would be in serious trouble.
Jonathan Bernstein isn't convinced, and argues that Romney  is still the inevitable GOP nominee:
On the voter level, there is no appetite for a Stop Romney campaign. A new Washington Post/ABC News poll confirms something you don't hear much: Republicans and conservatives may not have settled on Mitt Romney as their nominee, but they really do like him. There is no ceiling. That suggests he still has an excellent chance to eventually expand his support well beyond his current numbers.

As the Post polling team reports, solid majorities of Romney's target audience have a "favorable" view of him, whether it's Republicans (56% favorable), conservative Republicans (63%), or even those who think of themselves as very conservative (57%). What's striking is that Romney's unfavorable and even his strong unfavorable numbers among these groups are simply not at levels which indicate that he'll have problems with them. Among all Republicans, 29% give him an unfavorable rating and only 8% are strongly unfavorable, with similar numbers for conservative Republicans (25%/7%) and very conservative voters (28%/10%). Those aren't great, but they do mean that at least three-quarters of GOP primary voters could support him.

One could make an interesting comparison between conservative opposition to Romney and liberal disappointment with Barack Obama. In both cases, there's clearly something there — but it's mostly an elite pre-occupation that doesn't seem to really touch ordinary voters.
Bernstein has the numbers right, but his argument doesn't explain why these same voters who have a generally favorable view of Mitt Romney are so unwilling to say that they'll vote for him. Perhaps this is all just a long flirtation and the voters are expressing an ideological preference that won't necessarily coincide with who they chose when it's time to cast a ballot or appear at a caucus. We won't really know that until people actually start voting, but it doesn't seem to coincide with voter behavior in past elections. By this time four years ago, Mike Huckabee was already beginning the rise in Iowa that would lead to his victory in the caucuses there, and John McCain was only a week away from the time when his poll numbers in New Hampshire would begin to skyrocket toward the victory that revived his campaign. If the voters really were going to move to Romney after flirting with the other candidates, wouldn't we see signs of that soon? Instead, Romney seems to be losing support even in the formerly impervious redoubt of New Hampshire. If there's going to be a move to Romney, it's going to have to start soon or it might get caught up in what the media is likely to start calling Newtmentum.
Jason Pye takes the opposite position of Bernstein, and sees Gingrich on a path to win the nomination handily:
Gingrich's best friend right now is time. If he can sustain for December (a time when many voters tune out politics), keep his past personal issues from becoming a distraction, and can win Iowa, that momentum should carry him forward to win many or most of the early primary states. He would be in excellent position come Super Tuesday (3/6/12), enough to win the Republican nomination.
That's roughly the same scenario I outlined above, but it strikes me that it requires two things.
First, Gingrich will have to avoid his historic tendency for self-destruction. While he's clearly a more seasoned politician than he was 13 years ago, there are signs the old New is still there. You can see it in his flip-flops over Libya and the Ryan Plan, as well as his recent comments that he didn't need to lobby because he made so much money from speaking fees. Last night on Sean Hannity's show, Gingrich said when he was in Congress he played a part in ending the Cold War, something which I'm sure comes to the great surprised of Ronald Reagan, Margaret Thatcher, Pope John Paul II, Lech Walesa, and Mikhail Gorbachev. Newt has this tendency to be his own worst enemy, and despite the fact that his reputation doesn't seem to be hurting him right now, it could resurrect itself again and pop his bubble rather quickly.
Second, Gingrich's path to the nomination will still have to deal with his past. I'm not referring so much to his personal issues, everyone knows about those already and they've evaluated Gingrich in that respect, bringing that up again isn't going to move very many people. Professionally, though, Gingrich's own record reveals him to be even more out of step with the base that is apparently rallying around him right now than Mitt Romney. Despite his repeated denials, Gingrich quite obviously spent a good deal of his post-Speakership selling his influence to the highest bidder.  Some on the right are starting to recognize this. Joshua Green argues that a Gingrich nomination would mean the death of the Tea Party. Michael Tanner points out that Gingrich would mean a return to the Big Government conservatism of the Bush Administration, and Dan Foster finds the prospect of a party where limited government is the theme of the day backing Newt Gingrich simply baffling. Ron Paul has already pointed the way on how to attack Gingrich on his record, and there are signs that the Romney campaign is getting ready to go negative on Gingrich, something they haven't done with any other "not Romney" so far, except for minor barbs at Perry during the September debates.
Could this be enough to derail Gingrich, or at least set back his momentum? Potentially yes, I would think. Even if Gingrich does run the table in January, there would still be a month before Super Tuesday during which a negative campaign could take hold. Once conservatives know the truth about Gingrich, they may finally abandon their quixotic search for perfection and get in line behind Romney. If they don't, and Gingrich is the nominee, well let's just say I don't think the Obama family will have to worry about moving for another four years.
Photo via Associated Press