D.C. Church Receives Threats After Obama Easter Visit And Sean Hannity Rant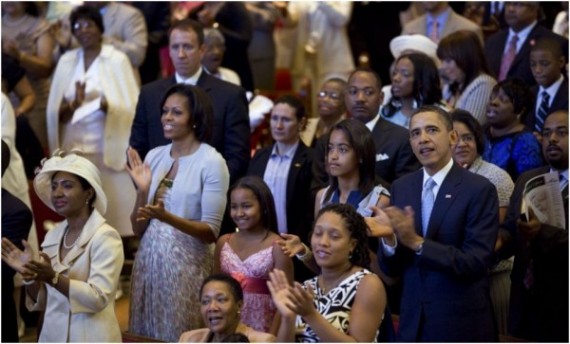 The church that President Obama and his family attended on Easter Sunday morning has received threats after being the subject of  a rant by conservative talker Sean Hannity:
Shiloh Baptist Church in the District said it has received threatening phone calls and e-mails after an Easter visit from President Obama and a conservative television commentator's subsequent playing of a videotape in which the pastor said that those espousing racial prejudice do so "under the protective cover of talk radio."

The Rev. Wallace Charles Smith said the church has received more than 100 threats since Fox News channel's Sean Hannity aired a tape Monday of a speech Smith gave in January 2010 at Eastern University in Saint Davids, Pa.

"We received a fax that had the image of a monkey with a target across is face," Smith said. "My secretary has received telephone calls that have been so vulgar until she has had to hang up."
The reason for the threats apparently can be traced to a speech that Rev. Smith gave at Eastern University in 2010 that made it's way around the conservative punditocracy and, eventually, on to Sean Hannity's Fox program:
So here you have it again. Obama goes to a church on Easter, some conservative "discovers" a video of "controversial" statements made be this guy a year ago at an event that Obama wasn't even present for and, all of a sudden, we've got the next Jeremiah Wright. These people never give up, do they?