D.C. Restaurant Gives Furloughed Workers Discount, Charges Congressmen More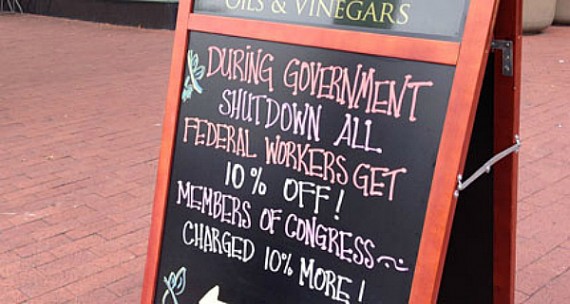 One Washington, D.C. eatery is making a statement about the government shutdown:
WASHINGTON – The partial shutdown of the federal government comes at a price – two of them, actually.

Restaurants, bars and shops have started offering discounts to federal workers, while some have posted surcharges for members of Congress brazen enough to admit who they are.

A sandwich board in front of Sapore Oil and Vinegar on Capitol Hill announces a 10 percent discount to all federal workers. Any member of Congress has 10 percent added to the bill.

"We've had a really positive response of people coming into the store and thanking us for putting the sign out there and for the discount," says Renee Farr, the owner.

People walking by on Pennsylvania Avenue have been taking pictures and laughing at the sign.

"We wanted to put something humorous out there, but it is also to help out a lot of our customers who are federal workers," Farr says.

Numerous bars offer federal workers a cheaper drink than usual.

Kramerbooks & Afterwords in Dupont Circle has expanded its normal happy hour to all day for all people.

That is, except Congress.

"I decided members of Congress should probably pay double because they're causing all the pain," says Henry Posner, president of the bookstore and café.

He says business has increased with many federal employees forced off the job.

That first order at double-the-price hasn't come yet.

"We haven't had any Congressmen announce themselves, willing to pay double," Posner says.
Gee I wonder why.