Dana Rohrabacher, Putin's Favorite Congressman, Loses Re-Election Bid
Over the weekend, it was confirmed that the man once referred to as Vladimir Putin's favorite Congressman was defeated in last week's midterms.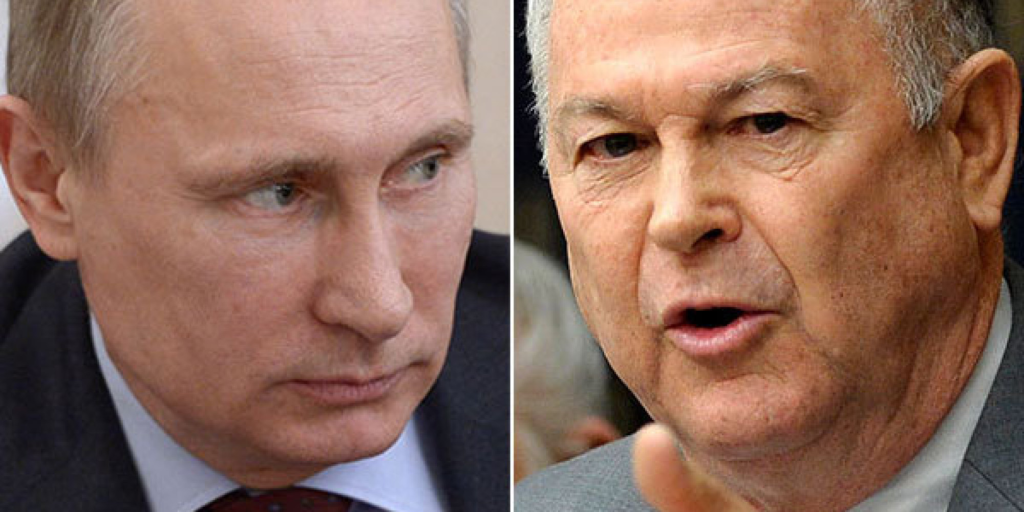 The man once described as Vladimir Putin's favorite Congressman is among those who were defeated in last Tuesday's election:
A Republican congressman known for his outspoken support for Russian President Vladi­mir Putin narrowly lost his Orange County, Calif., seat after 15 terms, a defeat that helped Democrats further solidify their House majority.

Democrat Harley Rouda, a real estate executive, beat Rep. Dana Rohrabacher in one of the state's most closely watched congressional races, the Associated Press projected on Saturday. Rohrabacher's strong identification with President Trump and his unabashed support for Russia had made him ripe for a challenge in an affluent district that went for Hillary Clinton in 2016.

Rouda had 109,591 votes to Rohrabacher's 101,081 votes, with 52 percent of the vote to the Republican's 48 percent, according to the AP.

Democrats won the House majority on Tuesday and since then have picked up additional seats as ballots have been counted in about a dozen unresolved races.

Rohrabacher's friendliness toward Russia has raised eyebrows over the years and became a focal point in the race. Referred to as "Putin's favorite congressman," the longtime Republican lawmaker has said that Putin beat him in a drunken arm-wrestling match in the early 1990s to decide who won the Cold War.

The FBI warned Rohrabacher in 2012 that Russian spies were actively trying to recruit him. In 2015, Rohrabacher met with a woman in Russia who was later charged in the United States with spying for Moscow, an indictment the lawmaker called "bogus."

And he has expressed doubts about the intelligence community's consensus that Russia interfered in the 2016 election.

In June 2016, House Majority Leader Kevin McCarthy (R-Calif.) said there are "two people I think Putin pays: Rohrabacher and Trump."
The New York Times has more:
Representative Dana Rohrabacher, a Republican fixture in California who represented Orange County for 15 terms, has lost his bid for re-election. His defeat underlines the party's setbacks in a part of the state that was long a symbol of its political dominance.

The Associated Press called the race on Saturday, with Harley Rouda receiving 52 percent of the vote to Mr. Rohrabacher's 48 percent.

Mr. Rouda, 56, is a former Republican turned Democrat who became a symbol of the Democratic efforts to win back Congress this year. Mr. Rohrabacher, 71, was viewed as particularly vulnerable because he defended Russia in the midst of allegations about its efforts to intervene in elections in the United States.

In July, Mr. Rohrabacher admitted to meeting with Maria Butina, who was charged by federal prosecutors this summer with conspiracy and acting as a foreign agent, during his trip to Russia in 2015. Mr. Rohrabacher was considered so valuable to the Kremlin that the F.B.I. warned him in 2012 that Russia regarded him as an intelligence source worthy of a code name. His support for President Vladimir Putin of Russia raised questions even among fellow Republicans.

Mr. Rouda capitalized on that in his campaign, running ads emphasizing Mr. Rohrabacher's Putin ties and criticizing Mr. Rohrabacher for questioning the assertion by United States intelligence agencies that Russia interfered in the 2016 election.
Rohrabacher has represented the 48th Congressional District since first being elected there in 1988. Generally speaking, he has won re-election rather handily over his various Democratic opponents and has often faced only token opposition, if he faced any opposition at all. In 2016, for example, he won by roughly seventeen percentage points, and two years earlier he had won by nearly thirty percentage points. His margins of victory in races prior to 2014 were similar to these numbers, which makes his narrow loss last week even more extraordinary.
Although there appear to be a number of factors that led to Rohrabacher's demise, one of the most prominent appears to be the fact that he has, over recent years, developed a reputation for being one of the strongest defenders of the regime of Vladimir Putin in the United States Congress. Over the years, for example, Rohrbacher has been a frequent critic of efforts to impose sanctions on the Putin government and on Russian oligarchs close to the Russian leader for actions such as the annexation of Crimea, Russia's efforts to aid pro-Russian rebels in Ukraine and other matters. His relationship with Russian officials has been so close that the F.B.I. apparently warned him in 2012 that the Russian government considered him an intelligence asset and even assigned him his own codename. Late last year, The New York Times ran a long profile of Rohrabacher that detailed his relationship with Russia, a relationship that appears to have become far more active after Donald Trump emerged as the top Republican candidate for President and Rohrabacher became one of the President's strongest supporters among Capitol Hill Republicans.
In the end, it appears to have been Rohrabacher's ties to Trump, and his ties to Russia that led to his defeat. Over the course of the campaign, both of these became issues in the campaign, of course. Rohrabacher's opponent brought both issues up during the course of the campaign and, of course, the Congressman found them harder and harder to ignore, especially as the ongoing investigation into Russian interference in the 2016 election became more and more apparent. Another factor in Rohrabacher's defeat appears to be the fact that the demographics in the district have changed significantly over the years and that it was seemingly inevitable that this would catch up with him at some point.
Perhaps now the Congressman can seek employment as a commentator on Russia Today, I'll bet he can get a letter of recommendation from Putin himself.