Daniels To Decide On POTUS Run By End Of May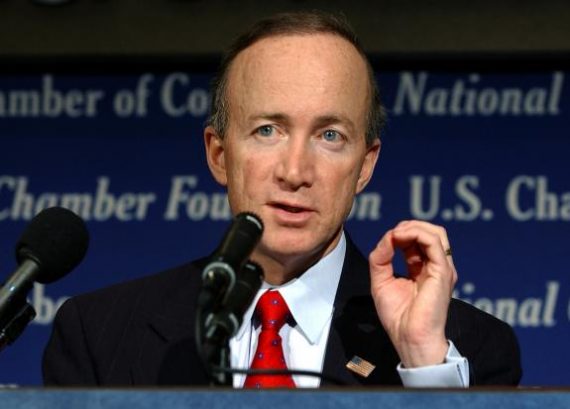 It looks like the GOP won't have to wait on Mitch Daniels for much longer:
Indiana Gov. Mitch Daniels (R) will decide whether or not to make a 2012 presidential run by the end of the month, according an Indiana GOP strategist.

The two-term governor has indicated this week that his public mulling can't continue much longer.

I wish people would figure out we're not BS'ing them," Daniels told The Indianapolis Star. "I'm not going to take much longer."

As Daniels keeps his cards close to his chest, the buzz continues to build around a possible White House bid.

Conservative blogger Erick Erickson reported this week on Twitter that he was told Daniels was running for president. The governor's spokesman quickly shot down that notion, saying there was no "imminent" announcement.
And there are other signs:
Daniels, who once served as executive director of the National Republican Senatorial Committee, will speak at an NRSC fundraiser in Washington on May 25. Indiana Republican Sens. Dick Lugar and Dan Coats along with Missouri Sen. Roy Blunt are also listed on the invite.

Last Thursday, Indiana first lady Cheri Daniels stepped into the political limelight at a state party fundraiser in Indianapolis. Her speech wasn't political, but could have been a preview of the role she'd play on the campaign trail.

Meanwhile, Daniels will hit the road this summer. He will be the keynote speaker at the Tennessee Republican Party's Statesmen's Dinner in Nashville on July 15. The Tennessee GOP has played host to presidential candidates before; former Minnesota Gov. Tim Pawlenty gave the keynote address at the event last year.
My hunch at this point is that Daniels is getting in, which will make things very interesting for Mitt Romney and Tim Pawlenty.