David Clarke Gets to Keep His Masters Degree
The plagiarism case reported last May was resolved after ten months of aggravation for both sides.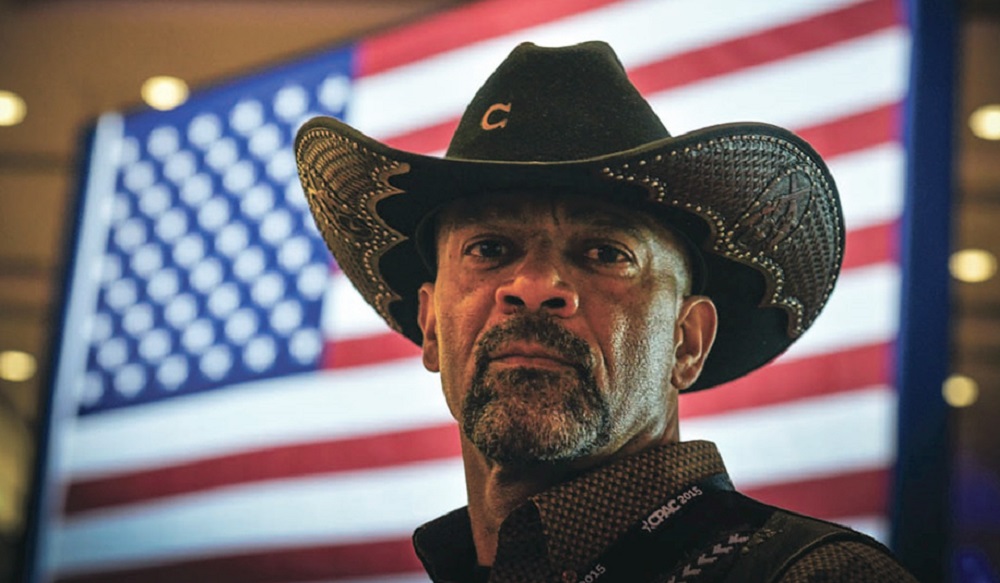 As recounted in my May 2017 post "David Clarke's Plagiarized Masters Thesis" and Doug Mataconis' September follow-up "Former Sheriff David Clarke Told To Revise Thesis After Plagiarism Investigation," a case of academic misconduct resulted in the conservative icon's degree from the Naval Postgraduate School being placed in jeopardy. He's now in good standing, but not without substantial consternation.
CNN Kfile ("Emails show former Sheriff David Clarke's tense and protracted process to retain master's degree"):
Former Milwaukee County Sheriff David Clarke has retained his master's degree in security studies from the Naval Postgraduate School after a lengthy revision process to correct multiple instances of plagiarism in his thesis.

[…]

Ultimately, it took Clarke 10 months after CNN's initial May 2017 story and several extensions of the resubmission deadline for his thesis to be revised to the satisfaction of the school, documents obtained by CNN's KFile through the Freedom of Information Act show. Clarke's revised thesis was accepted in March 2018.

"Matters of questionable academic conduct are not the norm on campus, but this case was handled as any other similar case would be," said Dale Kuska, director of communications for the school, in a statement to CNN. "We followed our instructions, as written, during the adjudication and Honor Board procedures, through the resubmission and acceptance of the thesis."

[…]

Internal NPS documents and emails show that frustration began to mount among the parties involved as early as August 2017.

That month, one school official, whose name is unknown because all school staff members' names were redacted from the documents CNN's KFile received, emailed another to say that Clarke believed he was "unfairly targeted and was never taught properly" how to cite sources. The official further recounted how Clarke had told him in a recent conversation that he did not understand why some of his revisions were inadequate and that the former sheriff said his eyes were "glazing over" at the official's attempt to explain.

In response, the other official appeared to scoff at Clarke's struggles, saying that "he could knock out the necessary revisions in a week of evenings if he stops trying to argue the case and just makes the changes."

The official added, "(Clarke) has dined out quite a few times on the 'I was never taught this stuff' cant, and I'm about done with it. The implication is that twenty-odd of his classmates somehow received the wisdom through osmosis or implication."

In December, following a review of another Clarke draft, officials wrote that "many of our comments were simply ignored" and that "some of his fixes are extremely superficial."

In emails of his own, Clarke also expressed irritation with what he called "a never ending process."

"It is unconscionable to now be told I need to GO BACK to the December version and find old errors," he wrote on December 18 after being told he needed to make further changes. "What would be the reason that I could not rely on the comments and corrections [redacted] requested after the October submission? This seems to be a never ending process that I will never be allowed to effectively complete. Please provide an acceptable explanation for what is happening here?"

"I am truly at their mercy and doing the best I can but it is taking a lot of time," Clarke wrote on January 28, in an email requesting additional time.
Despite Clarke's complaints about unfair treatment, however, Naval Postgraduate School officials were cautious in shepherding him through their process, with one writing to another in December that he or she had edited the latter's comments on Clarke's revised essay to ensure that they were consistent "with what we'd send to any other student."

Another December message from an Naval Postgraduate School employee said, "We've had to do more work than normal, but that is often the case with students given extensions after an honor board — following instructions and paying attention to details are not their strong suits."

Other emails suggest that the school was sensitive to the public nature of the matter, with one official requesting guidance on how to respond to a CNN Freedom of Information Act request. The reply, on which Clarke was added, stated that the school was permitted to inform CNN that Clarke had received an extension, but that "we would prefer you didn't answer them at all since it should be subject to student privacy".

Other documents hint at the involvement of the school's top leadership, with a February 1 email saying that the school's president, Ronald A. Route, personally granted Clarke one of the extensions.

When the process finally neared its end, both sides expressed relief.

"I don't know about you," one official wrote to another in March, "but I will be very happy when we get this one of (sic) our plate."
I tend to agree with the official who argued that the FOIA request should not have been granted because of privacy concerns. Since the awarding of degrees is public information and master theses are published, the plagiarism was a matter discoverable through ordinary process. Having been revealed, the status of that degree should certainly have been public information. But I'm not sure why the internal processes should be subject to public scrutiny.
While I'm unsympathetic to the arguments by Clarke's defenders that, since footnotes were provided, this wasn't really plagiarism, it's entirely plausible to me that Clarke was genuinely confused on how citation worked. He took some college classes in the mid-1970s before dropping out to begin a career in law enforcement. He then obtained an online bachelor's degree in 1999. He then participated in a hybrid program at NPS from 2012-2013, taking classes online with some brief in-residence stints. Frankly, he wasn't academically qualified for graduate education and probably didn't have the training necessary to fully understand what right looked like.
The back-and-forth with school officials is amusing to me, not so much because they reflect poorly on Clarke but because it's so familiar. Having taught many students in a similar situation—very successful in their career but long out of academia and sometimes with an undergraduate degree that didn't well prepare them to write a Security Studies masters paper—I've seen it so many times. A lot of students in that situation get frustrated by what they see as arcane if not opaque rules and just want the process to be over with.
Quite frequently, they will make only a cursory attempt at addressing a comment and get frustrated that, on subsequent drafts, they're asked to make additional corrections. This happens for many reasons. First, professors will point out a particular error and then expect students to correct related errors throughout the paper. Better students will do that instinctively; poor ones will often not understand why the error is actually an error, and thus be unable to spot it. Plus, poor students are often lazy. Second—and this really frustrates students—having corrected one problem will often introduce new problems because correcting the logic in an early part of the paper will render some later section of the paper nonsensical, redundant, or contradictory. Again, weak students tend to lack the capacity to figure this out for themselves.
Relatedly, the back-and-forth among faculty is fairly typical as well. It's simply the nature of the business that the weaker students require the most work and generate the most kvetching from the professoriate. While NPS isn't part of the professional military education system (although it is possible to do a cooperative program with the Naval War College to complete the staff college course), it seems to have the same ethos of professors going the extra mile to help struggling students finish. In much of academia, professors simply don't care whether weak students—particularly in graduate programs—finish.
The good news here is that, given the nature of the back-and-forth, it appears that Clarke genuinely wrote the paper and made the required corrections himself. It would be quite easy for someone in his situation—relatively well off financially and with a long career of having subordinates doing his writing for him—to have pawned this off. Good on him for doing the nug work to get across the finish line.