David Frost Dead at 74
The pioneering journalist David Frost has died, aged 74 years.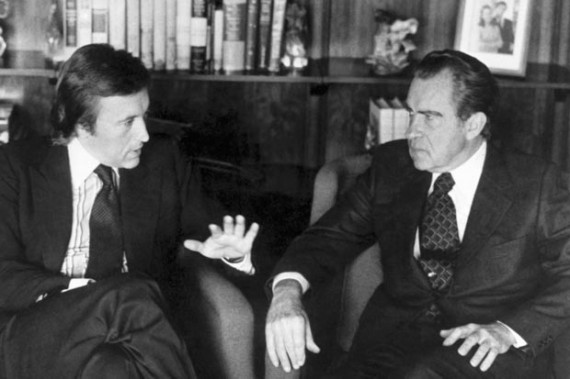 The pioneering journalist David Frost has died, aged 74 years.
BBC ("Sir David Frost, broadcaster and writer, dies at 74"):
Veteran broadcaster Sir David Frost has died at the age of 74 after a suspected heart attack while on board a cruise ship.

A family statement said he had been giving a speech aboard the Queen Elizabeth on Saturday night.

Sir David's career spanned journalism, comedy writing and daytime television presenting, including The Frost Report.

Internationally, he will be remembered for his revealing interviews with former US President Richard Nixon.

A statement said: "His family are devastated and ask for privacy at this difficult time. A family funeral will be held in the near future and details of a memorial service will be announced in due course."
BBC ("Obituary: Sir David Frost"):
Sir David Frost was a household name, a man who became a broadcasting legend on both sides of the Atlantic.

He began his career at the cutting edge of television satire and went on to interview some of the most famous people of his generation, becoming friends with many of them on the way.

He developed the confrontational style dubbed 'trial by television' although, in later years, his interviews lost something of their cutting edge.

[…]

In 1962 the writer and producer Ned Sherrin approached Frost to host a new satirical television programme being planned by the BBC, That Was The Week That Was.

TW3, as it became known, gleefully lampooned the British establishment and tapped into the changing perception the public had of politicians in the wake of the Profumo scandal.

The programme struck a chord with a nation that had, until then, been naturally deferential towards its leaders.

No target was safe, with politicians, business leaders and religion being just some of the subjects that came under the TW3 microscope.

Frost's sardonic presentational style was coupled with an acerbic script from a team of writers which included John Bird, Peter Cook, John Cleese, Keith Waterhouse and Dennis Potter.

TW3 also broke all the technical rules of television. Cameras and other equipment appeared in shot and the programme, broadcast live on a Saturday night, would often over- or under-run depending on how much material was available on the night.

Politicians regularly complained to BBC management that they were being ridiculed by David Frost and his team. But the programme gained a massive following and soon achieved cult status.

[…]

The Frost Report, which brought together John Cleese, Ronnie Barker and Ronnie Corbett, notably in the famous class sketch, ran for 29 episodes and featured scripts written by some of the best comedy writers of their generation.

Most of the future Monty Python team honed their skills on the Frost Report before going on to launch the famous Flying Circus.

[…]

After the Frost Report he moved back to Rediffusion where he fronted The Frost Programme, a series of in-depth interviews with leading figures from the worlds of politics and entertainment.

Interviewees included The Beatles, Mick Jagger, Orson Welles, Tennessee Williams and Noel Coward, while Prince Charles was interviewed on the eve of his investiture as Prince of Wales.

[…]

By this time Frost was already well known in America, having begun hosting The David Frost show on US television.

In 1977, he used his probing style to take US President Richard Nixon to task over his role in the Watergate affair.

In the interviews, watched by 45 million people, Nixon ultimately admitted his part in the scandal which led to his resignation two years earlier.

"He was the most fascinating man," Frost later told CNN.

"I mean, an enigma. There's never been anyone who was such an enigma in the Oval Office. Someone has to be pretty fascinating, pretty enigmatic, pretty Nixonian to keep one fascinated for 28¾ hours."

The story of their verbal battle was brought to a new generation with the 2008 release of Frost/Nixon – a film based on those interviews, starring Michael Sheen as the British contender and an Oscar-nominated Frank Langella as the disgraced politician.

[…]

His new show – also on a Sunday morning – ran for 500 editions, ending in May 2005 when he switched to presenting a weekly current affairs programme Frost All Over The World on the Al Jazeera English Channel.

Recent interviewees have included Prime Minister Gordon Brown and former US Republican presidential candidate John McCain.

By this time the angry young satirist had metamorphosed into comfortable middle age and become part of the very establishment he had lampooned so effectively 30 years before.

Many critics derided his new interviewing style, suggesting it should be more properly called Bedtime With Frost; but he was unabashed.

"What is more likely to get the coat off your back: the wind or the sun? Wind makes you draw the jacket round yourself. The sun encourages you to take it off."

Frost wrote a number of books, produced eight films and received many major TV awards, in the UK and internationally.

He was the only journalist to have interviewed all seven British prime ministers who held office between 1964 and 2010 and every US president who had occupied the White House between 1969 and 2008.
An extraordinary life and a true pioneer. He was Mike Wallace before there was a "60 Minutes." And this obit is the first I'd heard of the Python connection.
A clip from the interview that defined his career: