David Gregory Asks If Glenn Greenwald Should Be Prosecuted
Does David Gregory consider Glenn Greenwald to be a reporter deserving of protection, or "just a blogger" who may be a potential criminal?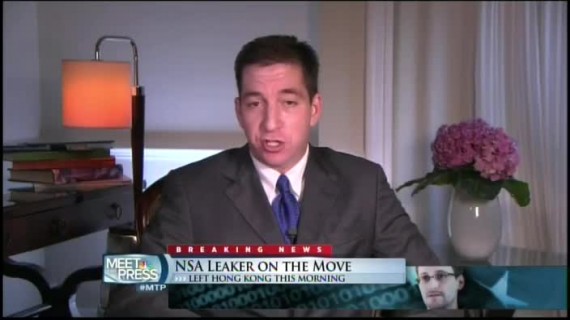 As news was breaking about Edward Snowden's departure from Hong Kong, NBC's David Gregory was interviewing Glenn Greenwald for today's Meet The Press and asked Greenwald whether he thought he should be prosecuted for "aiding and abetting" Edward Snowden. Suffice it to say Greenwald wasn't pleased:
"I think it's pretty extraordinary that anybody who would call themselves a journalist would publicly muse about whether or not other journalists should be charged with felonies," Greenwald said. "The assumptions in your question, David, is completely without evidence, the idea I've aided and abetted him in any way. The scandal that arose in Washington before our stories began was about the fact that the Obama administration is trying to criminalize investigative journalism by going through the e-mails and records of APreporters, accusing a Fox News journalist of the theory you just embraced, being co-conspirator in felonies for working with sources."

"If you want to embrace that theory," Greenwald continued, "it means that every investigative journalist in the United States who works with their sources, who receives classified information, is a criminal. It's precisely those theories and precisely that climate that has become so menacing in the United States. It's why the New Yorker's Jane Mayer said investigative reporting has come to a standstill, as a result of the questions you just mentioned."
Taken to its logical extreme, a "yes" answer to Gregory's question would lead to a world in which investigative journalism itself is a crime. The reporters at The New York Times and The Washington Post?  Co-conspirators in the publication of The Pentagon Papers. Woodward and Bernstein? Co-Conspirators with a top FBI official revealing government secrets. The news outlets that reported on the torture at Abu Gharib? Co-Conspirators in the violation of military secrecy. There is virtually no instance of investigative journalism in recent American history that wouldn't be considered a crime under the logic of Gregory's question. Is that the kind of world that he wants? Yes, there are potentially circumstances where a journalist crosses the line from reporter to co-conspirator in espionage, but we have to be careful  in drawing that line, and we need to do so in a way that protects freedom of the speech and the press. Based on the evidence we have now, the idea that Glenn Greenwald is a criminal or potential co-conspirator is simply absurd. Greenwald was reporting on information provided to him by a source. If that becomes a crime, we've got a serious, serous problem.
Later in the program during the show's "round table" segment, Gregory said that he was simply asking a question that others have raised since this story has become public, but I have to wonder if he'd be asking the same question of a reporter from the Times, Post, or from his own network that broke a major story based on classified information received from a source? What was interesting to me about Gregory's question wasn't just that he asked it, but the way that he asked it in that it seemed to assume that Gregory had accepted the premise of the question already. Is that because he considers Greenwald to be "just a blogger," rather than a real reporter? Indeed, in response to Greenwald's challenge to him in the last paragraph quoted above, Gregory said this:
"Well, the question of who's a journalist may be up to debate with regard of what you are doing," Gregory opined. "And of course, anybody who's watching this understands I was asking a question, that question has been raised by lawmakers as well."

"I'm not embracing anything, but obviously I take your point," the NBC host insisted.
Not embracing anything? Are you sure about that, David?
Here's the video of the exchange, judge for yourself:
Visit NBCNews.com for breaking news, world news, and news about the economy