David Gregory Won't Be Prosecuted for Technical Violation of DC Gun Law
David Gregory committed a technical violation of DC's gun law to make a point on a national news show. Conservative gun control opponents are angry.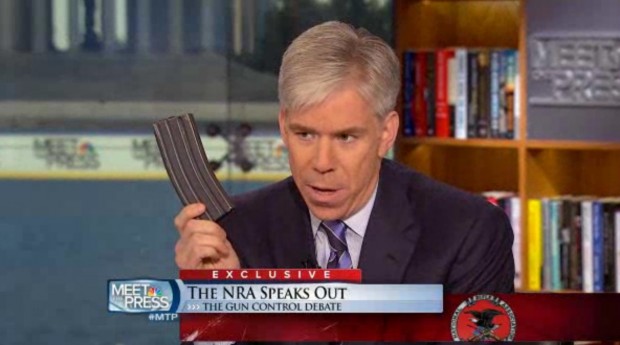 David Gregory committed a technical violation of DC's gun law to make a point on a national news show. Conservative gun control opponents are angry.
WaPo ("NBC's Gregory won't be charged for displaying ammunition clip on TV"):
The D.C. attorney general on Friday declined to charge the host of NBC's "Meet the Press" for displaying an empty ammunition magazine on national television, saying that doing so would not make the District safer.

The decision, coming amid a charged debate over gun laws, spares journalist David Gregory the possibility of jail time. But the attorney general warned the network "of the gravity of the illegal conduct . . . in a city and a nation that have been plagued by carnage from gun violence."

In a letter to NBC, Attorney General Irvin B. Nathan admonished Gregory for knowingly flouting the law, but Nathan said he decided to exercise "prosecutorial discretion" and not pursue a criminal case. "Prosecution would not promote public safety in the District of Columbia, nor serve the best interests of the people," Nathan wrote.

The letter ends a nearly three-week-long investigation by D.C. police, prompted by viewers who e-mailed the department after watching Gregory display a 30-round ammunition magazine during a Dec. 23 interview with the National Rifle Association's executive vice president, Wayne LaPierre. The two were talking about the school shootings in Newtown, Conn.

Those viewers demanded that Gregory be arrested, citing a law that makes it illegal in the District to possess a magazine, even an empty one, capable of holding more than 10 rounds of ammunition. It's a misdemeanor punishable by up to a year in jail and a $1,000 fine.
POLIICO ("No gun magazine charges for David Gregory") adds:
D.C. attorney general Irvin Nathan on Friday said he would decline to prosecute in the case involving the Sunday show host and any NBC staffers. In a letter to NBC's attorney Lee Levine, Nathan wrote that after reviewing the matter, his office "has determined to exercise its prosecutorial discretion to decline to bring criminal charges against Mr. Gregory, who has no criminal record, or any other NBC employee based on the events associated" with the broadcast.

The office made its decision "despite the clarity of the violation of this important law, because under all of the circumstances here a prosecution would not promote public safety in the District of Columbia nor serve the best interests of the people of the District to whom this office owes its trust."

Nathan noted that his office's decision in this case was also influenced by "our recognition that the intent of the temporary possession and short display of the magazine was to promote the First Amendment purpose of informing an ongoing public debate about firearms policy in the United States."
So, what we have here is a rare display of a prosecutor using common sense in a case involving a high-profile suspect. Yes, Gregory violated the law. But Nathan quite reasonably figured that the intent of the law was to make it a little harder to commit mass murder, that Gregory's magazine was neither loaded nor attached to a weapon, and that Gregory was actually advocating for the very law in question.
Naturally, then, smart conservatives such as Cornell Law's William Jacobson agree with the decision. Having read this far, of course, you know the answer. He greets the decision with a string of images bearing the captions "Because I'm the [sic] journalist and you're not," "If I were a black teenager I'd already be in jail," and "If I were you, I'd already be in jail." In a separate posting, he points to reports that Nathan and Gregory's wife were both at a DC Shakespeare Company charity mock trial, implying that this was a factor in the decision.
Tennessee Law's Glenn Reynolds observes, "Laws are for the little people. Gregory's useful. But you can tell how proud they are of this decision by the fact that it came out on a Friday afternoon . . . ."
PowerLine's Scott Johnson is sneering but makes no actual argument.
Wisconsin Law's Ann Althouse takes a more reasonable position:
Why is the law important? If Gregory clearly violated the law, but there is no interest to be served in prosecuting him, doesn't that prove that the law is not important? If the precise thing that he did — which is clearly what is defined as a crime — raises no interest in prosecution, how can we be satisfied by letting this one nice famous man go? Rewrite the law so that it only covers the activity that the government believes deserves prosecution, so there is equal justice under the law.
Now, I agree that laws should be written narrowly to prevent prosecutorial abuse. At the same time, though, some degree of prosecutorial discretion is reasonable. Surely, no prosecutor is going to charge a person with a crime for the sole act of carrying one empty magazine with no other evidence of intent to commit homicide, distribute mass quantities of magazines, or some other dangerous act.