David Jones, Former Joint Chiefs Chairman, Dead at 92
David C. Jones, who served as Chairman of the Joint Chiefs of Staff under Presidents Carter and Reagan, has died.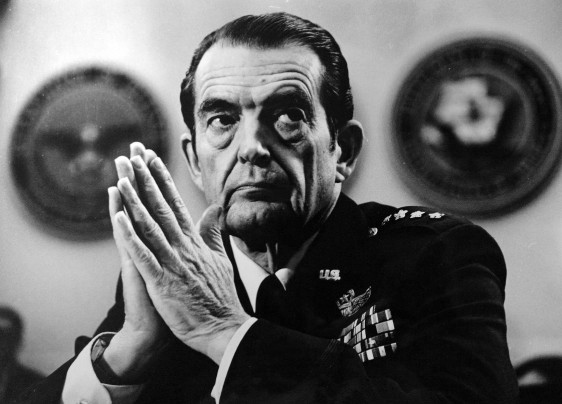 David C. Jones, who served as Chairman of the Joint Chiefs of Staff under Presidents Carter and Reagan, has died.
WaPo ("Former Joint Chiefs chairman David C. Jones dies at 92"):
David C. Jones, a retired Air Force general who was the nation's top military officer as chairman of the Joint Chiefs of Staff from 1978 to 1982, died Aug. 10 at Falcons Landing, a military retirement community in Potomac Falls. He was 92.

He had Parkinson's disease, a daughter, Kathy Franklin, said.

After serving as Air Force chief of staff for four years, Gen. Jones was named to lead the Joint Chiefs by President Jimmy Carter. Gen. Jones was one of the few top generals of the time who had never attended a service academy or graduated from college.

[…]

When Gen. Jones took over as chairman of the Joint Chiefs in 1978, he expressed concern that the United States was falling behind the Soviet Union in military preparedness during the waning years of the Cold War.

"I intend to spend a great deal of time in the nonglamorous areas of readiness," he told the Christian Science Monitor. His motto was "readiness now."

The general was a key figure in the Carter administration's negotiations with the Soviet Union during SALT II, the second phase of the Strategic Arms Limitation Talks, in the late 1970s.

He also was the chief planner of a failed mission in 1980 to rescue 53 U.S. hostages in Iran. The rescue effort was marred by a sandstorm and ultimately aborted after eight service members were killed when a helicopter collided on the ground with a transport plane.

"Nobody regretted more than the Joint Chiefs that we failed," Gen. Jones told The Washington Post in 1980. "But if you get into a sort of philosophy where you cannot afford to take a risk, then the system will act in an extremely cautious way. This is a risky world, and we'd better be willing to take risks."

[…]

After becoming Air Force chief of staff in 1974, he led efforts to improve race relations in the ranks. He also launched an efficiency initiative that cut thousands of civilian and military jobs in the Air Force.

Near the end of his tenure as Joint Chiefs chairman in 1982, Gen. Jones began to speak out for reform of the organizational framework of the military, starting with the Joint Chiefs themselves.

"There is an absolutely critical need to change this nation's structure of military leadership," he told U.S. News & World Report in 1982. "Historically, the United States has not paid attention to military organization until a catastrophe occurs."

He believed that the chairman of the Joint Chiefs should have more authority and that the different services too often worked at cross purposes.

Despite charges that civilian control of the military would be eroded, many of Gen. Jones's suggestions were embodied in the 1986 Goldwater-Nichols Act, which streamlined the military chain of command.
While I remember the Iran Hostage Crisis and the Desert One debacle quite well, my recollection of Jones is dim. But his influence is certainly still felt today. In addition to advocating for the very successful reforms that would come with Goldwater-Nichols (although not realized meaningfully for more than a decade after its passage) he had a hand in the transformation of American military doctrine that began under the Carter administration and came to fruition under Reagan. The Offset Strategy, which leveraged our technological advantage to compensate for the manpower advantage of the Soviets, continues to be our guiding principle. Relatedly, we opened the National Training Center at Fort Irwin during Jones' tenure, beginning a huge investment in realistic training in maneuver operations that was unrivaled.
Incidentally, it's those two things—investment in R&D and training—that are hardest to sustain during periods, like the present, of defense cutbacks.