David McCullough, 1933-2022
A great American author is gone at 89.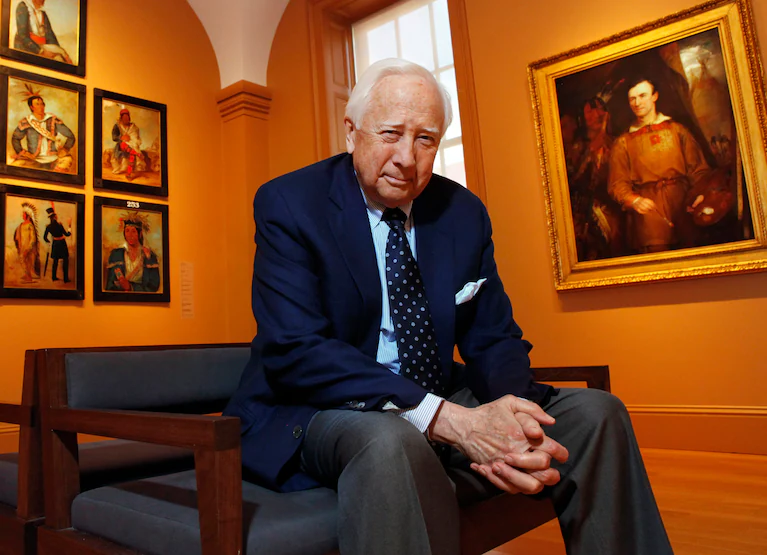 Washington Post ("David McCullough, master chronicler of American history, dies at 89"):
David McCullough was a young researcher at the U.S. Information Agency when he walked into the Library of Congress in 1961 and chanced upon a photography exhibit depicting the 1889 flood in Johnstown, Pa., the deadliest in American history.

"I was overwhelmed by the violence revealed in them, the destruction," Mr. McCullough, who was from the same area of western Pennsylvania, later told the Johnstown Tribune-Democrat. More than 2,200 people died, and a thriving coal-and-steel town was submerged in muddy debris because wealthy industrialists had neglected a dam.

The passage of time had reduced the tragedy to a historical footnote, Mr. McCullough discovered, with little if any serious scholarly study devoted to it. Undaunted by his own inexperience — "I imagined myself being a writer, but never a writer of history," he said — he set out to write a book about the Johnstown flood.

For years, he dedicated his spare time to his research, interviewing the few remaining survivors to capture their memories of sudden terror, desperate acts of self-preservation and the awful duty, in the aftermath, of identifying the dead.

"The Johnstown Flood," published in 1968, became a bestseller, rekindled national interest in the disaster and instantly established its author as a historian with an exceptional gift for animating history.

Mr. McCullough, long regarded as a master storyteller of American daring, endeavor and perseverance, died Aug. 7 at his home in Hingham, Mass. He was 89.
I have, of course, known McCullough's work for decades and have read some of his books and seen him in countless documentaries. I was unaware, though, of his origin story.
As an academic, I tend to reserve the title "historian" for those with doctorates in the field. But, like so many other masters of the craft (Robert Caro, Jon Meacham, Shelby Foote come immediately to mind), he was self-taught, a natural storyteller with an intense work ethic.
His daughter Dorie Lawson confirmed the death but did not cite a specific cause.
He was 89. That was the cause.
In a career spanning more than five decades, Mr. McCullough turned out hugely popular tomes about such subjects as the building of the Panama Canal and the Brooklyn Bridge. He put a spotlight on the largely unknown but extraordinary people who battled disease, bureaucracy and graft to see such awe-inspiring visions accomplished.
One of the remarkable things about McCullough's work is the sheer breadth of subject matter. Most professional historians specialize in a relatively narrow period of time or topic.
His biographies of two underappreciated presidents, John Adams and Harry S. Truman, shone a light on their achievements and earned him two Pulitzer Prizes.

When he turned his attention to the great forces and figures in American history, such as the American Revolution ("1776") or President Theodore Roosevelt ("Mornings on Horseback"), he brought to life the grand sweep of time and place, as well as the colorful, minute historical details that characterized his widely lauded storytelling skills.

With his sonorous and somber voice, commanding presence and shock of white hair, Mr. McCullough appeared frequently on television series such as PBS's "American Experience." He often collaborated with filmmaker Ken Burns and narrated Burns's Emmy Award-winning documentary series "The Civil War."

"He's had a profound influence on all I've done because he taught me how to tell a story," Burns told an audience in 2015.

Mr. McCullough's honors included two National Book Awards and the Presidential Medal of Freedom, presented in 2006 by George W. Bush.
He won essentially every award a historical writer could.
"History matters. That's what I've tried to convey," Mr. McCullough told the Patriot Ledger of Quincy, Mass., in 2017. "It's essential to understand our nation's story, the good and the bad, the high accomplishments and the skulduggery. And so much of our story has yet to be told."

For a generation of younger historians, among them Walter Isaacson, Mr. McCullough was a generous mentor as well as an inspiration. "At one point, when I was very young, we were talking about the various founders, and he said, 'I'll do John Adams, and you should do Benjamin Franklin,' " Isaacson said in an interview. "I felt I was able to share a feast with the master chef."

When he got stuck while writing one of his own best-selling historical profiles, Isaacson would turn to a passage from Mr. McCullough's "John Adams" or "Truman" to "try to get into the rhythms that mark his greatest passages."
McCullough's approach was that of the method actor:
Mr. McCullough's writing style was deceptively approachable, often belying the years he spent mining dusty archives for that telling letter, document or record that might bring a story to life.

In the course of his research for "Truman" (1992), Mr. McCullough moved for a time to the 33rd president's hometown of Independence, Mo., to pick up the local accent and almost literally follow in the footsteps of the former president on his fast-paced early-morning walks. Years earlier, while writing "The Great Bridge" (1972), he had grown a beard in an effort to immerse himself in the life of one of the key builders of the Brooklyn Bridge.

"The only way I can attain this feeling for my subject is when I've soaked up so much information on it, I know it from every angle and direction, and can call on all those resources to imagine that I am there," Mr. McCullough told the New York Times.

"People often ask me if I'm working on a book," he continued. "That's not how I feel. I feel like I work in a book. It's like putting myself under a spell. And this spell, if you will, is so real to me that if I have to leave my work for a few days, I have to work myself back into the spell when I come back. It's almost like hypnosis."
This approach would be not only odd but essentially impossible for an academic historian, since they live around a teaching schedule. But a lot of professional biographers, in particular, do something like this. Some will even abandon a project after considerable investment of time because they decide they just can't identify with the character enough to inhabit them properly.
And this is a common thing for so many writers of an earlier era:
Working for much of his career in a tiny windowed shed behind his farmhouse in West Tisbury, Mass., on Martha's Vineyard, Mr. McCullough tapped away on a manual 1940 Royal typewriter purchased for $25 in 1965.

"I like the tactile part of it," he told the Times. "I like rolling the paper and pushing the lever at the end of the line. I like the bell that rings like an old train. … I even like crumpling up pages that don't work. … I don't like the idea that technology might fail me, and I don't like the idea that the words are not really on anything."
I learned to type in high school but haven't used a typewriter more than a handful of times since—and probably not at all since leaving the Army 30 years ago (and only then for the occasional form that had to be filled out manually).