David Perdue Wins GOP Senate Primary Runoff In Georgia
A somewhat surprising win in Georgia.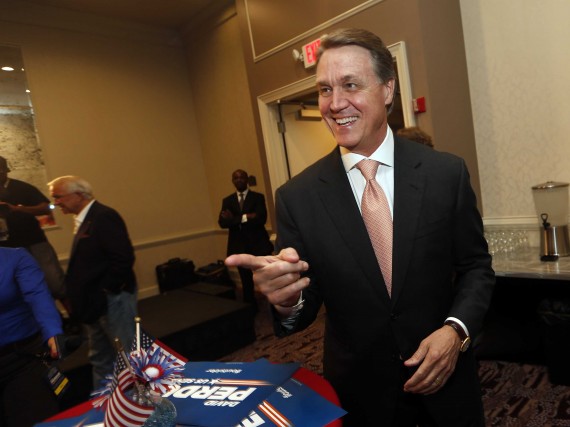 To the surprise of many political observers, and contrary to much of the polling that had been conducted, businessman David Perdue managed to pull off a narrow win over Congressman Jack Kingston in the runoff election to decide who the GOP will send to face Michelle Nunn in the fall for the Senate seat being vacated by Saxby Chambliss:
Businessman David Perdue upset 11-term Rep. Jack Kingston in Georgia's Republican Senate runoff Tuesday by a narrow, two-point margin — setting up a general-election race featuring two first-time candidates vying for one of the nation's most hotly-contested Senate seats.

Kingston delivered a concession speech shortly after 11 p.m. Eastern time. With 100 percent of precincts reporting, Perdue led Kingston, 50.9 percent to 49.1 percent — outside the margin needed to trigger an automatic recount.

The general election is likely to be a costly battle between two candidates running as "outsiders," despite their politically-powerful families. Democratic nominee Michelle Nunn's father, Sam Nunn, represented Georgia in the Senate for 24 years. Perdue's first cousin, Sonny Perdue, was the first Republican governor elected since Reconstruction, serving two terms from 2003-2011.

With Kingston's defeat, Nunn has lost her chance to run against Washington and the national debt. She is expected, instead, to contrast her background as a nonprofit executive against Perdue's tenure as a CEO at companies like Reebok and Dollar General.

Georgia is the Democrats' best chance to pick up a Republican-held seat this fall, which ensures it will be one of the most closely-watched races on the map.

Kingston, who has represented a Savannah-area district since 1992, overwhelmingly won the southern and coastal parts of the state Tuesday, but he did not make the inroads into metropolitan Atlanta that he needed, despite strong help from third-place finisher Karen Handel and fourth-place finisher Phil Gingrey.

For much of last year, GOP leaders worried openly that ardent social conservative House members like Gingrey or Paul Broun would be the nominee. The fear was that either of them could make a Todd Akin-style gaffe that could cost the party another red-state seat and make winning a majority that much harder. But both Kingston and Perdue were considered acceptable to the GOP establishment.

Still, the general election to replace GOP Sen. Saxby Chambliss appears competitive. Nunn led Perdue by 6 points, 48-42, in a Landmark Communications poll last week for the Atlanta ABC affiliate and 7 points, 48-41, in a Democratic robopoll from Public Policy Polling; both polls notably showed Kingston ahead in the primary. Nunn has been one of the most impressive non-incumbent fundraisers nationally this cycle.

Georgia is changing demographically and has a significant African-American population that could make a difference if galvanized. Polls also show a close gubernatorial race between sitting Republican Gov. Nathan Deal and state Sen. Jason Carter, the grandson of former President Jimmy Carter.

The Peach State runoff would have represented a much clearer demarcation of the establishment-versus-tea-party narrative if the race had pitted either Kingston or Perdue against Broun, Gingrey or Handel. Instead, the two-month-long fight has received minimal national notice and drawn comparatively little national money.

The exception is the U.S. Chamber of Commerce, which has spent more than $3 million boosting Kingston. The group put out a web video on Monday night slamming Perdue for running an ad accusing Kingston of being too cozy with them in earning their support.

Democrats gleefully recycled the Chamber's hits on Perdue after results showed him winning the runoff.

Perdue, 64, successfully hammered Kingston as a big-spending Washington insider, which proved a powerful argument for a restive primary electorate. He touted his experience as CEO of Reebok, the shoemaker, and Dollar General, the retailer, claiming he could help fix the fiscal mess in D.C.
The outcome came as something of a surprise given the fact that polling prior to yesterday's election had shown Kingston leading Perdue outside the margin of error for the last several weeks. Fairly early on in the evening, though, it became apparent that voter turnout on Tuesday, and during the early voting period, had been quite favorable to Perdue given the fact that he was essentially ran neck and neck with Kingston as results came in from those parts of the state where the Congressman was expected to be strong. the Atlanta Journal-Constitution's Political Insider blog explains how Perdue pulled it off:
Metro Atlanta's Perdue support offset south Georgia's Kingston backing. While Kingston held onto his big margins in south Georgia, Perdue more than wiped him out with big showings in populous metro Atlanta and other urban areas across the state. Perdue's camp was ecstatic that Kingston's net margin over Perdue in Savannah's Chatham County was 12,000 – close to what they expected. If Kingston landed the same vote totals in coastal Georgia he tallied during the May primary, he'd be waking up to a different headline today.

A slow   windup and powerful close. Perdue's camp went up with its infamous "Babies" TV ads early in the primary to define the race. But in the nine-week runoff – the longest in state history – they largely held their fire until the final weeks before the contest. Perdue's aides said that helped them refuel and better target Kingston. As we've noted, Perdue and his allies were vastly outspent by Kingston in metro Atlanta, but spent far more than him elsewhere in the state.

An effective grassroots network. Perdue advisers said it never got much media attention, but they built a formidable network of activists across the state who tapped an anti-incumbent streak to boost their candidate.  That foundation is still intact, they say, and will come in handy against Nunn.
Perdue also may have benefited from general antipathy toward Congress and the fact that Kingston had been in office for some 22 years. In any case, this race didn't exactly get as much attention as some other Republican Senate primary races this year, and that's primarily because it didn't fit into the same Tea Party v. Establishment mold as other races this year in Kentucky, Mississippi, and elsewhere. This was largely due to the fact that Perdue and Kingston had been dominating the race even before the first round, and those candidates were largely knocked out in the first round back in May.  Without that narrative, the race was one that slipped under the media radar, and apparently got away from pretty much every pollster.
With the primary over, attention obviously now turns to the race in November between two political outsiders, both of whom are likely to be well funded. In polling to date, Michelle Nunn and David Perdue are fairly evenly matched, with the RCP average currently showing the two of them tied. As some have observed, though, its unclear just how good an indicator of the playing field going forward these polls that were taken while Perdue and Kingston were fighting the runoff race actually are. Now that Georgia Republicans have a nominee, they're likely to unite behind him fairly quickly. Given that, it would be more useful to see polling going forward than anything that has happened in the past. Nonetheless, there are many who seem to think that the Democrats might have a chance at winning this Georgia seat due to demographic changes in the Georgia electorate related to both the increased power of the area around Atlanta, which is made up of many transplants to the state, and the decline in the white vote.  This, along with the hope that it will cause Republicans to spend resources that might have otherwise been used in states with vulnerable Democrats, is why national Democrats are holding out hope for a flip and will likely put significant resources into Nunn's campaign. As I've noted before, though, I suppose its possible that this could end up being a competitive race, and we'll have to wait until the first round or two of polls to see if that's the case. My guess, though, is that this race will end up being safely Republican by the time we get to the end of the game.