David Petraeus Given Slap on Wrist for Espionage Act Violation
The former CIA Director received no jail time and a nuisance-level fine in exchange for a guilty plea to espionage charges.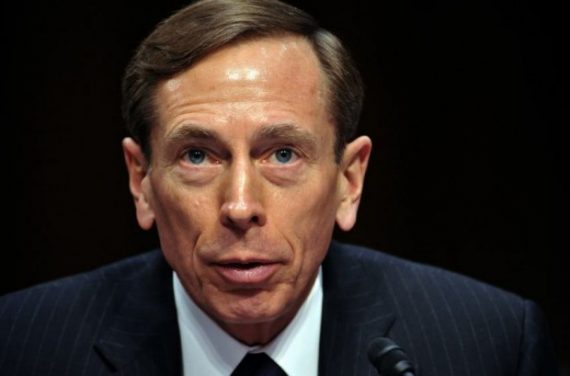 David Petraeus has been sentenced to no jail time and a nuisance-level fine in exchange for a guilty plea to espionage charges.
NYT ("David Petraeus Is Sentenced to Probation in Leak Investigation"):
A federal judge on Thursday sentenced David H. Petraeus, the highest-profile general from the wars in Iraq and Afghanistan, to two years' probation for disclosing classified information. He was also fined $100,000, which was $60,000 more than the government had recommended.

The sentencing was the end of a leak investigation that embarrassed Mr. Petraeus and created bitter disputes inside the Justice Department about whether he was receiving too much leniency from Attorney General Eric H. Holder Jr.

F.B.I. officials and some prosecutors had contended that Mr. Petraeus should receive prison time for providing highly classified journals to a woman with whom he had an affair and who wrote his biography when he was the director of the C.I.A.

But Mr. Holder sided with Mr. Petraeus, ultimately deciding to agree to recommend that he be spared prison time. That decision angered the F.B.I. officials and prosecutors who said the attorney general was giving Mr. Petraeus preferential treatment, according to several law enforcement officials.

Not only had the head of the C.I.A. potentially jeopardized national security, but he had lied about it to F.B.I. agents in an interview, the officials said. Lying to federal agents is a felony that carries a sentence of up to five years in prison. The Justice Department has used that charge against terrorists, corrupt politicians and low-level drug dealers.

And giving special treatment to Mr. Petraeus was a double standard, some argued, particularly when the Justice Department has led an unprecedented crackdown on leaks and prosecuted several low- and midlevel officials for disclosing secrets to reporters.
While I ultimately disagree, I'm very sympathetic to the FBI position. As Popehat's Ken White aptly noted when the existence of a plea deal was announced last month, a less powerful man would likely have had the book thrown at him.
Generally, poor people react and rich people are proactive. Petraeus is sophisticated and has assets; he could afford to hire lawyers to negotiate with the feds before they charged him. As a result, he was able to secure a pretty good outcome that controlled his risks. The feds let him plead, pre-indictment, to a misdemeanor charge of improper removal and retention of classified documents under 18 USC section 1924. That means even if the federal judge who sentences him goes on a rampage, he can't get more than a year in federal prison — and, given that it's a misdemeanor, will very likely get far less. The Factual Basis includes a United States Sentencing Guideline calculation in which the government and Petraeus agree he winds up at an Adjusted Offense Level of 8, which means the judge can give him straight probation.

It is very difficult to get a misdemeanor out of the feds.

Petraeus' factual basis reveals that he could have been charged with much, much worse. The statement discusses his "Black Books" containing his schedules and notes during his command in Afghanistan; those books contained "national defense information, including Top Secret/SCI code word information." (Factual Basis at paragraphs 17-18.) Petraeus, after acknowledging that "there's code word stuff in there," gave the Black Books to his biographer/girlfriend at her private residence. "The DC Private Residence was not approved for the storage of classified information," the statement notes dryly. (Factual Basis at paragraphs 22-25.) He retrieved the Black Books a few days later after she had been able to examine them, and retained them. Thereafter, when he resigned from the CIA, he signed a certification that he had no classified material in his possession, even though he had the Black Books. (Factual Basis at paragraph 27.) Later, when Petraeus consented to interviews with FBI agents1 he lied to them and told them that he had never provided classified information to his biographer/girlfriend. (Factual Basis at paragraph 32.)

To federal prosecutors, that last paragraph of facts is like "Free Handjob And iPad Day" at Walt Disney World. First, you've got the repeated false statements to the government, each of which is going to generate its own charge under 18 U.S.C. 1001, which makes it illegal for you to lie to your government no matter how much your government lies to you. Then you've got the deliberate leaking of top secret/code word defense data to a biographer. An aggressive prosecutor might charge a felony under 18 U.S.C. section 793 (covering willful disclosure of national defense information) or 18 U.S.C. section 798 (covering disclosure of classified communications intelligence materials or information derived therefrom), both of which have ten-year maximum penalties. Those charges don't seem to require any intent to harm the U.S. — only disclosure of information which could harm the U.S. if distributed. Other than that? You better believe there would be a conspiracy count for Petraeus' interaction with his girlfriend.

If Petraeus were some no-name sad-sack with an underwater mortgage and no connections and no assets to hire lawyers pre-indictment, he'd almost certainly get charged a lot more aggressively than he has been. This administration has been extremely vigorous in prosecuting leakers and threatening the press.

So why is Petraeus getting off with a misdemeanor and a probable probationary sentence? Two reasons: money and power. Money lets you hire attorneys to negotiate with the feds pre-charge, to get the optimal result. Power — whether in the form of actual authority or connections to people with authority — gets you special consideration and the soft, furry side of prosecutorial discretion.

This is colloquially known as justice.
I pretty much agree with all of that. But, as I noted a few months back, when the results of the FBI investigation were released, there's more to Petraeus' record than that.
Of course Petraeus is getting special treatment; almost anyone else would have been charged and imprisoned long ago. But while the "we wouldn't hesitate a moment to charge a private soldier who'd committed the same transgressions" argument is powerful, it's not dispositive.

First, Petraeus was a national hero and served, to the best of my knowledge, quite honorably for more than four decades until his ignominious fall. The attorney general and president quite naturally have to decide whether his transgressions here merit prosecution given his long history of service. Additionally, especially for a Democratic president who never served in the armed forces, there's the issue of the public backlash that would follow charging arguably the most famous American general of the postwar era.

My instinct is that people in the highest positions of public trust ought indeed to be prosecuted when they violate that trust. Putting the sainted David Petraeus on trial would send a powerful signal that no one is above the law and that we take safeguarding our secrets seriously. This wasn't, after all, a situation where he skirted the law in misguided pursuit of the nation's security; he did so for the most selfish reasons. To the extent that his long history of service to the nation counterbalances his transgressions here, it can be weighed at sentencing.

At the same time, however, there is the question of harm: How much actual damage was done in sharing the information he shared with Broadwell? It's one I can't answer.  While I can't condone his violating his duty to share sensitive compartmented information only with those with the proper clearance and a mission critical need to know, Petraueus operated for years at the highest levels of the national security apparatus and was able to see the big picture. As a Reserve officer, Broadwell had a security clearance. Without knowing what sort of information he shared and how he expected her to use it, I simply don't know whether the violations in question were merely technical—lots of information that's publicly known or that would cause no damage if released to the average American is highly classified for various reasons—or egregious.
As more information has come to light, it appears that what Petraeus shared were essentially his highly detailed meeting notes. While it was both illegal and stupid, Petraeus presumably had confidence that Broadwell would use the information judiciously, selecting information that would shine a light on Petraeus the decision-maker while excluding any operational details outside the public domain. Petraeus shouldn't have done that. But it's not "espionage" in any meaningful sense, either.
There's no value to the public in putting Petraeus behind bars. The $100,000 fine is a slap on the wrist for a man that probably commands that much for a single speech but also more than twice what the Justice Department requested.
Not answered in the reporting thus far is a key question: Has Petraeus' security clearance been revoked? Surely, it should be. While I have no issue with the president and others seeking his advice on matters within his expertise, he shouldn't hold a position of trust in our government again.