Davy Jones, Monkees Frontman, Dead at 66
Davy Jones, the face of The Monkees, has died.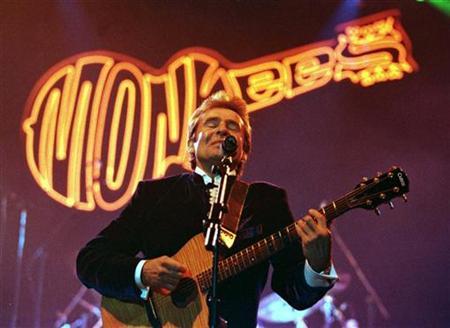 Davy Jones, the face of The Monkees, has died.
Reuters ("Former Monkee Davy Jones dies at age 66 in Florida"):
Davy Jones, former lead singer of the 1960s made-for-television pop band The Monkees, died on Wednesday after suffering a heart attack in Florida, according to his longtime publicist. He was 66.

[…]

Jones, born in Manchester, England, became the principal teen idol of the rock quartet featured on the NBC comedy series "The Monkees," which was inspired in part by the Beatles film "A Hard Day's Night" and ran for two seasons from the fall of 1966 to August of 1968.

Although not allowed to play their own instruments on their early records, Jones and his three cohorts — Micky Dolenz, Mike Nesmith and Peter Tork — had several hits that sold millions of copies, including "Last Train to Clarksville" and "I'm a Believer."

[…]

Jones gained stardom after answering a casting call for a new TV series being created about the zany misadventures of four Beatles-like rock musicians called the Monkees. Two members of the group, Nesmith and Tork, were actual musicians with performing and recording experience, while Jones and Dolenz were primarily actors who more or less dabbled in music.

Although disparaged by critics as the "Pre-Fab Four" for the manufactured way in which the band came together, the group proved to be adept performers who were eventually given control over their own recordings.

The TV series, introduced by its catchy theme, "Hey, Hey, We're the Monkees," debuted as an immediate ratings hit weeks after the group's first single, "Last Train to Clarksville," had topped the pop charts.

The group collaborated early on with some of the major songwriters and session musicians of the day, including Neil Diamond, Carole King, Glen Campbell and Hal Blaine.
Sad news. I watched the show, almost certainly by then in reruns, as a kid.