DC Suburbs: Maryland vs. Virginia
How do the DC suburbs of Maryland and Virginia compare?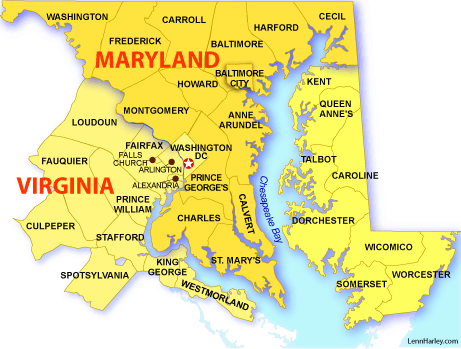 Tyler Cowen compares Maryland and Virginia, especially their DC suburbs and exurbs:
The food says a lot: Maryland has kosher food and Caribbean food.  Virginia has better Bolivian, Vietnamese, Korean, Afghan, Ethiopian, and Persian food.  (Here is a new piece on minorities in Virginia.)  Both have excellent Sichuan food.  Both have very good El Salvadoran and Thai food.  Neither has real barbecue.  Maryland used to have better Indian food, now Virginia has much better Indian food, including dosas.  Apart from Bethesda, Maryland has virtually no "fine dining."  Maryland has many more Russians, albeit without a decent restaurant.

Virginia has Tysons Corner, Tysons Mall I and II, The Palm, and a Ritz-Carlton, or in other words a lot of tacky, revenue-generating corporate assets.  Virginia has better and more consistent school systems.  Virginia has better Beltway on- and off-ramps.

Bethesda is better integrated into DC than is any part of Virginia, with Arlington playing catch-up.  Virginia has the airports, the Pentagon, a better business climate, and lower taxes.

[…]

Virginia has more ugly colonial houses, and more arches and pillars, Maryland has more tacky old American box houses.  I dislike ugly colonial.

Virginia feels more like an assortment of minorities working within an essentially Protestant framework.  Maryland was originally founded as a Catholic colony.
This strikes me as about right, although I'm amused at Cowen's pet peeves. I happen to like Tyson's and its malls and am quite happy with my center hall colonial.  I've not stayed at the local Ritz-Carlton, although I do like their properties generally.  The Palm is a little frou-frou for my tastes but I do tend to like high end chain steakhouses.