Deal Reached To Avert Government Shutdown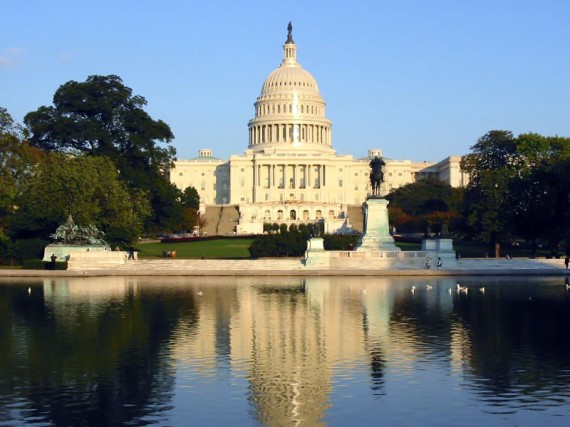 It appears that the Republican and Democratic leaders have decided not to take us to the brink this time:
Senate leaders agreed to a deal Monday evening that is almost certain to avert a federal government shutdown, a prospect that had unexpectedly arisen when congressional leaders deadlocked over disaster relief funding.

After days of brinkmanship reminiscent of the budget battles that have consumed Washington this year, key senators clinched a compromise that would provide less money for disaster relief than Democrats sought but would also strip away spending cuts that Republicans demanded. The pact, which the Senate approved 79 to 12 and the House is expected to ratify next week, is expected to keep federal agencies open until Nov. 18.

"It will be a win for everyone," said Majority Leader Harry M. Reid (D-Nev.).

Minority Leader Mitch McConnell (R-Ky.) called the plan "a reasonable way to keep the government operational."

Aides to House Speaker John A. Boehner (R-Ohio) said he will support the compromise.

(…)

At issue was a dispute over how to fund disaster relief, a concern that was heightened in late August after an earthquake struck central Virginia and Hurricane Irene caused flooding in the Northeast.

Although Democrats said the Federal Emergency Management Agency needed more funding, they agreed to accept a Republican plan to spend $3.65 billion in disaster relief money, $1 billion of which would have gone toward the budget for the current fiscal year, which will end Friday. Republicans, concerned about adding to the budget deficit, refused to support the funding without $1.6 billion in accompanying cuts. Their largest target was an auto loan program popular with Democrats, leading to the standoff.

The showdown between the two sides was averted on Monday, when FEMA said it could make ends meet through the end of the week. That led to an agreement that calls for the agency and other government disaster relief programs to forgo the $1 billion in proposed funding for this week. Beginning Saturday and running to Nov. 18, FEMA can begin to tap the remaining $2.65 billion for ongoing efforts.

With the House out of session this week, the Senate approved a resolution that will keep the government open through next Tuesday. The House is expected to approve that extension in a voice vote Thursday, which does not require all members to be present, and then approve the longer-term bill next Tuesday.
Well, that gets us through November 18th, but once again we come to the end of a Fiscal Year without a budget having been passed. This used to be unusual in Washington, now it's par for the course.