Death Cleaning
Your treasures are your kids' junk.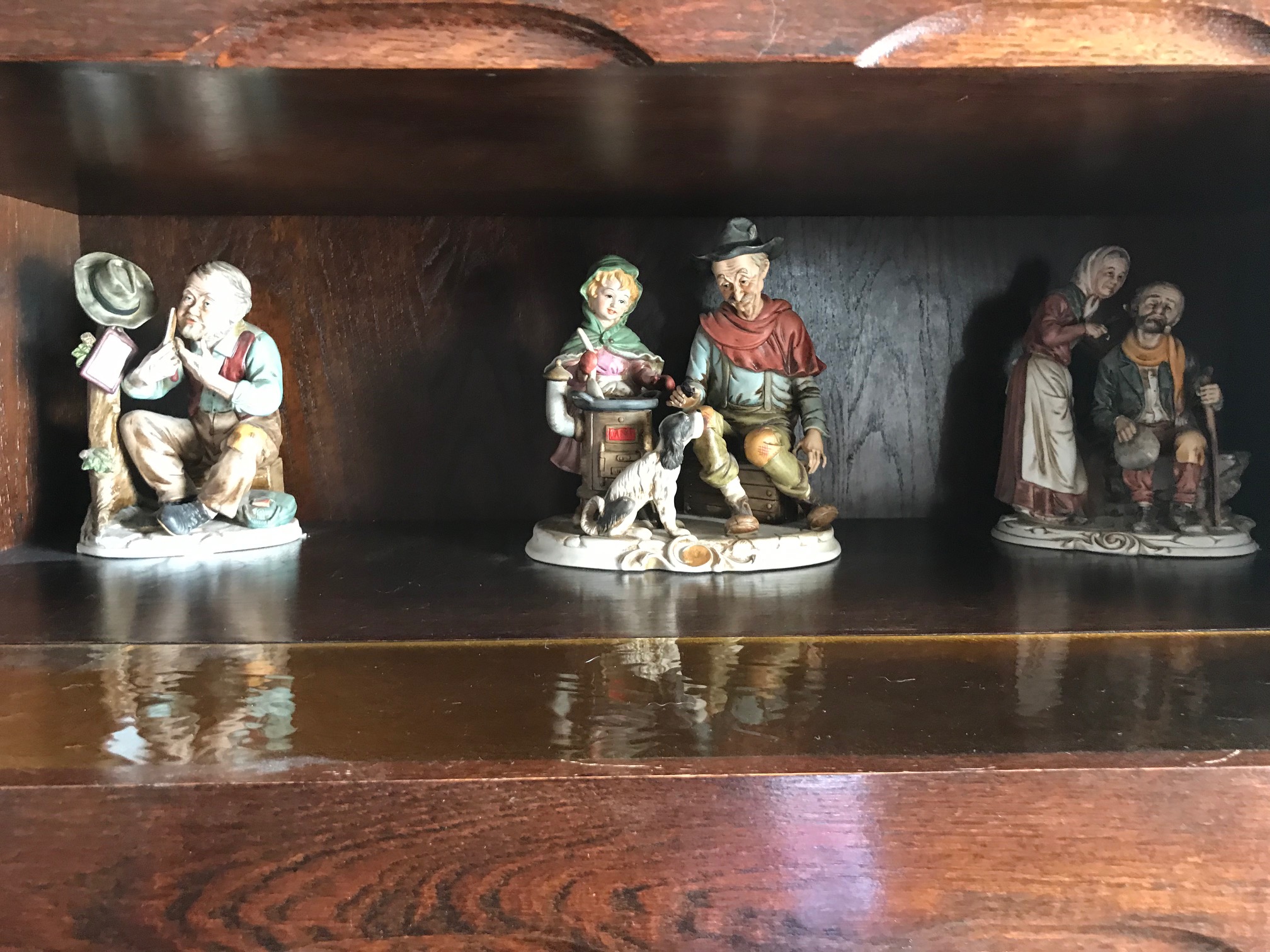 A while back, I came across an article on the Swedish practice of death cleaning, brought to America by Margareta Magnusson's book on the subject from a year ago.
If your family doesn't want your stuff when you're alive, they sure won't want it when you're dead.

That's the blunt assessment of yet another self-help author from abroad who is trying to get Americans, who have an addiction to collecting and storage units, to clean up their acts.

The latest volley in the decluttering business comes from Stockholm, where 80-ish artist Margareta Magnusson has just published a slim yet sage volume, "The Gentle Art of Swedish Death Cleaning." The book will be published in the United States in January.

While Japanese item-control diva Marie Kondo gave us strict instructions to keep only things that spark joy, Magnusson's book is straightforward and unsentimental (with a bit of humor). The main message from this mother of five is: Take responsibility for your items and don't leave them as a burden for family and friends. It's not fair. Magnusson says you can keep things that evoke good memories; there are no hard-and-fast rules such as folding your remaining T-shirts to stand upright in your drawers, as dictated by the KonMari method.

The concept of decluttering before you die, a process called "dostadning," is part of Swedish culture. (It comes from the Swedish words for death and cleaning.) Karin Olofsdotter, 51, the Swedish ambassador to the United States, says her mother and father, who are in their 80s, are in the midst of it back home.

"My parents and their friends are death cleaning, and we all kind of joke about it," Olofsdotter says. "It's almost like a biological thing to do." Olofsdotter says part of Swedish culture is living independently and never being a burden to anyone. How you keep your home is a statement of that.

Magnusson, who has moved 17 times, says women often end up doing the death cleaning. After her husband died, she had to declutter their house; it took her almost a year before she could downsize to a two-room apartment. She says that although it felt overwhelming, she is glad she did it herself, as her husband would have wanted to keep everything and her kids would have disagreed about what to keep and what to toss. This way, she made her own decisions. Now she continues to do it on a regular basis.

Magnusson suggests that age 65 is a good time to start death cleaning, but the process is freeing at any age.

A few of her tips: Don't start with your photos, as you'll get bogged down in your memories and never accomplish anything. Make sure you keep a book of passwords for your heirs. Give away nice things you don't want as gifts, such as china or table linens or books, as opposed to buying new items. Keep a separate box of things that matter only to you, and label it to be tossed upon your death. It's okay to keep a beloved stuffed animal or two.
I was reminded of this practice the last couple of days, as I've been going through the house my mom lived in for nearly four decades before her passing last month. Germany's culture is very different from Sweden's, as nothing like this was practiced in the family. The first two decades of her marriage to my late father coincided with his military career and the frequent moves that entailed, so regular purging was the norm in their twenties and thirties. But they made up for it by being pack rats ever since.
A constant refrain over the years was, "Some day, this will all be yours." And so it came to pass. Alas, I don't want most of it.
Despite my having made a pretty aggressive effort at thinning out my dad's possessions when he died nine years ago, getting rid of most of his paperwork and clothing, there was a lot to go through. Things that they presumably enjoyed at some point in their lives—and certainly spent thousands of dollars on—had simply become junk over time. My fiance and I filled up the minivan twice with things deemed neither worth keeping for sentimental reasons nor offering up at an estate sale. It all now resides at the county dump.
The shame of it isn't just that we had to devote two pretty full days to the process. As Magnusson suggests, it puts the emotional burden on the children of having to decide which of their parents' prized possessions must be tossed. I'm less sentimental about such things than most but it's still a wrenching experience.
For example, my dad went through an artistic phase for a few years in his late forties and well into his fifties. While he'd always drawn and engaged in photography, he began painting and woodworking. He left behind perhaps a dozen professionally-framed canvasses of various nature scenes in the Bob Ross genre. I have one that he gave me in the early 1990s. Alas, I don't have use for any more. I've photographed them but will have to let the rest go. Presuming they don't go at the estate sale, they're likely headed for a trash heap.
After he died, I rescued his Army dress uniforms, pocket knives, and camera. I've now taken possession of many of his wood carvings and a couple more mementos from his military career, including a Recruiter of the Year plaque from 1970 and a bronze statue of a pig in an MP helmet he received as a retirement gift. Those will mean something to me and, just maybe, to granddaughters who never knew him. (Katie was barely a year old when he died and Ellie wasn't yet even in utero.) But the rest of his material possessions, sadly, are now mostly trash.
My mom had a collector's impulse and had various assemblies of Hummels, Noritake statues, Swarovski crystal figurines, Boyd's bears, Santa Claus representations, and all manner of other stuff. Often, she grew tired of the stuff and it wound up in the attic or other storage spaces. The bears, for example, were ruined from weathering. She also bought a lot of crystal glassware, gold-plated cutlery, and the like later in life. Sadly, she'd always wanted that stuff but couldn't afford it when she was younger. By the time she had it, it was really useless in that she almost never entertained.
I kept one of the Hummels and two of the Noritake statues, as they were part of my childhood and remind me of my mother in her prime. I also kept an inordinate number of stuffed old-timey Santas, which she procured well after I left the house, because I think the girls will enjoy them at Christmastime. Otherwise, though, the stuff just doesn't fit my taste or lifestyle.
My folks were prone, like most, to the sunk cost fallacy. They retained all manner of crap for which they had no conceivable use on the grounds that they'd paid a lot of money for it and didn't want to sell it for pennies on the dollar. But, of course, things don't become more valuable after decades in the attic. The expensive, custom breakfast nook they had made for the house in El Paso in which they expected to retire didn't really fit the kitchen in Alabama when they unexpectedly moved a year and a half later. It eventually wound up in the attic, where it's now rotted. It's still up there, as it's incredibly heavy; I'm not quite sure how we got it up there.
There were also boxes and boxes and bags and bags of Christmas items and a couple of boxes of things from my childhood. There were likely some Christmas ornaments and other keepsakes from my childhood that I'd have enjoyed keeping as mementos. Alas, being in rotted cardboard boxes and desiccated plastic bags, I didn't even go through that stuff. It went right to the dump.
While I inherited my mom's collector instinct and a bit of my dad's "This could come in handy some day" attitude, I'm reasonably good at purging possessions I don't need. I have way more clothing, especially suiting, than I need but I get rid of clothes that I'm not going to wear again a couple times a year. I've still got a large comic collection from the days between 7th grade and college but they're at least bagged and boxed appropriately. And orders of magnitude more than the 30 books Marie Kondo recommends. But I long ago donated all my cassette tapes and the 1992 Encyclopedia Brittanica set for which I paid too much at the time.
I've also been ruthless in tossing artwork and other items that the girls bring home from school, but I've kept more of it than I've had time or inclination to properly scrapbook. Similarly, I've given away almost all of their clothes once my youngest outgrew them, but have still kept more sentimental items than I'll ever dig out and look at.
The bottom line is that the Swedes have it right: purge your crap so your kids don't have to. If they're grown, they may well enjoy having a handful of items that remind them of their childhood. If you're going to put it in the attic, you're probably never going to take it out. So, see if your kids want it. Otherwise, get rid of it.