Debating In A Civil Society
Screaming at one another and treating political opponents as enemies doesn't seem to be getting us anywhere. But is there a realistic alternative?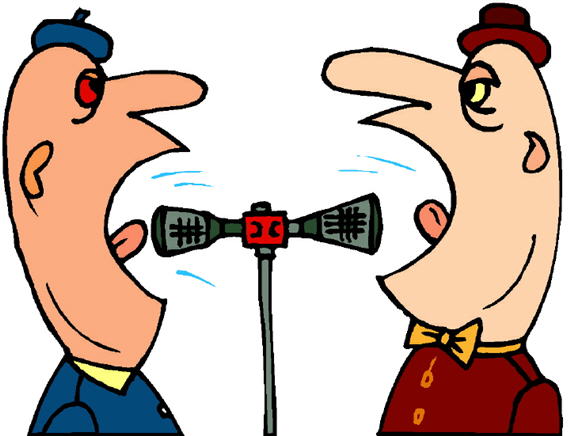 Bryan Caplan offers four Principles of Good Debating that strike me as about right:
Principle #1: Strive to address people who don't already agree with you.  Realistically, you'll at best change the minds of the undecided.  But the best way to sway the undecided is to reach out to your most intransigent opponents.

Principle #2: Talk to your opponent like he's your best friend, even if he does the opposite.  Not only are ad hominem arguments invalid, but they send the signal that you lack better arguments.  You'll also think harder and more creatively about your position once you spurn invective.

Principle #3: Split your time between talking to your audience and talking to your opponent.  The optimal balance might not be 50/50 exactly, but you should spend a goodly amount of time both appealing directly to your opponent, and pointing out his blind spots.

Principle #4: If you're uncomfortable publicly defending aspects of your position, reconsider your position.  In extremely oppressive societies, keeping your thoughts to yourself is common sense.  But in modernity's largely open societies, your discomfort says more about the quality of your beliefs than the unfairness of the world.
He's talking here about verbal debating in front of an audience but this applies pretty well to online argumentation as well.   These are not, of course, Principles for Maximizing Traffic or Principles for Getting a Book Deal.
Relatedly, Norman Geras points to this TED Talk from Michael Sandel on "The Lost Art of Democratic Debate."
There's a handy transcript available for those, like myself, who prefer to digest through reading rather than listening.    Essentially, he argues that we tend to shout and focus on the minutia of things rather than moving to the bigger moral questions.    He uses Socratic debates over the just distribution of flutes and the rather dated question as to whether Casey Martin should be allowed to ride a golf cart during PGA play to illustrate this, concluding:
So let's step back from these cases and see how they shed light on the way we might improve, elevate, the terms of political discourse in the United States, and for that matter, around the world. There is a tendency to think that if we engage too directly with moral questions in politics, that's a recipe for disagreement, and for that matter, a recipe for intolerance and coercion. So better to shy away from, to ignore, the moral and the religious convictions that people bring to civic life. It seems to me that our discussion reflects the opposite, that a better way to mutual respect is to engage directly with the moral convictions citizens bring to public life, rather than to require that people leave their deepest moral convictions outside politics before they enter. That, it seems to me, is a way to begin to restore the art of democratic argument.
Geras responds,
He's surely right. First, unless one follows this advice one cannot get to the bottom of any serious political difference. Second, even if you think it impossible to resolve fundamental moral differences through argument, we have no better way to proceed than through the attempt at reasoned discussion. You may shift someone or help to inflect their view. Even if you don't, they or you may achieve a better understanding of the other's position. In the end it will come to a decision, through whatever combination of representational and decision procedures a given democracy involves. But up to that point the kind of advocacy Sandel recommends – and attempts in this short session to exemplify – is to date the best thing we have.
That's of course right.     But it's very difficult in practice, especially within the parameters of sound bytes and attack ads.
Indeed, it's just difficult, period.   Sandel briefly touches on a contemporary debate:  same-sex marriage.
There are those who favor state recognition only of traditional marriage between one man and one woman, and there are those who favor state recognition of same-sex marriage. How many here favor the first policy: the state should recognize traditional marriage only? And how many favor the second, same-sex marriage? Now, put it this way, what ways of thinking about justice and morality underlie the arguments we have over marriage? The opponents of same-sex marriage say that the purpose of marriage, fundamentally, is procreation, and that's what's worthy of honoring and recognizing and encouraging. And the defenders of same-sex marriage say no, procreation is not the only purpose of marriage. What about a lifelong, mutual, loving commitment? That's really what marriage is about. So with flutes, with golf carts, and even with a fiercely contested question like same-sex marriage, Aristotle has a point. Very hard to argue about justice without first arguing about the purpose of social institutions and about what qualities are worthy of honor and recognition.
I agree that fundamental principles are the way to debate the issue.   And, indeed, tackling it that way ultimately changed my mind from a reflexive rejection of the idea to accepting that I had no rational basis for why same-sex marriage should be illegal.   But I'm not sure how scalable that technique for a position is visceral and cultural rather than intellectual.