Debating the Constitution
220 years in, we lack basic agreement about what the United States Constitution does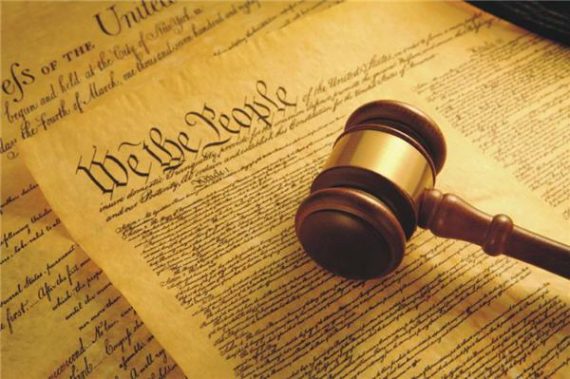 A very interesting discussion on the Constitution on yesterday's "This Week" roundtable between George Will, Georgetown's Michael Eric Dyson, Harvard's Jill Lepore, and TIME editor-in-chief Richard Stengel. It's in two parts, which I've embedded below.
Constitution Politics
Battle for the Constitution:
While the "living Constitution" vs. "intent of the Framers" discussion has long since gotten annoying in the abstract–that it's a framework, at least some of which is subject to interpretation should be beyond question at this point–the starkness of it on display here is stunning. George Will, alone among the panelists, takes the view that, by its very definition, a constitution has to be limiting. Both Dyson and Stengel take the view that whatever the parliament wills is the law, subject only to the wishes of the Supreme Court. If that's the case, then why have a Constitution at all?
Defending the rather silly notion that Barack Obama has singlehandedly overturned the concept of "a government of limited, delegated, and enumerated powers" asks the question whether, given that obesity is a national problem with an impact on interstate commerce, can Congress constitutionally require overweight Americans to join Weight Watchers. Both Dyson and Stengel think the question is absurd; of course they can. (Lepore, frankly, seems to be having her own debate and makes no memorable contribution to the discussion.)
The fact that unconstitutional laws are sometimes passed and that we rely on the Supreme Court to overturn them does not render the Constitution moot. It simply means that it's a document governing human beings and which relies on human beings to carry it out. There are bedrock principles that are supposed to govern our political life. There is conflict over how these principles apply to modern circumstances and what to do when multiple principles collide; that doesn't mean there are no principles.
Dyson, who apparently believes gratuitous use of highfalutin language makes him sound more scholarly, repeatedly makes the point that the Constitution has evolved with respect to the treatment of racial minorities and women. He thinks this proves his point. In reality, actual amendments to the Constitution (notably the 13th, 14th, 15th, 19th, and 24) and using the frameworks outlined therein did most of the heavy lifting.