Debt, Default, And International Faith In The American Government
Would you trust the men and women in this building?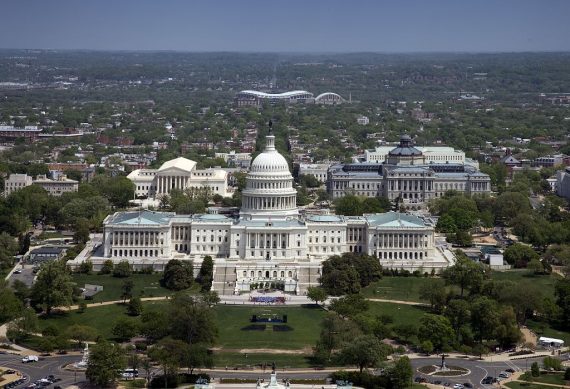 As I noted this morning, passing the midnight Thursday deadline that the Treasury Department has set vis a vis the debt ceiling, the U.S. Government isn't likely to face real fiscal problems if the debt ceiling isn't raised for another week or so. Indeed, it's increasingly looking like we won't really have to worry about that happening in the immediate future since Congress is fast at work on one of its last-minute kick the can down the road "solutions" to its completely manufactured crisis. Despite all of that, though, the twin crises of the shutdown and the debt ceiling crisis have once again laid bare the basic failure of Capitol Hill, and specifically this time around House Republicans and a small segment of Senate Republicans, to perform the basic tasks of governing. Indeed, it was these failures that largely led Standard & Poors to downgrade American debt back in 2011, and was also cited last night by Fitch in their own decision to put America on "negative credit watch." That's one reason why Felix Salmon argues that the damage from our twin crises of September/October 2013 has already been done:
[W]e're already well past the point at which that certainty has been called into question. Fidelity, for instance, has no US debt coming due in October or early November, and neither does Reich & Tang:

While he doesn't believe the U.S. will default, Tom Nelson, chief investment officer at Reich & Tang, which oversees $35 billion including $17 billion in money-market funds, said that the firm isn't holding any U.S. securities that pay interest at the end of October through mid-November because if a default does take place, "we'd be criticized for stepping in front of that train."

The vaseline, in other words, already has sand in it. The global faith in US institutions has alreadybeen undermined. The mechanism by which catastrophe would arise has already been set into motion. And as a result, economic growth in both the US and the rest of the world will be lower than it should be. Unemployment will be higher. Social unrest will be more destructive. These things aren't as bad now as they would be if we actually got to a point of payment default. But even a payment default wouldn't cause mass overnight failures: the catastrophe would be slower and nastier than that, less visible, less spectacular. We're not talking the final scene of Fight Club, we're talking more about another global credit crisis — where "credit" means "trust", and "trust" means "trust in the US government as the one institution which cannot fail".

While debt default is undoubtedly the worst of all possible worlds, then, the bonkers level of Washington dysfunction on display right now is nearly as bad. Every day that goes past is a day where trust and faith in the US government is evaporating — and once it has evaporated, it will never return.
If Salmon is right, of course, then a great deal of the damage that results from a default has already been done even if Congress does manage to hammer together a deal that kicks the can down the road in enough time to avoid the Treasury having to deal with serious cash flow problems. For the past month or so, the world has watched while the supposed leaders of the United States clamored their way through twin crises that were largely self-inflicted.
There was no rational reason for the government to shutdown, for example. The Continuing Resolution that Harry Reid and John Boehner had agreed to over the summer kept the sequester cuts in place, as Republicans wanted, and barely touched any areas of concern to Democrats. In a rational world, it should have passed the House easily, and I suspect that this is exactly what people like Boehner and Cantor wanted. Instead, a foolish crusade led by a Freshman Senator from Texas and whipped into a frenzy by organizations clearly more concerned with mailing lists and donations than anything else took the process over and caused the Republican Party to spend the end of September committing stupid act after stupid act even though they knew there was no chance whatsoever that any of these tactics would get past a Democratic Senate or Democratic President. At the same time, the debt ceiling issue was looming in front of them It's not like they didn't know it was happening. Congress had already punted on the issue twice this year and the Treasury Department had spent the better part of the summer using all the tricks in its book to stave off the inevitable. They knew by early September that the real crisis would hit some time in mid-October. And yet here we are in the actual final hours, we still don't have a deal done, and the best we're going to be able to get is something that just delays the crisis for a couple more months.
If that happens, which seems increasingly likely, we'll avoid most of the immediate economic impact that would come from breaching the debt ceiling but, as Damien Cave notes in today's New York Times, the events of the past month have left much of the world shaking its head:
Faced with Washington's march toward a default, the world has reacted mostly with disbelief that the reigning superpower could fall into such dysfunction, worry over global suffering to come and frustration that American lawmakers could let the problem reach this point.

A common question crossing continents remains quite simple: The Americans aren't really that unreasonable and self-destructive, are they?

"It just goes to show that it's not only Greece that has irresponsible and shortsighted politicians," said Ioanna Kalavryti, 34, a teacher in Athens. "We've been held hostage by our reckless politicians, and the interests they serve, for more than three years now. I guess our American friends are getting a taste of the same medicine."

(…)

Already, many argue, the standoff in Washington has deepened the sense of America's decline. On the streets of many countries, conversations about the United States now regularly include expressions of shock and dismay. One businessman in Mexico said that following the fracas was like watching a famous couple's marriage collapse in public, with shoving, shouting and ugly insults.

How, many ask, did the United States become more like the rest of the world, and less of an obvious leader? "I think the U.S. is losing its place," said Osama Shawki, a shopkeeper in Cairo.

Others agreed. "It's strange that such a thing has happened there," said Irina Popova, 40, a homemaker in Russia, which suffered a financial collapse and default in 1998. "I always dreamed of going to America. It can happen to any country. It was us before, now it's them."

On the streets of Greece, people seemed to be shaking their heads, stunned at what they saw as American political weakness corroding a country of obvious strength.

"I never thought a global superpower like the U.S. could ever be in a comparable position to Greece," said Theodore Couloumbis, emeritus professor of international relations at the University of Athens. "Both countries are paying dearly for rising political tensions. But in America's case, there is the potential for serious global repercussions, too."
Now, obviously, there's just a bit of ridiculous hyperbole going on here. The United States is neither Greece, nor Argentina, not Mexico, and we're not likely to become any one of them at any time in the foreseeable future. Yes, we've got economic, structural, and political problems that are making things a lot more difficult than they ought to be, and the deep political divide in this country on some very fundamental questions tends to magnify those problems in a time of crisis. At the same time, though, we're still the biggest economy in the world, the world's most coveted consumer market, and the source of the world's safest investment (T-Bills) notwithstanding the current debt ceiling problems. We'll bounce back from these crises no matter how much Congress screws things up, and the world will continue to look to the United States for economic and political leadership largely because there isn't anyone else capable of taking on that role, or willing to do so.
All that said, though, Ezra Klein and Evan Soltas are right to point out that this might not last forever:
Fitch and S&P aren't saying anything that the rest of the country doesn't believe. They're not even saying anything that Wall Street doesn't believe. Everyone knows that American politics has become a game of Calvinball played with live ammunition. The question facing traders is when to finally bet that this is the day when someone doesn't make it out alive.

What you see with the Fitch and S&P calls is that the market price on the U.S. political system doesn't reflect what market participants are coming to believe about it: that a once capable and reliable system is now dysfunctional and unpredictable.

That raises the possibility that a pivotal event could move markets dramatically because traders are prepared to believe, and to begin trading on, a much more pessimistic assessment of America's political system. If everyone were moved to act on that belief simultaneously — by a debt-ceiling crisis, for example — the results could be earthshaking.

Gary Gorton, an economist who specializes in financial crises, put it crisply: "Financial markets can be wrong and they can be wrong in a big way because they don't understand the situation and it only becomes clear ex-post."

And it would be so clear. It was there in the polls, which showed the American people had lost faith in their government. It was there in the news stories, which showed Republicans in Congress becoming increasingly reckless. It was even being said by the ratings agencies. The ratings agencies!
This is the second or third time we've been through this game since 2010, although it's the first time we've been through a shutdown since Clinton was President. On none of these occasions has Congress taken up the task of working on the type of long term fiscal reform that we actually need in this country. Instead, we just keep kicking the can down the road, usually past the next election, and hoping that nobody notices. So far, the rest of the world doesn't seem to mind, or if they do they realize that they've got no real choice but to go along with it. If they start changing their minds, though, the costs to the economy here would be quite severe indeed. So, you know, maybe it's time for Congress to work on things like tax reform, entitlement reform, and budget process reform (the proposals James Joyner made the other day are a good place to start,  I think) before we have no other choice and even less time.