Decertifying The Iran Nuclear Deal Would Be A Foolish, Potentially Dangerous, Error
Reports are indicating that President Trump will decertify the nuclear weapons deal with Iran. This would be a foolish and potentially dangerous mistake.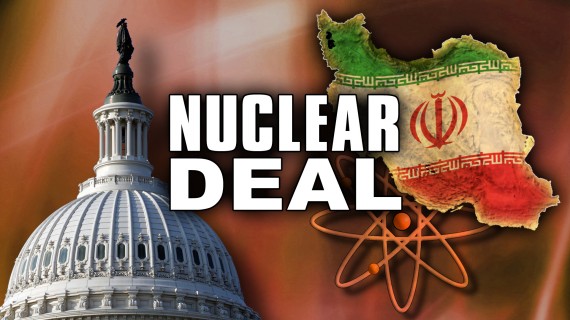 President Trump will apparently announce next week that he will decertify the nuclear deal with Iran, a move that will require Congress to take the next step but which also seems likely to have a negative impact on America's relationship with key allies and adversaries alike:
WASHINGTON — President Trump is expected to overrule his top national security advisers and decline to certify the Iran nuclear agreement, according to people who have been briefed on the matter, a decision that would reopen a volatile political debate on Iran but is likely to leave in place the landmark deal negotiated by the Obama administration.

By declining to certify Iran's compliance, Mr. Trump would essentially kick it to Congress to decide whether to reimpose punitive economic sanctions. Even among Republicans, there appears to be little appetite to do that, at least for now.

Still, Mr. Trump's expected move would allow him to tell supporters that he had disavowed the accord, while bowing to the reality that the United States would isolate itself from its allies if it sabotaged a deal with which Iran is viewed as complying. Mr. Trump repeatedly ridiculed the accord during the 2016 presidential campaign, vowing to rip it up.

White House officials cautioned that the president had not yet formally decided to "decertify" the agreement. But he faces an Oct. 15 deadline, and he has made little secret of his intentions, most recently when he declared at the United Nations two weeks ago that the agreement was "embarrassing to the United States."

Mr. Trump will present his decision on the deal as part of a broader American strategy to crack down on Iran for its ballistic missile program and destabilizing actions throughout the Middle East. Administration officials said he had signed off on the overall approach and hoped he would present it before the deadline.

The strategy is an effort by the Trump administration to make the nuclear agreement only part of a multidimensional approach to pressure Iran on many fronts, including its missile program, its support for militant groups like Hezbollah and its intervention in the Syrian civil war on behalf of the Assad government.

But the administration has yet to articulate that broader strategy. As a result, the nuclear deal remains the fulcrum of the relationship with Iran — and a political football in Washington.

Congress will have to decide whether to reimpose sanctions, which could sink the deal, or use the prospect of that to force Iran — and the other parties to the deal — back to the negotiating table to make changes in the agreement.

That is the approach favored by Senator Tom Cotton, Republican of Arkansas, who has emerged as a leading hard-liner on Iran and is working closely with the White House to devise its strategy. On Thursday, Mr. Cotton met with Mr. Trump to discuss Iran and other issues.

"Congress and the president, working together, should lay out how the deal must change and, if it doesn't, the consequences Iran will face," Mr. Cotton said in a speech on Tuesday at the Council on Foreign Relations. Reimposing sanctions, he said, would be a "backward-looking step."

Mr. Cotton said the United States and its allies should demand three changes to the deal: an elimination of "sunset clauses," under which restrictions on Iran's nuclear activities are phased out in less than 14 years; a strengthening of international inspections of Iran's nuclear facilities; and a curbing the country's ballistic and cruise-missile programs.

Democrats argue that Mr. Trump should certify the agreement, warning that the administration's ability to press Iran on other activities it objects to would be compromised — rather than enhanced — if the United States threw the future of the agreement into question.

Britain, France and Germany, all signatories to the agreement, are watching Mr. Trump's deliberations with deepening concern. Diplomats from the three countries, as well as from the European Union, met with dozens of senators this week to warn them that if the United States withdrew, Europe would not follow.

"For us, this is a high priority in our national security," said Peter Wittig, Germany's ambassador to Washington. "We will stand by the Iran deal, and we want you not to walk away, but to comply with it. We share some of the grievances you have about Iran, and we can talk about it — and we should talk about it — but only on the basis of sticking to the deal."

The deal is also contentious inside the administration. Secretary of State Rex W. Tillerson and Defense Secretary Jim Mattis have both urged Mr. Trump not to back out of it, in part because that would free Iran to begin producing uranium and reprocessing plutonium immediately, not after 13 years, as is stipulated in the agreement.

But Mr. Trump, after twice certifying the deal, has warned his aides that he would not do so again. As a result, the administration is looking for ways to claim Iran is in violation of the "spirit" of the accord, even if it has complied with inspection criteria. The International Atomic Energy Agency has said that Iran was in compliance; when it has found minor violations, they have been quickly fixed.

The president could also decline to certify it by claiming that the deal is simply not in the national security interests of the United States.

While the White House said that Mr. Trump had not formally signed a decision memo on the certification issue, he tipped his hand in mid-September with a less heralded, but in many ways more important, decision. At that time, facing another congressionally imposed deadline, he agreed to renew an exemption on sanctions on Iran.

Mr. Trump said nothing about that decision, which he came to reluctantly in a series of National Security Council meetings.

Declining to recertify Iran's compliance would amount to a compromise. Because it is simply a notification from the White House to Congress, it has no legal effect by itself. Mr. Trump could tell his supporters that he broke with President Barack Obama on the deal, without actually violating its terms.

"It appears to be part of a 'have your cake and eat it too' strategy by the administration," said Philip H. Gordon, who coordinated Middle East policy in the National Security Council during the Obama administration.

The risk, Mr. Gordon said, is that "while the administration may hope Congress refrains from passing new sanctions that cause the nuclear deal to collapse, no one can guarantee that outcome." He noted that every Republican member of Congress voted against the deal.
Given Trump's rhetoric regarding the deal during the campaign, this is hardly surprising. Throughout that period, he called the agreement a bad deal and claimed that the United States had gotten 'snookered' into an agreement that basically guaranteed Iran would be able to continue its nuclear weapons research program and that it would receive billions of dollars in sanction relief and cash in addition to that. Had he been President, he claimed, he would have easily been able to get a "better deal" from Iran and he used it as yet another opportunity to mock both President Obama and former Secretary of State Hillary Clinton even though she had virtually no role in negotiating the deal since all of that happened after she had left office. Additionally, along with all of the other Republican Presidential candidates he vowed that he would back out of the deal as soon as he became President. Instead of doing that, though, Trump instead acted twice to certify to Congress that Iran was complying with the deal, but it was clear from reports that he was doing so reluctantly and only at the urging of the somewhat moderating voices in his Administration such as Secretary of Defense Mattis, Secretary of State Tillerson, and National Security Adviser H.L. McMaster. Based on reports at the time, though, it was clear that Trump was doing so reluctantly against his own instincts. Now, it appears he's ready to act on those instincts regardless of the consequences.
As the article quoted above makes clear, decertifying the deal doesn't mean that the United States is pulling out or that the deal is in immediate danger of collapse. It does, however, make that even more likely. In fact, decertification is not even part of the deal itself but part of the legislation passed last year under which Congress originally considered that deal which requires the President to certify on a regular basis that Iran is complying with the agreement. The legislation also allows the President to decertify on the ground that the deal continues to be in the national interest of the United States. It is unclear at this point exactly what grounds the President will use when he announces decertification and what evidence he may cite in support of that conclusion if he provides any evidence at all. In any case, when that decertification does take place the ball will then be in Congress's court to decide if new sanctions should be imposed on Iran. If that's the route Congress wishes to take then they would have to consider and vote on a bill that would have to pass both Houses of Congress and signed into law by the President. While it might seem probable that the Republican-controlled House would pass such legislation, it's fate in the Senate is by no means secure both due to the legislative filibuster and the fact that many top Senate Republicans are indicating they would oppose such a measure:
[W]hile congressional Republicans unanimously opposed the nuclear deal two years ago, there's far less unity on how quickly the GOP-led Congress should move to "snap back" sanctions that were lifted as part of the Iran agreement. Doing so would effectively dismantle the 2015 deal.

Even a few defections would make a difference in the Senate, where Republicans hold a narrow 52-seat majority. Democratic senators, even those who opposed the nuclear agreement two years ago, want the deal to remain in place. As it stands now, enough Republicans are undecided that GOP leaders would struggle to corral the votes needed to reimpose sanctions.

The choice could land on Capitol Hill later this month, if Trump declines to certify by an Oct. 15 deadline that Iran is complying with the nuclear deal. The agreement lifted stiff sanctions against Iran that had been in place for decades in exchange for significant restrictions on the nation's nuclear program.

Sen. Jeff Flake (R-Ariz.) made clear he's undecided on whether to reimpose sanctions, saying in an interview that "we'll have to look and see what that does."

"I don't think that we should relieve Iran of its obligations," said Flake, who sits on the Foreign Relations Committee. "They realize the benefits already of the sanctions relief. And now, to be in a position where they could get out from under the protocols under the agreement, that's what I'm worried about."

Sen. John McCain (R-Ariz.) told reporters recently that he is "still looking at" the issue and remains undecided. Sen. Susan Collins (R-Maine) said she wants to see the evidence on whether Iran has been compliant with the deal or not.

Other influential players, such as Sen. Rand Paul (R-Ky.) and House Foreign Affairs Committee Chairman Ed Royce (R-Calif.), don't believe Trump should begin retreating from the deal. Royce said the president should instead "enforce the hell out of" it.

Senate Democrats overwhelmingly oppose withdrawing from the agreement, even though several of them rejected it two years ago, including now-Minority Leader Chuck Schumer of New York and Maryland Sen. Ben Cardin, the top Democrat on the Foreign Relations Committee.

"There is a clear cause-and-effect relationship: Republicans would cast a vote that would set Iran back on a path to a nuclear weapon," Sen. Chris Murphy (D-Conn.) said. "I just can't understand why any Republican would want that on their conscience, or would want that politically."

Congress has other options besides reimposing sanctions that were lifted as part of the 2015 deal. Senate Majority Leader Mitch McConnell could decide to move a new sanctions plan, though that strategy would require 60 votes, which could make it considerably more difficult for the Kentucky lawmaker to move such a measure through the chamber.

Lawmakers could also do nothing. Even if Trump declares Iran to be in violation of the agreement, de-certifying by itself wouldn't kill the nuclear deal, Iranian Foreign Minister Javad Zarif pointed out in a recent interview with POLITICO.
The leading force in the Senate in favor of reimposing the sanctions that have been lifted in the wake of the deal, or imposing new sanctions, appear to be the group of Republican hawks led by people such as Arkansas Senator Tom Cotton, who has quickly emerged as one of the most hawkish members of the Senate GOP Caucus. It's also likely that Senators such as Texas Senator Ted Cruz would support such a measure. What's unclear is how many other Republicans would join them and how many would join the group made up of people like Rand Paul, John McCain, and Senate Foreign Relations Committee Chairman Bob Corker who are indicating that they would likely oppose either reimposing sanctions that were lifted pursuant to the deal or imposing new sanctions. Even if such a measure could be passed without reaching the sixty vote threshold, the odds are it would not pass the Senate if even just three of these Republicans voted against it. So, in that sense, the future of the deal is in the hands of Congress and it remains to be seen if they will want to be seen as wrecking an agreement that was the result of years of international effort. In effect then, Trump's decertification is in some sense a purely symbolic move that would not necessarily mean the end of the deal.
Even if Congress doesn't act to reimpose sanctions, though, there's still the prospect that Trump's move could have negative consequences for the United States among both allies and adversaries. As noted, the nuclear deal was a result of years of coordinated sanction and negotiations that involved the United Nations and a number of nations around the world including the United Kingdom, France, Germany, Russia, China, and, of course, Iran. Each of these nations played a key role both in imposing the sanctions that brought Iran to the table and which led to the deal that was eventually reached in Switzerland last year. By all accounts, Iran has complied with all of its obligations under that agreement, and the rest of the nations involved in the negotiations seem to be in full agreement on that point. Several of them, including American allies like England, France, and Germany, have said that decertifying the deal by the United States would be in bad faith given that compliance and indicated that they would not be inclined to reimpose the sanctions that they had lifted as part of the agreement absent evidence that Iran had violated its obligations under the agreement. All three of these nations have seen their industries making several large business deals with Iran as a result of the lifted sanctions, and would be unlikely to halt the deal at this time. Additionally, it's unlikely that either Russia or China would agree to reimpose their own sanctions against the deal. In other words, the United States would be alone in the world if Congress decided to reimpose sanctions and our allies would once again be left wondering whether we can be trusted to adhere to any deal in the Trump Era.
In addition to alienating allies, an action of this type could make negotiating with adversaries more difficult since it would throw into doubt the question of whether or not the United States can be trusted to live up to its side of an agreement. This would impact not only our relationship with nations such as Russia and China but also issues such as the potential renegotiation of certain terms of the North Atlantic Free Trade Agreement and other agreements President Trump has promised to renegotiate to get some mythical better deal. Most ominously, of course, a move like this would impact the international efforts to deal with the North Korean nuclear program and Pyongyang's aggressive rhetoric against the United States, South Korea, Japan, and other nations in the region. For both the North Koreans and the Chinese, as well as our allies in South Korea, Japan and elsewhere in the region. As it is the North Koreans are clearly paranoid when it comes to the United States and the west. A move like this would likely lead them to wonder, with some justification, whether the United States can or should be trusted to live up to its agreements. These conclusions would be even more justified if Congress ends up reimposing sanctions even though there doesn't appear to be a legitimate basis to do so. The consequences of this unwise, ill-advised move cannot be understated.
Despite all of this, President Trump seems committed to living up to yet another piece of irresponsible campaign rhetoric. Let's hope that Congress doesn't take the bait.