DeLay Guilty . . . Of What, Exactly?
Tom DeLay is a sleazebag and has been found guilty by an Austin jury for skirting the law. But it may in fact be a miscarriage of justice despite the victim being as unsympathetic as it gets.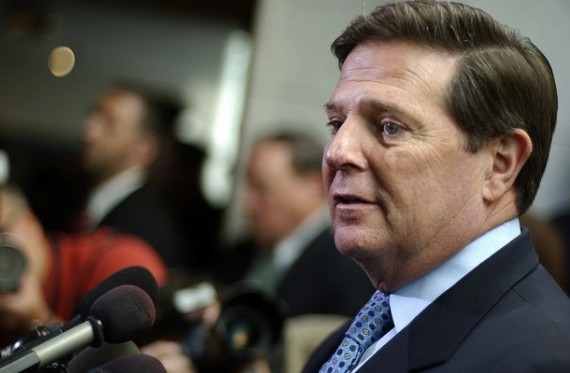 Tom DeLay, the poster boy for everything that was wrong with the last Republican majority in the House, has been found guilty of money laundering.
NYT ("Ex-House Leader DeLay Found Guilty in Texas Case"):
Tom DeLay, one of the most powerful and divisive Republican lawmakers ever to come out of Texas, was convicted Wednesday of money-laundering charges in a state trial, five years after his indictment here forced him to resign as majority leader in the House of Representatives.

After 19 hours of deliberation, a jury of six men and six women decided that Mr. DeLay was guilty of conspiring with two associates in 2002 to circumvent a state law against corporate contributions to political campaigns. He was convicted of one charge of money laundering and one charge of conspiracy to commit money laundering.

As the verdict was read, Mr. DeLay, 63, sat stone-faced at the defense table. Then he rose, turned, smiled and hugged his wife and then his weeping daughter in the first row of spectators. He faces between 5 and 99 years in prison, though the judge may choose probation.

A few minutes later, Mr. DeLay said outside the courtroom that he would appeal the decision. He called the prosecution a political vendetta by Democrats in the local district attorney's office, and revenge for his role in orchestrating the 2003 redrawing of Congressional districts to elect more Republicans.
WaPo ("DeLay convicted of money-laundering charges in campaign finance scheme"):
A jury in Austin found DeLay guilty of money laundering and conspiracy to commit money laundering. Punishment for the first ranges from five years to life in prison, but the former congressman from the Houston suburb of Sugar Land could receive probation.

DeLay will remain free until he is sentenced on Dec. 20.

"This case is a message from the people of the state of Texas that they want – and expect – honesty and ethics in their public officials," said Travis County District Attorney Rosemary Lehmberg. "All people have to abide by the law."

Reporters in the courtroom described DeLay as stunned by the verdict, which came after 19 hours of deliberation.

"This is an abuse of power," the former congressman said outside the courtroom. "It's a miscarriage of justice, and I still maintain that I am innocent. The criminalization of politics undermines our very system, and I am very disappointed in the outcome."
I have little doubt that DeLay stretched every law and rule he could to the breaking point and have long considered him a rather sleazy fellow. But violations of Federal campaign finance legislation are civil matters, punishable by fine, not crimes.   So, how did they turn this into a local money laundering cause?   NYT:
During the three-week trial, the prosecution presented more than 30 witnesses in an effort to prove that Mr. DeLay conspired to circumvent the state law. Since 1903, Texas has prohibited corporations from giving money to candidates directly or indirectly.

Mr. DeLay was initially charged with breaking campaign finance law. But prosecutors later switched strategies because it was impossible under the law at the time to accuse someone of conspiring to break campaign finance rules, prosecutors said.

Instead, prosecutors used a novel legal theory never before tried in Texas: They argued that Mr. DeLay and two of his political operatives — John Colyandro and Jim Ellis — had violated the criminal money-laundering law.  They were charged with conspiring to funnel $190,000 in corporate donations to state candidates through the Republican National Committee.

The main facts of the case were never in dispute.  In mid-September 2002, as the election heated up, Mr. DeLay's state political action committee, Texans for a Republican Majority, gave a check for $190,000 to the Republican National Committee. The money had been donated earlier in the year by various corporate lobbyists seeking to influence Mr. DeLay, several witnesses said.  On Sept. 13, the check was delivered to the R.N.C. by Mr. Ellis, who was Mr. DeLay's top political operative in Washington and headed his federal political action committee.

At the same meeting, Mr. Ellis also gave the Republican director of political operations, Terry Nelson, a list of state candidates and an amount to be sent to each. Mr. Nelson testified that Mr. Ellis had told him the request for the swap had come from Mr. DeLay.

In early October, donations were sent from a separate account filled with individual donations to seven Republican candidates in Texas. Six of them won. Republicans took control of the Legislature for the first time in modern history and in 2003 pushed through a redistricting plan, orchestrated by Mr. DeLay, that sent more Texas Republicans to Congress in 2004 and helped him consolidate power.
I'm dubious, indeed, of "novel" applications of state laws to convict people for something other than what the statute was intended to punish.  Rather clearly, "laundering" of legally obtained money is not supposed to be a crime.  The statute is specifically aimed at criminal enterprises who earn money illegally.
Recall that, in August, the Justice Department ended a 6-year probe of DeLay without filing charges.
This is another in a long string of cases involving celebrity defendants who prosecutors "know" are guilty but can't prove it.  So, they manufacture technical violations of other laws and persuade juries that they're bad people who deserve to be punished.   It's not the grossest abuse of our system — these people can at least hire good lawyers — but it's troubling all the same.