Democratic Congresswoman Tries To Kick Giffords Off Armed Services Committee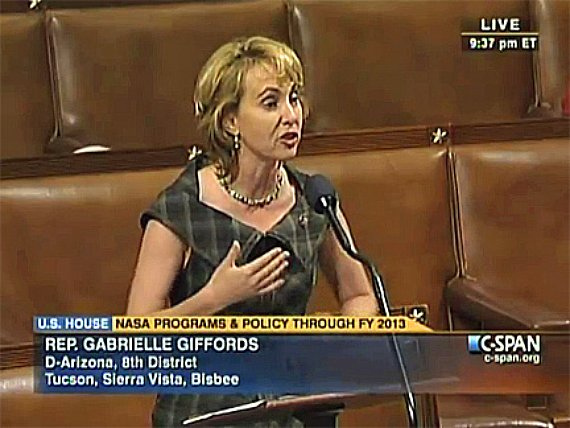 Considering that it's only been three weeks since Congresswoman Gabrielle Giffords was shot, I would think this falls under the category of too soon:
Behind closed doors, California Democratic Rep. Loretta Sanchez has proposed removing Arizona Rep. Gabrielle Giffords from the House Armed Services Committee (HASC) until she recovers from injuries sustained after being shot in the head on Jan. 8 in Tucson, The Daily Caller has learned.

The proposal sparked an outrage, according to those in the room — including from those in Sanchez's own party.

"It's not appropriate," Texas Democratic Rep. Silvestre Reyes told The Daily Caller, adding that there was outrage among some members in the room when Sanchez made the suggestion. "It's bad for morale during her recovery period."

Reyes and Rep. Adam Smith of Washington put up most of the fight against Sanchez, and helped squash the idea.

"From a woman who memorialized her cat, you'd think she'd show a little more compassion for a woman shot in the face," said one GOP aide, referring to Sanchez's 2010 Christmas card that paid tribute to her late cat, Gretzky.
Ouch that hurts.
At the same time, though, it is true that Giffords' recovery does raise some issues that both she, her family, and her party are going to have to deal with at some point in the future when it becomes clearer just how long her recovery is going to take. If Giffords were a member of the House majority, or a Committee Chair, this would have to be dealt with now. She isn't, so it was really sort of classless for Sanchez to bring it up now.  Of course, this also brings up an issue I raised a week ago that may deserve attention at some point:
The Constitution says nothing about how to deal with a Congressman or Senator who may be disabled and unable to fulfill for the duties of their office. This means that a Senator could have a stroke, be disabled for years and unable to work, and the people of their state would be without representation. I'm not suggesting this is a crucial problem, but it is interesting that we have specific provisions for Presidential disability, but nothing to deal with a similar situation in the Legislative and Judicial Branches.
It may be time to consider addressing that issue.