Democratic Platform Amended On God And Jerusalem Amid Boos From Delegates
What should have been a simple parliamentary procedure, conducted under President Obama's orders no less, turned into something of an embarrassment.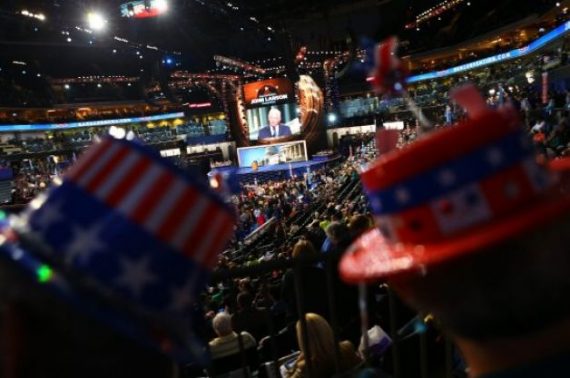 The DNC's effort to amend the party platform to deal with the omission of references to God and Jerusalem's status as the capital of Israel did not go exactly as planned:
CHARLOTTE, N.C. — Two platform planks sparked division at the Democratic National Conventionhere Wednesday.

Things got so bad that President Barack Obama was forced to personally intervene, ordering language mentioning God and naming Jerusalem as the rightful capital of Israel be added.

Obama had seen the language prior to the convention, a campaign source said, but did not seek to change it until after Republicans jumped on the omissions of God and Jerusalem late Wednesday. And even then, it had to be forced through a convention hall full of delegates who nearly shouted down the change.

Los Angeles Mayor Antonio Villaraigosa, the convention's chairman, kicked off Wednesday's proceedings by trying to clean up a mess Democrats made by omitting from their official party platform mentions of God and of Jerusalem as the preferred capital of Israel.

Villaraigosa called for a voice vote on an amendment offered by former Ohio Gov. Ted Strickland, who chaired the platform drafting committee. Facing boos and "nay"s, he tried again, before announcing that in his judgment, a two-thirds majority had approved the measure. He was booed again as he walked off the stage.
It turned into a rather uncomfortable and contentious three minutes on the convention floor, requiring Villaraigosa to call for three voice votes in each of which the nay's seemed to get louder each time:
Partly, this just seems like Villaraigosa not understanding how to handle a gavel. After the first vote, he should've just declared "in the opinion of the chair the ayes have it,"  regardless of what it sounded like on T.V., banged the gavel, and walked off the stage. Going back and redoing the voice vote two more times just made the whole thing look ridiculous, especially since it became clear by the third vote that the "ayes" didn't really have the 2/3's vote necessary to approve the amendment. Because of his incompetence with the gavel, he turned what should've been an easy procedure into an embarrassment. At the same time, though, one can be at least somewhat sympathetic for him, because I doubt anyone in the leadership really thought these would be controversial amendments.
One can argue that the controversy over these omissions is silly, and like pretty much all parts of a party platform they are, but they caused enough controversy even among Democrats, especially Jewish Democrats, that President Obama himself personally ordered that they be reinstated:
CHARLOTTE, N.C. – President Obama ordered his staff to have the Democratic Party's platform language changed to include God and affirm Jerusalem as the proper capital of Israel, a campaign source said Wednesday.

Obama ordered his staff to make the change, the source said, and Democrats followed by restoring language on both on a floor vote. The changes happened after Republicans seized on both to attack the party.
Perhaps this should have been made clear to the delegates.
Nonetheless, the boos were somewhat an embarressment for the party, to the extent that Debbbie Wasserman Schultz denied that there was any controversy at all shortly after the vote took place. Of course, Congresswoman Wasserman-Schultz has had a little bit of trouble with the truth this week.