Democratic Primary Reset?
The 2016 frontrunners at this stage won their nominations easily. But that's often not the case.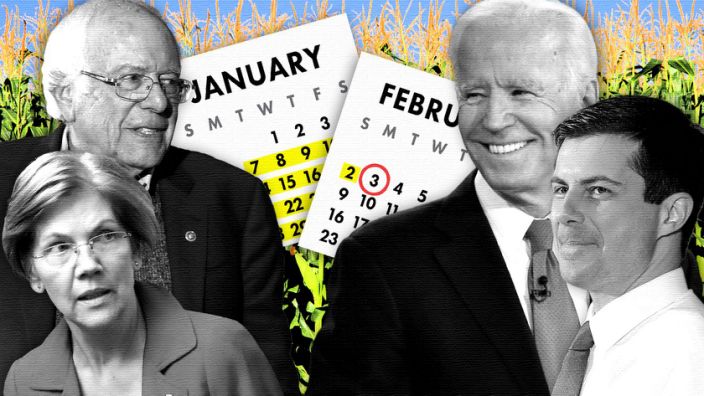 Andrew Romano, the West Coast Correspondent for Yahoo News, contends that the campaign for the Democratic presidential nomination thus far has been all but meaningless and reports "among top staffers for the top candidates, there's a growing sense that the last 28 days before Iowa may matter more than the last 12 months combined — that the entire contest is about to hit reset."
As to the former, he observes,
Exactly one year ago, Joe Biden led the field with 27.7 percent support, according to the RealClear Politics national polling average; Bernie Sanders was second with 17.3 percent. Today, Biden leads with 29.3 percent; at 19.9 percent, Sanders is still in second by about 10 points. Nothing that happened in 2019 — not Biden's gaffes, not Sanders's heart attack, not the shifting fortunes of other contenders — has changed this simple fact: The Democratic primary's two most recognizable figures remain its likeliest winners
That's fair enough. Then again, we began with 27 declared candidates, most of whom qualified for DNC-sponsored televised debates, and are now down around half a dozen. A lot of smart folks in our comments section were predicting that Kamala Harris would be the eventual nominee; she didn't make it to Iowa.
As to why a shakeup might occur, Romano argues that the impeachment of President Trump has diverted attention away from the race for the past several months and the strike that took out the leader of Iran's Quds force will dramatically refocus the debate.
Already we're seeing the top Democrats try to reframe their candidacies in response: Buttigieg by emphasizing his time as a naval intelligence officer in Afghanistan; Biden by stressing the foreign policy experience he amassed as a senator and vice president; Warren and Sanders by putting their anti-war bona fides front and center. If tensions escalate this month into an outright conflict, Democratic primary voters will head to the polls with a new priority: picking the candidate best-prepared for a foreign policy crisis, and who can most plausibly present himself or herself to the rest of the electorate that way. 
Finally, he notes that history shows that a lot can change once the voting in Iowa and New Hampshire takes place.
One month before the 2008 Democratic caucuses, Barack Obama and Hillary Clinton were tied at 27 percent; John Edwards trailed by five. One week before the caucuses, Clinton led with 30 percent; Edwards and Obama trailed by five. Then, on caucus night, Obama won by eight. 2016 was a similar story: One month out, Clinton led Sanders by 13; one week out, Sanders was in first; in the final days, Clinton pulled ahead by four; then they essentially tied on caucus night, a result that was portrayed as a huge win for Sanders. 
The fact of the matter is that the polling at this stage in the race sometimes predicts the results quite well—the 2016 nominees, Donald Trump and Hillary Clinton, were prohibitive frontrunners at this stage in that race—and sometimes doesn't.
Cato's Emily Ekins had a piece four years ago yesterday titled, "Presidential Candidates Who Led the Polls in January Entering the 2008 and 2012 Primary Election Cycles Didn't Win." She noted,
At this point in the 2008 primary election cycle, former New York City mayor Rudy Giuliani led the pack with 23.6 percent. Former Arkansas Governor Mike Huckabee garnered 16.8 percent in second place while the eventual GOP nominee Sen. John McCain (R-AZ) was in third with 13.6 percent

[…]

Similarly, in 2012, RCP shows that former House Speaker Newt Gingrich held the top slot at this point in the cycle with 31 percent, while the eventual nominee Mitt Romney was in second with 20.5 percent. Herman Cain was in third with 13 percent.

[…]

Average polling throughout December 2007 found Clinton with 45 percent of the Democratic vote. Barack Obama trailed by 20 points with 24.6 percent and John Edwards garnered 13 percent. Fast-forward a few weeks: Obama won the Iowa Caucuses and his numbers soared past Clinton, eventually securing the nomination. Similar to the Republicans in 2012, the eventual winner of the Democratic nomination was polling second at the start of the new year in 2008.
The Democratic nominating fight to face George W. Bush in 2004 was especially chaotic, as CBS' Fred Bachus reminds us:
In some ways the 2004, Democratic primary race resembles 2020: it had a crowd of Democratic challengers vying for the chance to unseat a sitting Republican president. CBS began polling among Democratic primary voters in September 2003 — shortly after retired Army Gen. Wesley Clark entered the race. Clark (12 percent) was the frontrunner in that poll, followed by Congressman Dick Gephardt (10 percent) in second place and Vermont Gov. Howard Dean (9 percent) and Sen. Joe Lieberman (9 percent) tied for third. The eventual nominee — Sen. John Kerry — came in fifth (8 percent). By November, Dean was the frontrunner, a status he held onto until losing in the Iowa Caucuses. As late as January, John Kerry — still just in fourth place — was preferred by just 7 percent of Democratic primary voters nationwide, but shot up to 53 percent and first place after winning Iowa, New Hampshire and a slew of other contests on Super Tuesday.
The 2004 race was the first that I blogged (OTB started in January 2003) and I don't recall taking Clark all that seriously. But there was certainly a long stretch where Dean looked like the prohibitive favorite. More importantly, Kerry famously had to take out a loan against his wife's inherited properties to keep his race afloat. (McCain had to do something similar to keep his hopes alive in 2008; both bets paid off.)
Every contest has its idiosyncracies. Further, the changes brought on by social media make comparisons with races even a decade ago somewhat fraught. And that's to say nothing about the potential interference by foreign governments, a not-inconceivable war with Iran, or economic meltdown.
Biden has been the frontrunner rather consistently but it's rather clear that he's vulnerable. I find it hard to believe Democrats will nominate a non-Democrat, Bernie Sanders. Warren seems quite plausible. While I like Buttigieg a lot, I can't imagine that a 30-something small-town mayor is going to be the nominee. And I don't see how anybody outside the current top four gets any traction.
Then again, I didn't think there was any way in hell my former party would nominate Trump in 2016—even when he was the frontrunner.