Democratic Race Mostly Unchanged By Third Presidential Debate
For the most part, the third debate appears to have had little immediate impact on the race for the Democratic nomination.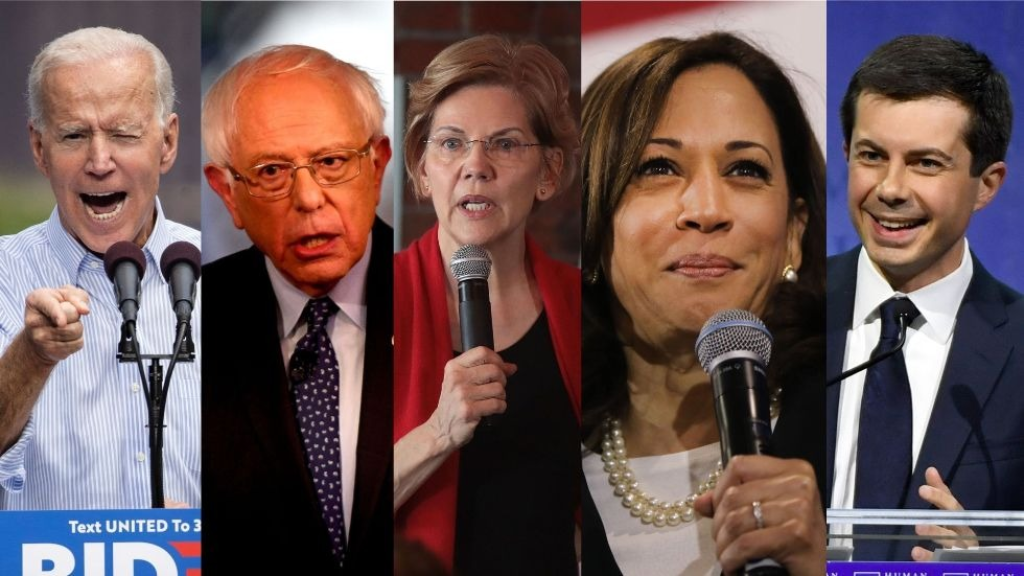 It's been roughly one week since the Democratic candidates for President, or at least the ten of them who met the criteria to qualify for an invitation, met on stage in the third debate of the campaign season that saw a clash between the center-left pragmatism of former Vice-President Joe Biden and the progressive idealism of candidates such as Elizabeth Warren and Bernie Sanders. Much like the second debate, though, the several polls that have been taken since the debate have shown little change in the nature of the race, except perhaps to the extent that it continued to show a race in which Biden, along with Senators Elizabeth Warren and Bernie Sanders, were rapidly pulling away from the rest of the pack.
The new NBC News/Wall Street Journal poll, for example, shows former Vice-President Biden continuing to show a strong lead in the national polling of the race, but it also shows some bad news for California Senator Kamala Harris, who finds her support slipping even further:
Former Vice President Joe Biden and Massachusetts Sen. Elizabeth Warren have gained support since the summer in their fight for the Democratic presidential nomination and are beginning to separate themselves from the rest of the party's sprawling 2020 field, a new Wall Street Journal/NBC News poll finds.

Mr. Biden was the top choice of 31% of Democratic primary voters, while Ms. Warren was favored by 25% in the poll, which was conducted after the party's third primary debate, in Houston, last week. Vermont Sen. Bernie Sanders was the only other candidate with double-digit support, at 14%.

Mr. Biden and Ms. Warren were the only candidates whose support grew meaningfully since a July survey. But measures of voter enthusiasm for Ms. Warren have risen during the year while declining for Mr. Biden.

Some 70% of Democratic primary voters rated themselves as enthusiastic about or comfortable with Ms. Warren, compared with 64% who said so of Mr. Biden. In a sign of her support, Ms. Warren attracted 20,000 people to a rally in New York City's Washington Square Park Monday night.

The survey underscored Mr. Biden's strength among voters age 50 and older, as well as among African-Americans, two voting groups that often play influential roles in Democratic primaries.

Republican pollster Bill McInturff noted that only three contenders have double-digit support even after Democratic voters have been exposed to a large field through televised debates and other media events.

"The race isn't getting broader. There aren't more people in the mix. There are fewer people," said Mr. McInturff, who conducted the survey with Democrat Jeff Horwitt.

Peter Hart, a Democratic pollster who also worked on the survey, cautioned that past presidential campaigns have often fluctuated ahead of the first nominating contests. "What we see in September isn't what we see in December," Mr. Hart said. The first 2020 contest, in Iowa, will be held next February.

(…)

The poll also shows Mr. Biden with strength among moderate and conservative Democrats, while among black voters, he had 49% support, while Ms. Warren was at 13% and Mr. Sanders was at 5%.

Among liberals, Ms. Warren was backed by 36% of respondents, compared with 19% apiece for Mr. Biden and Mr. Sanders.

When asked to name their second choice, respondents picked Ms. Warren, who received 21%, followed by Mr. Sanders at 16% and South Bend, Ind., Mayor Pete Buttigieg at 12%. Eleven percent said Mr. Biden was their second choice.

The Journal/NBC News poll surveyed 506 registered voters who said they would vote in a Democratic caucus or primary. The poll was conducted from Sept. 13-16 and had a margin of error of plus or minus 4.36 percentage points.

Both Mr. Biden and Ms. Warren have built upon their support compared with the Journal/NBC News poll in July, when Mr. Biden received 26% and Ms. Warren was at 19%. Mr. Sanders was at 13% in that July poll.

The latest poll underscored the challenge for the long slate of Democratic candidates who are trying to break into the top tier.

The survey found weaker support than in July, for example, for California Sen. Kamala Harris. She had the backing of 13% of Democratic primary voters in the prior survey, conducted shortly after she drew wide attention for confronting Mr. Biden over racial issues in a televised debate. In the new survey, she registered 5% support.

Mr. Buttigieg received 7% support in the new survey, while entrepreneur Andrew Yang had 4%. Sens. Amy Klobuchar of Minnesota and Cory Booker of New Jersey garnered 2% each.

Seven candidates registered at 1%: Former Rep. Beto O'Rourke of Texas, Rep. Tulsi Gabbard of Hawaii, former Rep. John Delaney of Maryland, billionaire environmentalist Tom Steyer, Colorado Sen. Michael Bennet, New York City Mayor Bill de Blasio and former Housing and Urban Development Secretary Julián Castro.
The Fox News poll, meanwhile, shows a closer race between Warren and Sanders while Biden continues to enjoy a comfortable lead:
It's increasingly more important to Democratic primary voters to beat President Donald Trump than support their favorite candidate — and former Vice President Joe Biden is widely considered the candidate most likely to give them the White House.

That's a major source of strength for Biden, who continues to lead the Democratic field, albeit at a new low.

Biden captures the support of 29 percent of Democratic primary voters, according to a new Fox News Poll. That's down 2 points since last month and down 6 points since May, when he was at a high of 35 percent support. His current 11-point lead is down from a high of 19 points in June.

Sanders climbs back into second with 18 percent (up 8 points since August), followed by Elizabeth Warren at 16 percent (down 4), forming the clearest top three candidate tier seen in this race to date.

The next tier includes Kamala Harris at 7 percent, Pete Buttigieg at 5 percent, Beto O'Rourke at 4 percent, Cory Booker at 3 percent, and both Andrew Yang and Amy Klobuchar at 2 percent.

Michael Bennet, John Delaney, and Tom Steyer each receive 1 percent.
The top picks among self-described moderates and conservatives voting in the Democratic primary are Biden (34 percent), Sanders (14 percent), and Warren (9 percent). "Very" liberals go for Sanders (31 percent), Biden (22 percent), and Warren (20 percent).

Primary voters under age 35 prefer Sanders (35 percent) over Biden (17 percent) and Warren (14 percent). Those ages 45 and over go even more heavily for Biden (38 percent) over Warren (17 percent) and Sanders (8 percent).

Biden is ahead among whites by 7 points (Biden 26, Warren 19, Sanders 16) and non-whites by 13 points (Biden 34, Sanders 21, Warren 11, Harris 9).
There have also been a handful of other polls that continue to show the race in much the same shape it was before the debate:
Looking at the RealClearPolitics poll average we find the following:
Joe Biden —- 28.8%
Elizabeth Warren — 18.8%
Bernie Sanders — 16.5%
Pete Buttigieg — 5.8%
Kamala Harris — 5.7%
Beto O'Rourke — 3.0%
Andrew Yang — 3.0%
Cory Booker — 2.8%
Amy Klobuchar — 1.5%
Tulsi Gabbard — 1.0%
All other candidates under 1%
And as we can see from the chart, the race remains one where Joe Biden is at the top while Warren and Sanders battle it out for second and the other candidates, including the quickly fading Kamala Harris, continue to fall behind: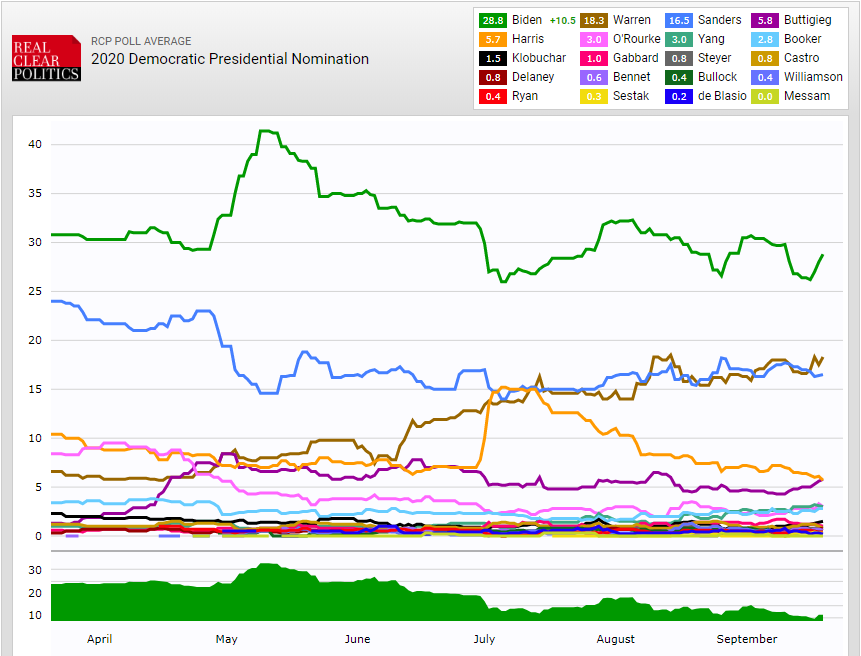 The most noticeable thing about these polls, of course, is the extent to which Kamala Harris has faded away to the point where she's polling about the same, or even below, Pete Buttigieg, who has been trailing her all summer but now seems to be rising slightly, perhaps benefiting from Harris's decline in support. Harris, meanwhile, took a sharp turn upward in the immediate aftermath of the first debate to the point where she was co-equal with Elizabeth Warren and Bernie Sanders. Slowly but surely, though, she has fallen since hitting that peak and there doesn't seem to be anything she can do right now to turn that around. Yesterday, Harris said she would be returning to Iowa to campaign extensively there. Perhaps that will help her turnaround a fading campaign, but right now it seems like she may be one of those candidates who peaked way too early.
For the most part, then, the race remains largely where it was prior to the third debate. With the exception of two polls that have consistently been outliers so far this season, former Vice-President Biden remains the overwhelming favorite in the race. This is in part due to the fact that most Democrats continue to believe that the most important thing with respect to the race for the nomination is to find the candidate best situated to defeat President Trump in 2020. Biden consistently shows up in the polls as the person that even supporters of other candidates admit is best situated to do that. He also benefits from the fact that he has strong support among African-Americans, no doubt due to his affiliation with former President Obama.
Beyond Biden, Senators Warren and Sanders continue to battle it out for leadership among the progressive wing of the Democratic Party. At some point, of course, the logical thing would be for one candidate to drop out in favor of the other. Given the egos involved, though, that seems unlikely. This is especially true of Senator Sanders, who stayed in the 2016 race long after it was apparent that he could not defeat Hillary Clinton for the nomination, Beyond these two candidates, there's Pete Buttigieg, who continues to hang on to the level of support he's had since the spring and appears to be rising in the polls and Kamala Harris, whose decline I noted above. After that, the field is basically full of also-rans, most of whom will probably not last through the end of the year or at the least will be out of the race by the end of the first month of voting in February.
Is it possible things will change over the coming months? Certainly it is, but it would take something significant to cause that to happen and, so far, we haven't had that happen in this race.