Democratic Strategist Attacks Ann Romney, Unites Conservatives Behind Mitt Romney
Picking the wrong target.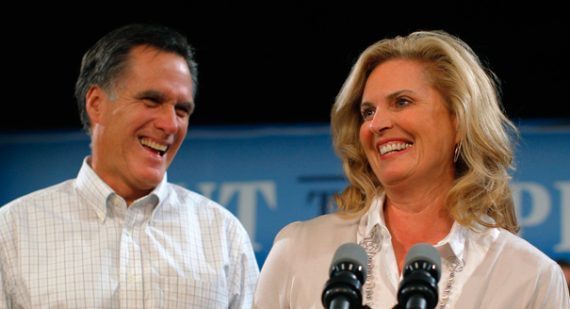 Last night on Anderson Cooper 360, Democratic Strategist Hilary Rosen, who may or may not be an informal adviser to the Democratic National Committee depending on who you listen to, made some comments about Ann Romney and the so-called "War on Women" that set off a firestorm:
Hilary Rosen, a Democratic operative with SKD Knickerbocker, touched off a Twitter storm tonight after she went on CNN and said that Ann Romney has "never worked a day in her life."

The statement was tweeted and retweeted, with a number of people condemning the statement as an attack on the candidate's wife, who was a stay-at-home mom who also raised the couple's five boys, and who has suffered from MS and breast cancer.

Ann Romney, who is widely praised as her husband's most effective surrogate, took to Twitter herself for her first-ever post, saying, "I made a choice to stay home and raise five boys. Believe me, it was hard work."
Here's the video of Rosen's comments:
There's really no other way to put it. What Rosen said here was incredibly stupid and reminiscent of the culture wars that started with the birth of feminism. Rightly or wrongly, there are many on the right who believe that feminists like Rosen look down upon what are seen as "traditional" gender roles, and specifically that they believe that women who do choose to stay home and raise children rather than entering the work force are less important because they are not really contributing anything to society. That may be a false impression, but it exists largely because people like Rosen say stupid thinks like this, so it wasn't surprising when the right jumped all over it, nor was it surprising to see the Obama campaign distance itself from her:
The senior adviser to President Barack Obama's reelection bid also took to Twitter to distance the campaign from the comments.

"Also Disappointed in Hilary Rosen's comments about Ann Romney," David Axelrod wrote. "They were inappropriate and offensive."

Obama deputy campaign manager Stephanie Cutter posted, "Families must be off limits on campaigns, and I personally believe stay at home moms work harder than most of us do."
Rosen took to Twitter to attempt to do some damage control, claiming in one post that she meant that Ann Romney had choices that other women didn't have, a point she repeated in a column at The Huffington Post, but the damage was already done. Rosen could have made her point without demeaning Ann Romney and without making it seem as though she was insinuating that stay-at-home mothers are unimportant. It was probably also a mistaken for Axelrod and  the other Obama campaign officials to react so quickly to Rosen's comments, because it makes her seem closer to the campaign than she may actually be, and reinforces the idea that this was all part of a coordinated attack.
But there's one thing that Hillary Rosen did that Mitt Romney ought to be thanking her for. As Michelle Malkin put it on Twitter last night, in one minute she managed to get conservatives united behind Mitt Romney in a way that they had not been before, and that only enures to his benefit. In all likelihood, we'll see this meme pushed even further in the coming days and Ann Romeny is likely to become an even more public face on the campaign trail. And all because of a stupid comment by someone most people have never heard of.
The whole thing reminds me of a scene from the West Wing episode 20 Hours In America Part I:
C.J.

Yesterday, the First Lady appeared on KCAL, which is a local LA station. She was asked about the suspension of her medical license and she said something like, "I'm just a wife and mother."

BRUNO
And that has been interpreted in some circles as merely a wife and mother?

C.J.
This is Flint Aldridge, a Southern Baptist radio host. "This is another sign that Abbey Bartlet is a liberal elitist feminist."

BRUNO
Elitist, feminist– you can't do that to the English language.

C.J.
And this is from Janet Ritchie.

BRUNO
Janet Ritchie went on the record?

C.J.
"Being a wife and a mother are the most rewarding roles I've ever played. I think Abbey Bartlet and I have two different ambitions."

BRUNO
Ooh, she won $50. Said the secret word right there– ambition. Phyllis Schlafly and Ann Coulter are going to have a sqaure dance.

C.J.
Anyway, it's waiting for us down on the ground.

BRUNO
Then let's stay up here and have drinks.

CAPTAIN
Good afternoon, ladies and gentleman.

BRUNO
Janet Ritchie really went on the record?

C.J.
Yeah.

BRUNO
I love it when the women get involved.
And, boy have they become involved.
Photo via Politico