Democrats Annoy Base Running Candidates Who Can Win
The DNC is backing centrist candidates in a bid to win traditionally Republican districts. Party activists are not happy about it.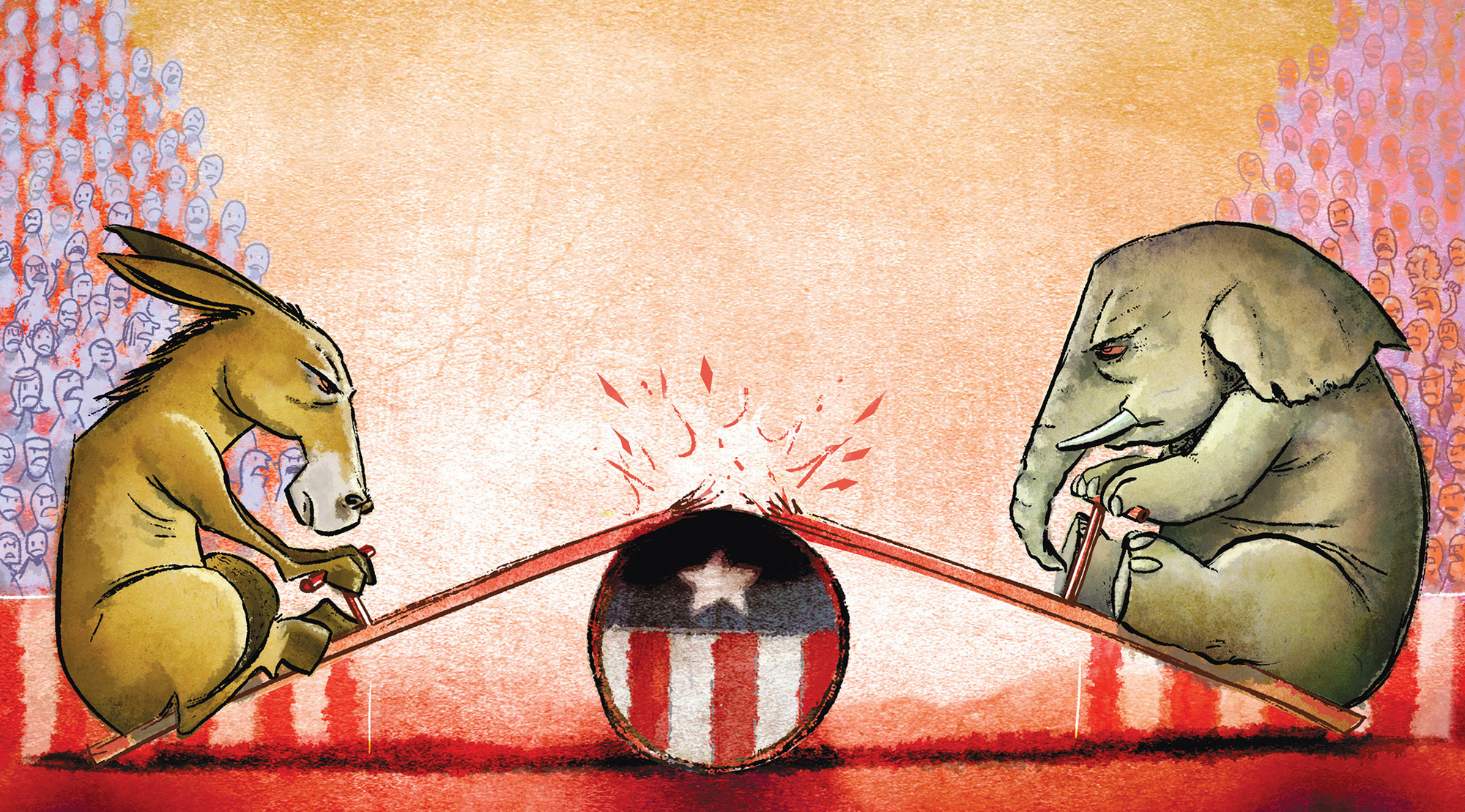 NYT ("Trying for House Gains, Democrats Bless Moderates and Annoy Liberals"):
CONWAY, Ark. — To many Democratic leaders, the path to power in Washington looks like Clarke Tucker.

He supports the Affordable Care Act, but not a single-payer system. He signals misgivings about Nancy Pelosi as the next House speaker. And even when addressing an audience of Democratic Party regulars, he does not attack President Trump by name.

In short, he comes across as a moderate — and exactly the kind of candidate who leading Democrats believe the party should field in Republican-leaning districts to bolster the majority they hope to win in the House in November.

But that strategy frustrates the party's liberal supporters, who feel the wind at the Democrats' back and worry about using it to crowd their House caucus with members who may feel inclined to buck the party leadership and stray from its policy agenda.

Though much of the Democratic energy nationally is coming from the party's left, Mr. Tucker appears to be running well ahead of a clutch of more liberal rivals in the May 22 primary for a seat in Central Arkansas.

"There's, in my view, an overly simplistic characterization of Democrats now into one of two camps: either centrist and unenthusiastic or liberal and passionate," Mr. Tucker, a state legislator, said in an interview after he spoke at a Faulkner County Democratic Women lunch on May 7. "I have a lot of passion about the issues that I really care about. At the same time, I realize that making any progress is better than making no progress at all."

His broad, incremental approach can feel unsatisfying to more confrontational Democrats. Even more aggravating for them is the support Mr. Tucker has received from the Democratic Congressional Campaign Committee in Washington, which anointed him as its preferred candidate to challenge the district's Republican incumbent, French Hill.

"Is it really worth the win to keep pushing back against the people you're supposed to be serving?" said Paul Spencer, one of Mr. Tucker's primary opponents. "The party used to stand for something. At some point, you've got to stand up, and you've got to move the party in the right direction."

[…]

Lawmakers and advocacy groups on the left object that recruiting a generation of less-than-liberal Democrats might cripple the party's ability to enact sweeping policy changes in Washington. If Democrats capture the House in November by only a narrow margin — perhaps half a dozen seats or fewer — a small cluster of stubborn centrists could wield enormous influence.

Liberal resistance to that scenario may become a more serious obstacle for moderate Democrats later in primary season, when bluer-tinged states select candidates. For example, in California, which votes next month, Democrats are waging fierce left-versus-center primary fights in many of the 14 Republican-held districts. And in many contested suburban districts, Democrats appear likely to nominate candidates well to the left of center.
This is the classic tension in the American political system. Getting one's agenda passed requires getting a majority coalition. Getting a majority coalition necessarily requires bringing moderates into the fold to win swing districts and perhaps pick off a handful of those which customarily go to the other party. Moderate members of the coalition, alas, are less likely to vote for the agenda.
This tension has been exacerbated by the skill at which state legislatures gerrymander districts to protect incumbents and/or skew the partisan balance. The combination of hardball politics and exceedingly precise demographic information make it easier than ever to carve out non-competitive districts. Thus, it's extremely difficult for a moderate Democrat to win a Republican district and vice-versa. It's next to impossible for a hyperpartisan to flip a district.
In a wave election such as we experienced in 1994, 2006, and 2010 and seem very likely to see again in November, there will be, by definition, an unusually large number of flipped seats, generally in a particular direction. While President Trump remains popular with hard-core Republicans, moderates dislike him and the Republican Congress and Democrats are highly motivated to vote. There's an excellent chance that, with the help of candidates like Clarke Tucker, the Democrats will win a narrow majority in the House.
But, of course, the moderates who would make that possible are going to be opposed to the most contentious items on agenda of the Progressive wing of the party. Not only are they ideologically not predisposed to vote for things like single-payer healthcare but they're also going to be the most vulnerable incumbents come 2020. Places like Conway, Arkansas will remain conservative even if they vote for moderate Democrats.
Whether the strategy is "worth it" for Democrats really depends on the art of the possible. In my estimate, electing a Progressive majority in 2018 or even 2020 is simply not a feasible outcome; we're not a Progressive country to begin with and our strange political system gives outsized voting power to rural areas. A Democratic majority in Congress, though, would be much more likely than the current Republican majority to block Trump's agenda. I'm honestly not sure, though, whether that's a good thing in terms of ousting Trump in 2020; it may well be that thwarting his baser impulses makes him a better President.