Democrats Avoid Angry Constituents By Avoiding Constituents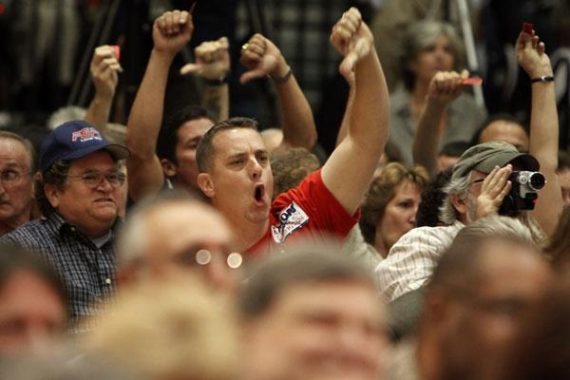 Last year Democratic lawmakers faced down voter anger over the health care reform bill at town hall meetings across the country. This year, they're avoiding that problem by avoiding the town halls altogether:
BEL AIR, Md. — The reception that Representative Frank Kratovil Jr., a Democrat, received here one night last week as he faced a small group of constituents was far more pleasant than his encounters during a Congressional recess last summer.

Then, he was hanged in effigy by protesters. This time, a round of applause was followed by a glass of chilled wine, a plate of crackers and crudités as he mingled with an invitation-only audience at the Point Breeze Credit Union, a vastly different scene than last year's wide-open televised free-for-alls.

The sentiment that fueled the rage during those Congressional forums is still alive in the electorate. But the opportunities for voters to openly express their displeasure, or angrily vent as video cameras roll, have been harder to come by in this election year.

If the time-honored tradition of the political meeting is not quite dead, it seems to be teetering closer to extinction. Of the 255 Democrats who make up the majority in the House, only a handful held town-hall-style forums as legislators spent last week at home in their districts.

It was no scheduling accident.

With images of overheated, finger-waving crowds still seared into their minds from the discontent of last August, many Democrats heeded the advice of party leaders and tried to avoid unscripted question-and-answer sessions. The recommendations were clear: hold events in controlled settings — a bank or credit union, for example — or tour local businesses or participate in community service projects.

And to reach thousands of constituents at a time, without the worry of being snared in an angry confrontation with voters, more lawmakers are also taking part in a fast-growing trend: the telephone town meeting, where chances are remote that a testy exchange will wind up on YouTube.
You can certainly understand why a politician would do this. Nobody wants to be subjected to repeated instances numerous instances of being shouted at by crowds of people, and there's certainly justification for calling Congressman who avoid their constituents cowardly as Stephen Green and others have.
There is, however, another side to the story. I was never that much of a fan of the town hall protests, or at least not of the versions of it that resulted in representatives being shouted down by an angry mob. As Rick Moran wrote at the time, it really isn't the best way to convince people that you're right and they're wrong:
Is it ever the right thing to do to shout down the political opposition at an open meeting?

I realize people are angry. I know that conservatives feel a sense of powerlessness as Republicans in congress fumble and stumble around and the Democrats seem to have it all going their way. I accept the fact that this health care bill is a fearful monstrosity and that extraordinary measures should be taken to defeat it.

But is screaming in impotent rage at your congressmen the way to go about doing it?

(…)

I know people are angry. But giving in to the emotionalism of the moment hurts the cause. I realize the left has used these tactics for generations – and that may be the silliest reason of all for conservatives to mimic them. Do you really want to imitate the absolute worst tactic of your opponent? Where's the logic in that?

This is not a zero sum game. There is much more to be gained by demonstrating reasonably and respectfully than going off half cocked and disrupting what is, after all, part of the democratic process.
There's nothing wrong with anger in politics, but blind, impotent rage like what we saw from many circles during the great Town Hall protests of 2009 doesn't really accomplish anything other than convince your opponents that their opinions of you are correct.
Take your anger and put it to good use on Election Day.