Democrats in Disarray, Abortion Edition
Here we go again . . . .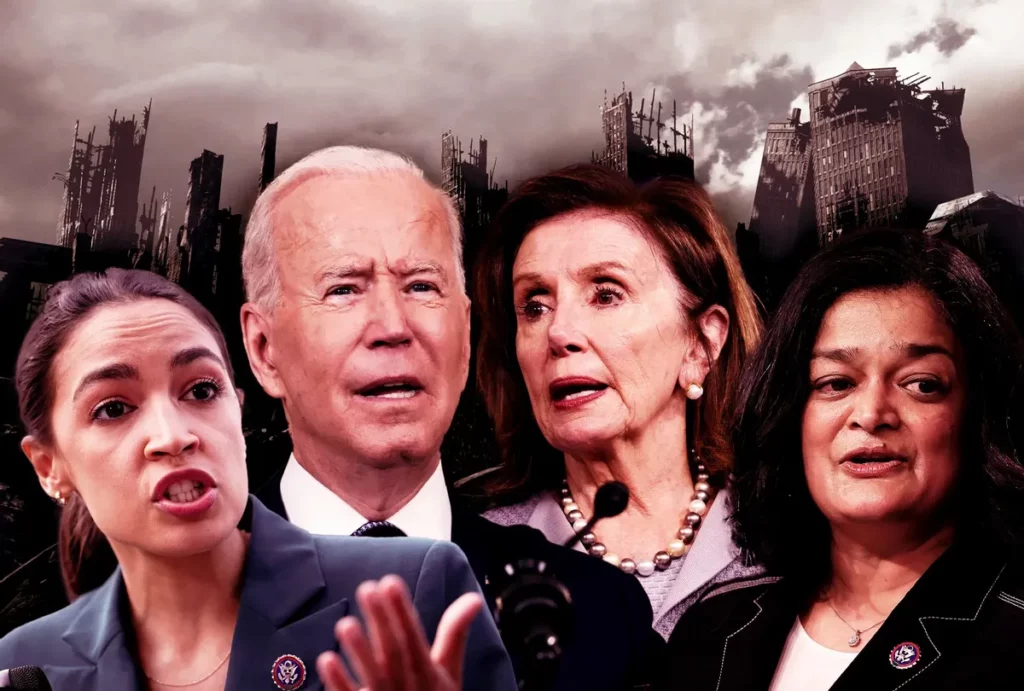 WaPo ("Frustration, anger rising among Democrats over caution on abortion"):
Just hours after the Supreme Court decision ending 50 years of abortion rights, President Biden outlined his ideal response: Elect more Democrats. "This fall, Roe is on the ballot," Biden said at the White House. "Personal freedoms are on the ballot. The right to privacy, liberty, equality, they're all on the ballot."

A short distance away, House Democrats gathered on the steps of the U.S. Capitol to sing a heartfelt rendition of "God Bless America" to celebrate the passage of a modest gun control bill — a moment that felt tone deaf to many Democrats given the judicial bombshell that had just landed.

To an increasingly vocal group of frustrated Democrats, activists and even members of Congress, such responses by party leaders have been strikingly inadequate to meet a moment of crisis. They criticize the notion that it is on voters to turn out in November when they say Democrats are unwilling to push boundaries and upend the system in defense of hard-won civil liberties.
Who are these people? How many of them are there? What is it that they think Biden and company should be doing differently?
"We have Democrats that are doing the opposite, you know? They just aren't fighting," Rep. Cori Bush (D-Mo.) said. "When people see that, what's going to make them show up to vote? We can't just tell people, 'Well, just vote — vote your problems away.' Because they're looking at us and saying, 'Well, we already voted for you.'"

Progressive lawmakers, including Sen. Elizabeth Warren (D-Mass.) and Rep. Alexandria Ocasio-Cortez (D-N.Y.), have outlined several actions they want to see Democrats embrace: Building abortion clinics on federal land. Funding people to seek abortions out of state. Limiting the Supreme Court's jurisdiction or expanding its membership. Ending the filibuster.

"We can do it!" Ocasio-Cortez tweeted recently after listing some of these measures. "We can at least TRY."
So, at least three people, including two House backbenchers, want to do something that there aren't nearly enough votes to do and which is surely going to be struck down as unconstitutional by this Court? (And probably rightly so.)
Warren called on Biden to declare a national medical emergency, and she said the administration could establish Planned Parenthood outposts on the edge of national parks. "The point is the acknowledgment of the emergency situation and the urgency of getting help out," she said in an interview. "People need help immediately."
Okay, so that's a novel solution to the problem. It's also one that would be unpopular even with large swaths of the Democratic base. And create a standoff with states that would almost certainly land a lot of people in jail.
Biden and his team have signaled discomfort with many of these ideas, particularly any far-reaching overhaul of the Supreme Court. Asked by reporters recently if he thinks the Supreme Court is "broken," Biden said only, "I think the Supreme Court has made some terrible decisions."

A senior White House official said Biden is simply being honest with the public about what he can do unilaterally, adding that the president is "taking major actions under executive authority as he fights this extreme decision very hard — but being clear and honest that only Congress can fix the situation."

White House officials note that the administration has moved to protect access to the so-called abortion pill even in states that try to ban it, and that the president has pledged to protect women who seek to travel across state lines to get an abortion.

The official said that while the proposal to set up abortion clinics on federal lands was "well-intentioned," it could put pregnant people and providers at risk, and that in states where abortion is illegal, women and providers who are not federal employees could be prosecuted. Some legal experts have also raised questions about whether such a proposal would stand up in court, and White House officials worry it would violate the Hyde Amendment, which prohibits the use of federal funds for abortion except if a pregnant person's life is in danger or if the pregnancy results from rape or incest.
Warren's proposal presumably relies on the Federal Enclave doctrine, which exempts certain properties owned by the Federal government from state jurisdiction. Practically, though, it's really complicated depending on factors such as the nature of the transfer of control to the Federal government, the timing of the passage of the state law, and what stipulations the enabling legislation made.
Regardless, it would appear that, outside of a handful of the most progressive members of the caucus, they're just frustrated that they keep losing because the other side isn't playing by the same rules.
Some activists acknowledge Biden's ability to act is limited. Only Congress can codify abortion rights nationwide, and the Senate, where the filibuster requires 60 votes to pass almost all legislation, is split 50-50 between the parties.

But many abortion rights supporters say Republicans have routinely broken the rules in recent years and benefited enormously from it — for example, by blocking President Barack Obama's Supreme Court pick — and that for Democrats to continue observing the niceties amounts to unilateral disarmament.
This is not without merit. While Democrats have played hardball themselves over the years, including eliminating the filibuster for lower court judges in response to Republican obstructionism, they have been more committed to institutional norms. Biden, in particular, is loath to completely nuke the filibuster. Then again, he doesn't have the votes to do it even if he wanted to.
Moreover, a lot of this is just about signaling. They want to at least be seen as fighting, even if they know they'll ultimately lose.
"We are dealing with one side that is undermining the very essence of what it means to be a country that roots itself in this philosophy of equal protection under the law. You cannot battle that if folks on the other side are always moderating, modulating and compromising. It's not the age we're in," said the Rev. William Barber, a North Carolina preacher who is co-chair of the Poor People's Campaign.

"You fight a crisis until the crisis is over," Barber added. "You can't overreach when you're at the bottom, and these folks have taken us to the bottom."

If Biden pursued aggressive executive actions to expand abortion access, even if those moves were ultimately overturned by a court, it would energize supporters and signal to voters that Democrats are putting up a fight, advocates said.

Kurt Bardella, a former Republican who now consults for Democrats, said party leaders cannot be afraid of bold actions because of potential legal challenges.

"Democrats start with the question of, 'Are we allowed to do this or not?' And I think Democratic voters will forgive you if you try and later on it turns out a court strikes it down," Bardella said. "But at least you tried in the meantime to keep things in place and head toward the next election. What they won't forgive is if you keep asking them to keep you in power but you don't do anything with it, or at least try to do something with it."
That's a reasonable argument. Part of Bidens' abysmal poll numbers is Democrats frustrated that so little of their agenda has passed. What's the point of voting Democratic if nothing changes? That, again, they simply don't have the votes in a 50-50 Senate with two members of the delegation who simply aren't on board with much of said agenda doesn't matter to the rank and file. They're just tired of losing.
After several more paragraphs amplifying that point, we come to this:
In a letter to colleagues Monday, House Speaker Nancy Pelosi (D-Calif.) outlined specific legislation that leaders are considering in the coming months. They include shielding women from criminal prosecution if they travel out of state to seek an abortion and protecting women's personal data stored in reproductive health apps, in case state lawmakers try to access that information to determine if a woman has gotten an abortion.

Pelosi kept the door open for more provisions upon lawmakers' return to Washington in July, but put the onus on the Senate to eliminate the filibuster and pass legislation codifying Roe v. Wade, which the House passed last year. Sens. Joe Manchin III of West Virginia and Kyrsten Sinema of Arizona have been the Democrats most resistant to eliminating the filibuster, and some Democrats say electing additional senators from states like Pennsylvania and Wisconsin could establish a majority that would enact such a move.
I support those two measures, which strike me as incredibly reasonable. But, again, any legislation that requires ending the filibuster is simply theater at this point.
Which gets us back to where we started:
More than 30 Senate Democrats signed a letter led by Warren and Sen. Patty Murray (D-Wash.) to Biden that called for "bold action," adding "You have the power to fight back and lead a national response to this devastating decision."

Some activists said Democratic leaders' exhortation to vote for them to save abortion rights echoes the refrain activists heard on police reform in the wake of Floyd's killing and on protecting voting rights — two major initiatives that have fallen short despite the narrow Democratic majorities in Washington.

"It's very similar to what happened in 2020: 'Go back to the voting booths.' … It always comes back to 'Now you, the individual, do something,'" said Paris Hatcher, executive director for Black Feminist Future. "But we've elected these people who are in office at this very moment to take action on things like this. It becomes a very passive way to pass the buck when we have elected them to make things happen that center on the well-being of the people."
A related POLITICO report ("Democratic exasperation builds at Biden's slow roll on Roe") adds one more name to the list of the exasperated:
Frustration is building among liberals over what some see as a slow executive response from the president, despite weeks to prepare following POLITICO's publication of a draft majority opinion forecasting the Supreme Court's overturning of Roe v. Wade. White House officials contend that things are more complicated than they seem, but that's doing little to turn down the temperature in the party.

"He made a strong statement the day of. I would have liked to see some more specific actions rolled out," said Rep. Pramila Jayapal (D-Wash.), who leads the Congressional Progressive Caucus. "We all knew this was coming."

Jayapal spent part of Monday in meetings with Biden officials and encouraged them on the sidelines to do more, urging a look at further agency-level moves to protect abortion access — the sort of action that White House aides say is coming soon, albeit without specifics so far.
And a few more suggestions as to what Biden could be doing:
It's not a full Democratic pile-on yet, even as the party's base rages after the conservative-leaning high court stripped a nationwide right to abortion. That's in part because Democrats recognize both that Biden's hands are somewhat tied and that the dynamics in Congress don't allow a robust response. Nonetheless, lawmakers like Jayapal and Sen. Elizabeth Warren (D-Mass.) are pressing the president for a more urgent counterattack.

Among their ideas: covering expenses for federal employees who need to travel to receive abortion services, helping pay for out-of-state abortions, enshrining abortion access for active-duty military and opening up federal lands to abortion counseling and procedures. Some Democrats are even examining whether tribal governments could help provide abortion services.

[…]

Sarah Godlewski, Wisconsin's state treasurer and a Senate candidate, wants Biden to direct Medicaid to pay for out-of-state abortions and cut red tape for abortion medication availability. There are things "the president can be doing to help folks in Wisconsin right now who are no longer able to get access to abortion care," she said. The state's Planned Parenthood clinics temporarily suspended their abortion services.
Again, though, the Hyde Amendment, which remains with us 15 years after the death of its namesake, precludes much of this.
At the heart of the intra-party tension over abortion is a complaint Democratic lawmakers have also offered about the White House's approach to spiking inflation: As a problem emerges and grows, they say, the White House is slow to offer guidance and taking too cautious an approach to Congress.

White House aides protest that Biden simply can't do all that much solely by executive fiat, saying legislation would be needed. The administration has chewed over scores of executive orders, including the potential national public health emergency that Black Democrats have sought. They've also looked at ways the Justice Department could fight efforts to prosecute those crossing state lines to get abortions.

Any such legal support would not fully replace what Friday's ruling took away and would surely face legal obstacles. But some Democrats say no matter what happens in the courts going forward, the White House needs to pursue those options, and more.

"Of course, there will be legal challenges," Warren said. "But the fact that an extremist Supreme Court has taken steps that most of America believed they would never take, doesn't mean that we back down. It means we get into the fight harder than ever."

[…]

For all of Biden's willingness to use his voice since Friday, though, the White House had little concrete ready to roll out when the decision came down. After weekly meetings that drew senior Biden aides, state officials and abortion rights groups, including Planned Parenthood and NARAL, the administration's lack of specific moves over the past 48 hours has surprised some legal experts and allies.

"It's a shocking silence," one outside adviser said roughly an hour after Friday's ruling.
The difference in the standpoint of a sitting President and Congressional backbenchers and outside agitators is considerable. Biden has limited time and is focused on things he can actually accomplish. For him, expending his finite time and energy on fights he can't win is foolish. For them, it's a morale booster.
At the risk of beating a dead horse, I get their frustrations but they simply didn't elect enough Democrats. Partly, that's because, despite being personally unpopular, Trump galvanized massive Republican turnout. It was the opposite of a coattail effect: even though he lost by 8 million votes, he brought enough Republicans out to keep it close in the House and the Senate. Indeed, absent the Big Lie and the attempt to delegitimate the voting, which demoralized the base, Republicans would almost surely have won at least one of the Georgia Senate seats in the January runoff, keeping the Senate majority.
And, of course, the deck is very much stacked against Democrats. The Senate wildly over-represents small states, which are overwhelmingly Republican. That advantage conveys to the Electoral College. And even the House is gerrymandered in a way that slightly advantages Republicans.
Combine that with the filibuster, which allows 41 Senators to block legislation favored by 59, and the balance is even further skewed. Then add in that Republicans are generally happy simply obstructing new legislation whereas Democrats only make progress on their agenda by passing new legislation and the see-saw is basically stuck.
One understands the frustration and recriminations. But there's only so much Biden, Pelosi, and Schumer can do unless Joe Manchin and Krysten Sinema get on board. And that's assuming the Court that struck down Roe doesn't strike down these provisions.