Democrats Losing Hispanic Support
Jane Hamsher makes note of a new Gallup Poll that shows Hispanic voters drifting away from Democrats over the past several months:
According to Gallup, since March, support for Democrats among whites and African-Americans has remained almost unchanged, but among Hispanics support for Congressional Democrats has been imploding. In March, Hispanics supported Democrats by a 33-point margin; that has dropped to only a 13-point margin today.
Here's the chart: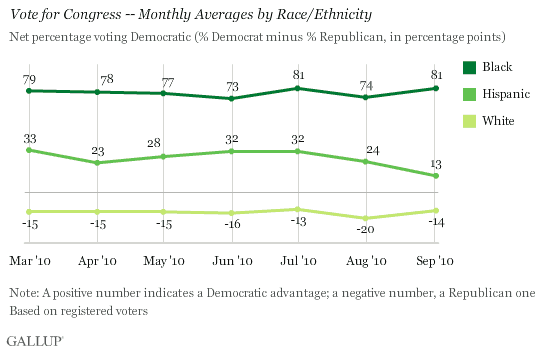 The numbers are somewhat surprising given that the GOP has, over the past year, become associated with a stance on immigration that would seem to be anathema to most Hispanics, but Hamsher argues that it is happening precisely because Democrats have totally failed to address the immigration issue:
I suspect a large amount of the loss of support for Democrats comes from their complete and total failure to deal with immigration reform. Not only did Democrats fail to pass a bill, but they never made any serious attempt. Instead, they did almost the opposite by including offensive and unnecessary anti-immigrant provisions in the new health care law that are clearly directed against Hispanics.

Political observers can argue about the feasibility of being able to pass anything related to immigrant reform over the last two years, and the super-serious beltway insiders all seemed to know nothing was going to happen, but that is clearly not what candidate Obama lead the Hispanic community to believe. Obama unequivocally promised he would pass an immigration reform bill in his first year. The truth turned out to be something quite different. Obama made no effective effort to push for immigration reform. And this broken promise does not sit well with the Hispanic media, which has been vocal in holding the president accountable.

When you promise a group of people-through their top news outlets-something very important to them, and not only fail to deliver on that promise but don't even seem to try, it is going to result in a lot of bad blood.
Of course, that doesn't mean that Hispanics are going to vote Republican, but if they stay home on Election Day they may as well have from a Democratic perspective.