Democrats Losing Young Voters
President Obama was a rock star on college campuses during the 2008 campaign, but that popularity has not necessarily turned into loyalty to the Democratic Party.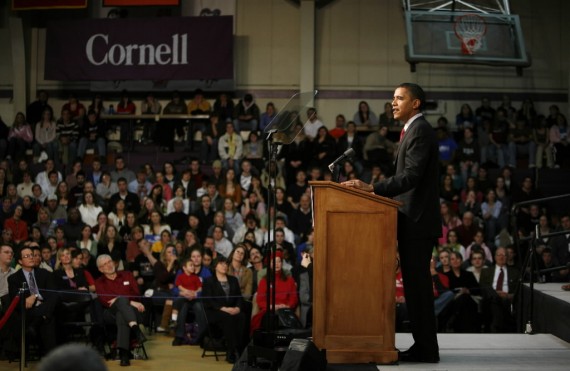 One of the most notable phenomenon to come out of Barack Obama's 2008 campaign for President was the extent to which he captured the attention, passion, and votes of young voters, a demographic that has been known since the passage of the 26th Amendment mostly for being politically disengaged. Many thought it signaled the beginning of a new era that Democrats stood to benefit from, but now it appears that these same young voters have become disillusioned by the party they once flocked to:
FORT COLLINS, Colo. — The college vote is up for grabs this year — to an extent that would have seemed unlikely two years ago, when a generation of young people seemed to swoon over Barack Obama.

Though many students are liberals on social issues, the economic reality of a weak job market has taken a toll on their loyalties: far fewer 18- to 29-year-olds now identify themselves as Democrats compared with 2008.

"Is the recession, which is hitting young people very hard, doing lasting or permanent damage to what looked like a good Democratic advantage with this age group?" asked Scott Keeter, the director of survey research at the Pew Research Center, a nonpartisan group. "The jury is still out."

How and whether millions of college students vote will help determine if Republicans win enough seats to retake the House or Senate, overturning the balance of power on Capitol Hill, and with it, Mr. Obama's agenda. If students tune out and stay home it will also carry a profound message for American society about a generation that seemed so ready, so recently, to grab national politics by the lapels and shake.

All those questions are in play here in Larimer County, about an hour north of Denver, for the more than 25,000 students at Colorado State University.

Larimer, like much of Colorado, was once solidly Republican but went Democratic in the last few elections and is now contested by both sides. It is seen as a signal beacon for an increasingly unpredictable state.

Kristin Johnson, 23, like many other students interviewed here in recent days, said that a vote for Democrats in 2008, however passionate it was, did not a Democrat make. But she bristles just as much at the idea of being called a Republican.

"It's like picking a team when you really don't want to root for either team," said Ms. Johnson, a communication studies major, who said she was undecided about parties and politics going into the general election campaign.
So it's not so much that younger voters like Johnson are becoming Republican, but they are mirroring much of America in the fact that they don't really trust either party that much.
Now, you admittedly cannot draw conclusions about younger voters as a whole based upon a few interviews with a few students at a college in Colorado. However, it's worth noting that we haven't really seen any evidence since November 2008 that the young voters that President Obama excited during his two years on the campaign trail are any more politically engaged or active for other Democrats than they were in the past. Obama-mania is looking to be a far less significant phenomenon than many believed it to be.
H/T: Frum Forum