Democrats On Capitol Hill Starting To Get Very Nervous About Obamacare
Congressional Democrats are not very pleased with the White House right now.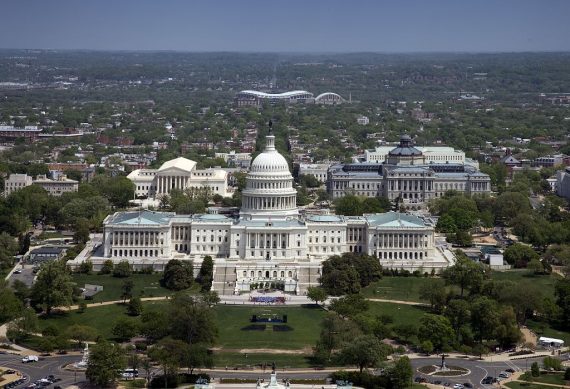 With the ongoing problems with the roll out of the Affordable Care Act threatening to stretch into December notwithstanding promises from the Obama Administration, Democrats on Capitol Hill are starting to get nervous:
Congressional Democrats are quickly losing patience with the White House as the deeply flawed Obamacare rollout drags on.

The broken HealthCare.gov website and President Obama's broken promise that "if you like the plan you have, you can keep it" have sent Democrats searching for ways to distance themselves from the Affordable Care Act.

Senate Democrats are flocking to introduce bills they say would preserve Obama's pledge, and White House officials met with House Democrats on Wednesday in an effort to push them away from supporting a similar Republican measure.

The Democrats' response: If you don't want us to vote for the GOP bill, give us something else to support—before Friday's vote.

That's a tall order for the administration. Obama said last week that he had directed his team to look for a way to address the wave of cancellation notices hitting consumers in the individual insurance market. But no solution has been announced, and policy experts say there aren't any easy options.

The House bill, sponsored by Energy and Commerce Committee Chairman Fred Upton, R-Mich., would allow consumers to keep certain health care plans longer than they can under the Affordable Care Act.

A policy analysis from the liberal Center on Budget and Policy Priorities said the bill would undermine the health care law, not help it. But in the midst of such bad publicity, that concern hasn't resonated with rank-and-file Democrats who feel boxed in by Obama.

"We weren't making grandiose claims. He doesn't have to run again, I don't know why he needs to make such grandiose claims. Some of this stuff is just gratuitous rhetoric," Rep. Jim Moran, D-Va., told BuzzFeed on Wednesday, referring to Obama's promises that Americans could keep their health plans.

In the Senate, Democrats are rushing to put their stamp on the frustration over canceled insurance policies. Sen. Mary Landrieu, D-La., has introduced a more aggressive version of Upton's bill—hers would require insurance companies to keep offering plans, not simply allow them to.

She picked up support from the Left when Sen. Dianne Feinstein, D-Calif., agreed to cosponsor the bill.

Sen. Mark Udall, D-Colo., introduced his own "keep your health care plan" bill on Wednesday—another sign of Democrats' anxiety.

Democrats' openness to the Upton bill in the House and similar measures in the Senate suggest they might be willing to help pass a bill that would substantively delay some of Obamacare's benefit mandates. If they're angry enough to actually push for a vote in the Senate, insurance companies and the White House would face a serious challenge trying to beat back changes they believe would undermine the complex systems of the ACA.
Buzzfeed's Kate Nocera is finding the same frustration:
As the problems with Obamacare seem to grow by the day, anxious House Democrats have reached their tipping point.

Millions of their constituents have received cancellation notices from insurance companies, despite President Barack Obama and Democrats repeatedly promising that "if you like your plan, you can keep it" under the health care law. Meanwhile, the troubled HealthCare.gov continues to be plagued with issues, and the administration is struggling to get it fully functional before the end of the month.

Now, many House Democrats, who just weeks ago were ready to stick by the White House through the troubled rollout, now have no problem making their displeasure with the administration known.

"The frustration is they are setting up deadlines they know they can't meet. They are not going to meet the Nov. 30 deadline, I would bet anything on that. If I had a farm I'd bet the farm on that," said Virginia Rep. Jim Moran.

Moran also faulted the president for promising that Americans could keep their health care plans, arguing that it put Democrats in a difficult spot. He claimed that House Democrats did not make such promises, although many, in fact, did repeatedly before and after the health care law passed.

"We weren't making grandiose claims. He doesn't have to run again, I don't know why he needs to make such grandiose claims. Some of this stuff is just gratuitous rhetoric," he said.

The House is set to vote this week on a bill introduced by Michigan Republican Rep. Fred Upton that would grandfather all current insurance policies even if they don't meet the standards of Obamacare through 2014. Though Democratic leadership and the White House is opposed to the bill, it is expected that a fair number of Democrats will end up supporting it anyway.

"There's overwhelming frustration, and I don't know if I'd call it a rift, but there are a lot of people who feel like they will vote for the Upton bill unless there's some viable alternative offered by the administration, like tomorrow," said Kentucky Rep. John Yarmuth.
It's not surprising that there would be frustration on the Hill from the President's supporters. Just a month ago, the party was riding high the wake of the Republicans bungled and foolish effort to defund Obamacare or delay its implementation to the point where they pushed the Federal Government into a needless Government shutdown that saw their approval numbers sink to new lows. Now, it's as though the situation has reversed itself. Congressional job approval has plummeted to its lowest level ever according to Gallup, and the newest Generic Congressional Ballot shows that the Democrats have lost the lead that they had in the wake of the shutdown. At the other end of Pennsylvania Avenue, President Obama's own job approval numbers have plummeted along with the number of people who say that they find him trustworthy. All of this can be tied into the Obamacare roll out, and the public reaction to the news of tens of thousands of people finding their individual insurance policies canceled at the same time that the online marketplace where they're supposed to be able to go to shop for new insurance rendered largely non-functional for most people. In addition to abysmal enrollment numbers, this has led to a turnaround in the poll numbers heading into the 2014 elections that obviously makes incumbents up for re-election.
As it stands right now, it's unclear whether either the Upton or the Landrieu bills will draw enough support from Democrats to make a big political statement, but the frustration among Democrats is really quite palpable right now. As I write this, there are reports that the President will be announcing some kind of administrative fix to address the issue of people getting kicked off of their policies during a White House appearance this morning. The details are unclear, but this is clearly an obvious attempt to undercut the possibility of large scale Democratic defections in the House or the Senate. Whether such a fix will be sufficient in that regard is, of course, an open question, but at the very least it will be seen as a tacit admission by the White House that the whole "If you like your plan, you can keep your plan" meme that was used to sell the Affordable Care Act was, well, not exactly true. Honestly, that can't help but have more of a negative impact on the President and his fellow Democrats. Whether, and when, that will turn around is unclear, but things are not looking so well for them right now.