Democrats Pick Philadelphia For 2016 Convention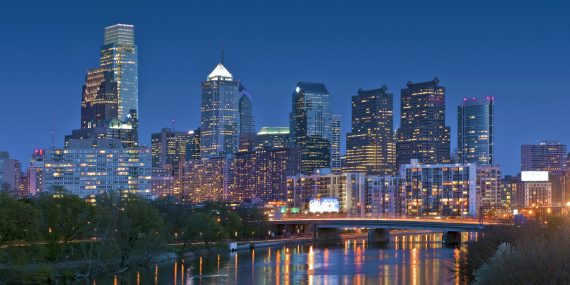 After narrowing the list down to three cities, the Democratic Party has chosen Philadelphia as the site of their nominating convention in 2016:
The 2016 Democratic National Convention will take place in Philadelphia, according to a committee statement.

The convention will take place on July 25. Republicans will host their convention in Cleveland the week before, on July 18-21.

Chairwoman Debbie Wasserman Schultz made the decision.

"I am thrilled to announce that Philadelphia will host the convention where we will nominate the 45th President of the United States," Wasserman Schultz said in a statement.

"In addition to their commitment to a seamless and safe convention, Philadelphia's deep rooted place in American history provides a perfect setting for this special gathering," she added. "I cannot wait to join Democrats across the country to celebrate our shared values, lay out a Democratic vision for the future, and support our nominee."
Philadelphia was one of three finalists, with the other two being New York City, specifically Brooklyn, and Columbus, Ohio. To some extent, I suppose, the selection of Philadelphia is a surprise because most observers seemed to be anticipating that the frontrunners were Columbus, due to the fact that Ohio is likely to be a closely fought over swing state in 2016, or New York due to that city's ties to the Clintons. In the end, though, I'm not sure it makes much sense to try to draw any political conclusions from this choice. It's fairly rare that a party's choice of a convention site ends up having any significant impact on the outcome of an election, and it's unlikely that the Democratic Party's failure to pick Columbus is going to have any real impact on who wins Ohio, especially since the Columbus area is heavily Democratic in any case.
It is somewhat significant that the Democrats have chosen to hold their convention in July. As with the RNC's decision with regard to its own convention, this is a break from the recent trend of holding the convention near the end of August or early September. Among other things, it means that both of the major party nominees will be able to begin spending General Election campaign funds much earlier than in previous years. Unfortunately, though, that likely means that the campaign will start much sooner than it would have otherwise. In the past, the summer before a Presidential election was typically a quiet period during which both party's engaged in limited campaigning. That's unlikely to be the case in today's world of always-on news and constant information exchange on the Internet.
Of course for political reporters this means a week in Cleveland followed by a week in Philadelphia. They may as well follow it up with a visit to Detroit and complete the trifecta.