Democrats Take Stock
Some thoughts on the current state of the Democrats.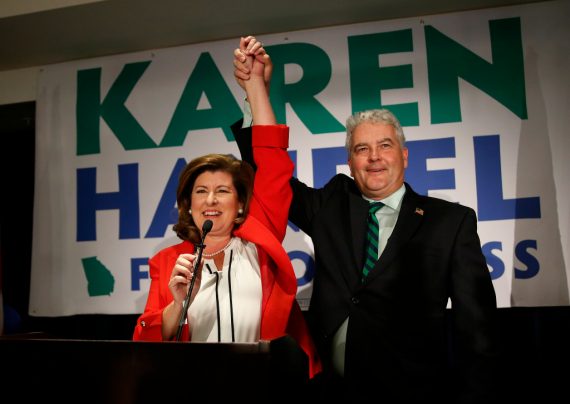 I am stuck by the following headline in the NYT:  Democrats Seethe After Georgia Loss: 'Our Brand Is Worse Than Trump'.
Now, I do think that the party needs to do some self-assessment (something that is difficult for a non-hierarchical party to actually do, by the way, because despite superficial appearances there is no central leadership that can actually direct the whole party).  However, losing a close special election is a district that has been in Republican hands since 1979 (or, even losing four special elections in total in Republicans districts) is not, per se, evidence of what the headline asserts.  It is proof of the enduring importance of partisan identification in predicting these kinds of outcomes and the difficulties associated with flipping such a district.
Further, while it may well be a good idea to replace Nancy Pelosi as minority leader, as the article discusses, the reality is I am not so sure there is good evidence to suggest that in our system that the leader of the party in the House really has all that much influence on district-level election outcomes.  Unlike in parliamentary systems, voters in the US really do not focus very much (to put it mildly) on who the legislative leaders are. Yes, it comes up (each side often likes to demonize the leaders of the other party), but given that congressional elections really are far more about the the district and the candidate than they are about organizing a given caucus, I am doubtful that the main problem for Democrats is who the minority leader is.
Yes, as the story notes, "Ms. Pelosi [is] an intensely unpopular figure on the right and a longstanding target of Republican attack" I am not convinced that replacing her would be enough to get Republican voters to switch to vote Democratic.  Indeed, it is rather likely that whomever the Democrats select as leader would become, pretty quickly, "an intensely unpopular figure on the right" and "a target of Republican attack."  The question is not, ultimately, the popularity of a figure most voters probably cannot identify, but about somehow converting Republican voters into Democratic ones–a transformation that is difficult to achieve in large numbers in a short amount of time.
To be clear:  I do think that that Democratic Party has to hone a message and it needs some new faces.  But, the nature of our political system is that capturing the legislature is a lot less about a coherent set of policy proposal than one might like to think.  First, putting together a truly national campaign for Congress that is based on a shared legislative platform beyond the vague and general almost never happens in the US.  The last time this happened was in 1994 and the Republican Contract with America.  Second, while there is input on campaigns, mostly in the form of money, from Congressional and national party leadership, our campaigns are very much candidate-centric and district-focused.  All of this is a result of parties that at not hierarchical.  There is no ability of centralized party leadership to require and enforce a given message.  This is fundamentally because candidates are not selected by party leaders, but via primaries (the significance of which, as regular readers know, that I think most people do not appreciate).  Further, campaigns are funded primarily by individual fund-raising by candidates and is augmented (sometimes significantly) by outside groups operating independently from the campaigns themselves.  None of these very fundamental issues are conducive to formalizing a centralized, disciplined message for a party.  Rather, it is a recipe for the aforementioned candidate-centric, district-focused types of campaigns. (And, as a side note, a special election can create an illusion of a national election, but ultimately, it is still about the district).
And it simply cannot be ignored that structural conditions (i.e., the partisan make-up of a given district) is a huge issue for determining outcomes.  While it is certainly true that Democrats had a chance in the recent special elections, the reality is that the deck was stacked in each district in favor of Republicans.  This is not to excuse any number of valid criticisms of Democrats, nor is it to make Democrats feel better about the outcomes, it is just about understanding outcomes and assessing generic criticisms.  When we look at elections we often make an assumption that the contest is evenly matched and that whichever team works harder and plays smarter will win.  This is not typically the case, as most districts favor one or the other party.  This is not to say that this is destiny in all election, but it matters substantially (and more than the hype around a given contest tends to acknowledge).
Ultimately for a variety of reasons, including geographical sorting and gerrymandering (more the former than the latter, by the way), Republicans have an edge in House elections (and often in state-level legislative elections as well, which reinforces the gerrymandering issues).
All of this is to say that simplistic assumptions like, as I heard in passing on the news this morning, that Democrats "need to learn how to win" or hoping that a message change or a leadership change will fix everything for the Democrats misses some key institutional issues in the US.: our parties don't work that way, and the structure of the electoral system determines quite a bit of the outcomes.  Democrats "know how to win" in districts that are skewed in their direction (the much-maligned Pelosi won her 2016 election 81-19, so she knows how to win, right?  I am sure it was her message, as coordinated by the party that won the day for her, and the massive percentage of Democratic-identifying voters in CA12 hsd nothing to do with it).