Dennis Rodman Thinks He Deserves A Nobel Peace Prize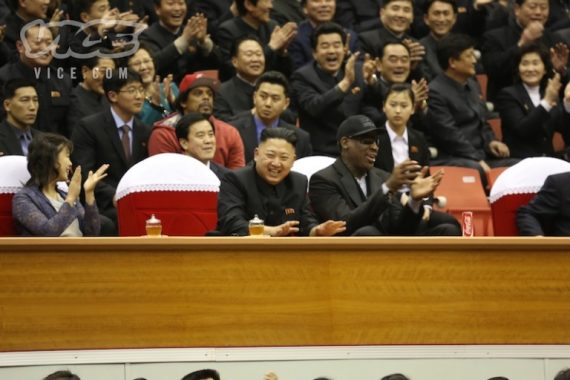 Dennis Rodman thinks he deserves a Nobel Peace Prize:
(CNN) - Former Chicago Bull's basketball player Dennis Rodman thinks he should be in the running for a Nobel Peace Prize following his meeting with North Korean leader Kim Jong Un earlier this year.

In Sports Illustrated's annual "Where Are They Now" issue, the hall of famer applauds Kim Jong Un for what could be called restraint on behalf of the reclusive leader. "Fact is, he hasn't bombed anywhere he's threatened to yet. Not South Korea, not Hawaii, not … whatever," Rodman said.

Rodman has become as well-known, and perhaps as infamous, off the court as he was on it. Nicknamed "the Worm," the eccentric player known for his hair and his outlandish outfits made a highly publicized trip to North Korea in February where he and Kim Jong Un bonded over a shared love of basketball. Afterward, Rodman was quoted as calling Kim Jong Un a "friend for life."

Now, Rodman thinks that fondness for the sport is what should help bridge the gap between the United States and the enigmatic nuclear power.

"All I know is Kim told me he doesn't want to go to war with America. His whole deal is to talk basketball with Obama," Rodman is quoted as saying in Sports Illustrated. "Unfortunately, Obama doesn't want to have anything to do with him. I ask, Mr. President, what's the harm in a simple phone call? This is a new age, man. Come on, Obama, reach out to Kim and be his friend."
Rodman, who may or may not be in full possession of his mental faculties, apparently forgets that in the weeks after his visit to Pyongyang Kim Jong Un, cut off ties and communications with the South, purported to repudiated the 1953 armistise that ended the Korean War, closed the joint factory that the North had been operating with the South, threatened to rain destruction on South Korea, Japan, and the United States, and conducted a third underground nuclear test. Doesn't sound very much like peace to me.
Then again, stranger things have happened.