Deportations Under Trump Down From Deportations Under Obama
Despite his claims, President Trump is actually deporting fewer people than were deported under former President Obama.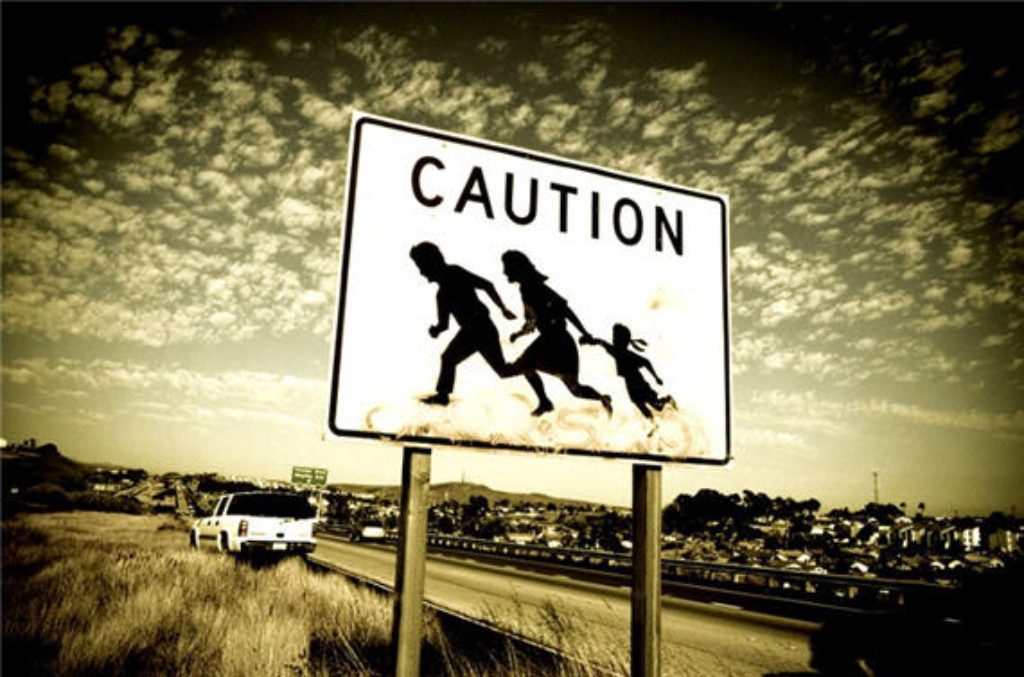 Donald Trump likes to claim that no previous President has been more effective at enforcing America's immigration laws than he has, but Axios notes that deportations of undocumented immigrants under Trump are below those under President Obama:
Immigration and Customs Enforcement has deported more immigrants this fiscal year than any full fiscal year of Donald Trump's presidency, but it has yet to reach Barack Obama's early deportation levels, according to new internal Department of Homeland Security figures obtained by Axios.

Why it matters: With four months left in the fiscal year, it puts Trump's deportations in perspective and shows the reality behind the anti-immigrant pledges that have come to define his presidency.

By the numbers: Under the Obama administration, total ICE deportations were above 385,000 each year in fiscal years 2009-2011, and hit a high of 409,849 in fiscal 2012. The numbers dropped to below 250,000 in fiscal years 2015 and 2016.

Under Trump, ICE deportations fell to 226,119 in fiscal 2017, then ticked up to over 250,000 in fiscal 2018 and hit a Trump administration high of 282,242 this fiscal year (as of June).

ICE and DHS didn't respond to a request for comment.
Here's the chart showing deportation levels over the past several years: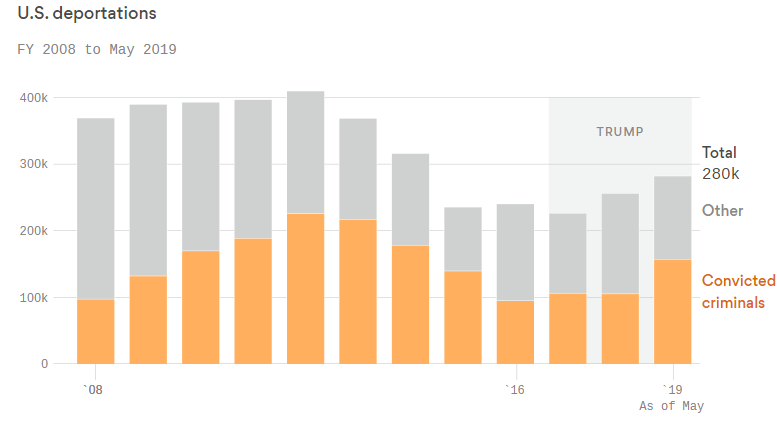 This is significant, of course, because of the importance that the President has placed on his performance in this area, claiming, as I said, that he's been tougher on immigration than any previous President. Additionally, in a tweet prior to his re-election kickoff rally earlier this week, the President claimed that Immigration and Customs Enforcement (ICE) would begin a massive enforcement effort starting next week:
As the Associated Press noted, that's easier said than done:
President Donald Trump could have a tough time making good on his threat to deport millions of people living in the U.S. illegally. But maybe that wasn't his point.

Trump's late-night messages Monday promised that starting next week his administration "will begin the process of removing the millions of illegal aliens who have illicitly found their way into the United States. They will be removed as fast as they come in."

That was a pronouncement likely to excite his political base just as he was formally announcing his reelection bid Tuesday night. It also scared immigrants in the U.S. illegally — and could deter others from coming.

But it came at a cost.

Trump blatantly exposed an upcoming enforcement operation, potentially jeopardizing the kind of sensitive effort that takes months to plan and relies on secrecy. The president's tweets put new, fresh demands on Immigration and Customs Enforcement, the agency in charge of removals, which is already overwhelmed, lacking staff, funding and detention space for its current work. And any massive roundup that includes deportation of families would be sure to spark outrage.

The tweets suggested the start of Trump's reelection campaign is likely to have much in common with his 2016 announcement, when he accused Mexico of sending rapists to the United States and pledged to build a wall and make Mexico pay for it. The rhetoric was widely denounced, yet the tough anti-immigration message struck a nerve with many Americans and ultimately helped carry Trump to victory.

U.S. officials with knowledge of the preparations say the operation wasn't imminent; it was to begin in the coming weeks and be nationwide. But ICE officials were not aware the president would make public sensitive law enforcement plans, and it's unclear whether the operation now will go off as planned.

Enforcement sweeps require months of planning. Officers work from recent addresses and don't have search warrants. Immigrants are not required to open their doors, and increasingly they don't. Officers generally capture about 30% to 40% of targets.

Plus, ICE needs travel paperwork from a home country to deport someone, so immigrants often end up detained at least temporarily waiting for a deportation flight. The adult population of detainees was 53,141 as of June 8, though the agency is only budgeted for 45,000. There were 1,662 in family detention, also at capacity, and one of the family detention centers is currently housing single adults.

Also, publicizing law enforcement operations can jeopardize officer safety and tip off potential deportees.

When Oakland, California, Mayor Libby Schaaf learned of an operation in Northern California and warned the immigrant community, Trump railed against the disclosure. He suggested prosecuting her for obstruction of justice. And the head of ICE at the time, Thomas Homan , said his agency could have arrested more people had she not warned them, calling it an "irresponsible decision."

(…)

Immigrant advocacy groups across the country are already getting terrified phone calls from people worried about raids.

"People are always on edge," said Cesar Espinosa, executive director of the Houston advocacy group FIEL. "This obviously reinforces that fear and in a lot of cases it paralyzes people when they can't continue to live their daily lives."

Between 2009 and 2012, the Obama administration deported 1.6 million immigrants. About 2 million were deported during the eight years of the George W. Bush administration.

An effort to rapidly deport more than a million people is "a fantasy," said John Sandweg, a former ICE head under Obama.

"ICE is always working at 100 percent of its capacity. The president wants to create this illusion that he's let go of the reins that other administrations were holding but that's just not true."
It's likely, of course, that this announcement of massive ICE raids was little more than campaign fodder for Trump's base. Even if it's true, though, the fact remains that we don't have the capacity to do what Trump is talking about here. There aren't enough ICE agents, and there aren't enough immigration judges to handle the necessary pre-deportation hearings. This is, in other words, much ado about nothing.