Dick Winters, Band of Brothers Commander, Dead at 92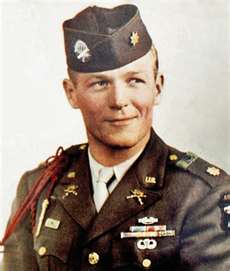 Major Dick Winters, whose World War II exploits with the 2nd of the 506th were made famous by the HBO mini-series "Band of Brothers," has died at 92.
Dick Winters, the former World War II commander whose war story was told in the book and miniseries "Band of Brothers," has died.

Dick Winters led a quiet life on his Fredericksburg farm and in his Hershey home until the book and miniseries "Band of Brothers" threw him into the international spotlight.

Since then, the former World War II commander of Easy Company had received hundreds of requests for interviews and appearances all over the world.

[…]

Winters was always gracious about his new-found celebrity, but never really comfortable with it. He never claimed to be a hero and said that he had nothing to do with the national effort to get him the Medal of Honor, the nation's highest military honor. When people asked him if he was a hero, he liked to answer the way his World War II buddy, Mike Ranney, did. "No," Ranney said. "But I served in a company of heroes." That became the tag line for the miniseries.

In an interview shortly before the miniseries debuted, Winters said the war wasn't about individual heroics. The men were able to do what they did because they became closer than brothers when faced with overwhelming hardships. They weren't out to save the world. They hated the blood, carnage, exhaustion and filth of war. But they were horrified at the thought of letting down their buddies.
That's what has motivated soldiers throughout history.   Was he a hero?  Of course he was.  While he didn't get the Medal of Honor, he was awarded the Distinguished Service Cross, the nation's number two honor.
Winters served a second time during the Korean War, although as a training officer at Fort Dix rather than back in the field of combat.
Oddly, despite his recent fame (the miniseries came out in 2001), it took a week for the news of his passing to circulate.  He died January 2nd.