Did Gingrich Correctly Predict Medicare's Demise?
In 1995, the Speaker predicted Medicare is "going to wither on the vine because we think people are voluntarily going to leave it."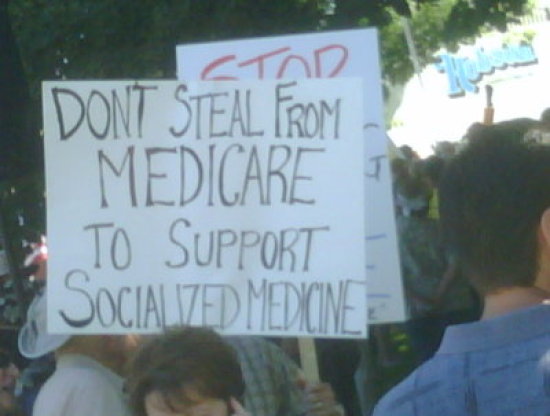 Austin Frakt points us to what he terms "Gingrich's Correct Prediction About Medicare's Future."
On Oct. 24, 1995, Newt Gingrich made an assertion about what would happen to Medicare if its beneficiaries could choose between it and private plans. Medicare is "going to wither on the vine because we think people are voluntarily going to leave it — voluntarily." Though he later walked this statement back, many observers viewed it as an attack on the program.

In fact, over the nearly two decades since, Mr. Gingrich's claim has undergone something of a test — and it has largely passed it.
While I'd forgotten Gingrich's prediction, the assertion that he got it right intrigues me, given that I have been operating under the assumption that Medicare was still operating and covering more people than ever.
In that time, Medicare beneficiaries have enjoyed various levels of access to private alternatives to traditional Medicare through the Medicare Advantage program and its predecessors. These private Medicare plans must provide at least the same level of benefits as traditional Medicare, though may offer more generous benefits voluntarily. They are subsidized by the federal government, often to the degree that many beneficiaries pay no premium even when receiving more benefits than they would from the traditional program.

Federal financial support for these alternative plans has waxed and waned, and enrollment in them with it. When government payments to plans were lower — as they were in the early 2000s — fewer plans participated, and those that did offered relatively less generous benefits; enrollment declined. When government payments to plans were higher — as they were beginning in the mid-2000s — enrollment increased.

Today, 30 percent of Medicare beneficiaries are enrolled in a Medicare Advantage plan, more than at any time in history. In some states, like Hawaii and Minnesota, about half of Medicare beneficiaries are in such plans. This is despite the fact that government payments to plans were cut by the Affordable Care Act. They're down eight percentage points from their peak in 2009, as measured relative to the cost of traditional Medicare coverage. Still, taxpayers pay more to cover a beneficiary in Medicare Advantage than in traditional Medicare.
So, 70 percent of those eligible remain enrolled in Medicare while another 30 percent are enrolled in a private plan the cost of which is heavily subsidized by the taxpayer? On the surface, at least, that doesn't sound like what Gingrich was suggesting nineteen years ago. Looking at the original 1995 story itself doesn't dissuade me from that view:
Now let me talk a little bit about Medicare. Let me start at the vision level so you understand how radically different we are and why it's so hard for the press corps to cover us.

Medicare is the 1964 Blue Cross plan codified into law by Lyndon B. Johnson, and it is about what you'd — I mean, if you all went out in the marketplace tomorrow morning and said, "Hi, I've got a 1964 Blue Cross plan," I'll let you decide how competitive you'd be. But I don't think very.

So what we're trying to do, first of all, is say, O.K., here is a government monopoly plan. We're designing a free-market plan. Now, they're very different models. You know, we tell Boris Yeltsin, "Get rid of centralized command bureaucracies. Go to the marketplace."
O.K., what do you think the Health Care Financing Administration is? It's a centralized command bureaucracy. It's everything we're telling Boris Yeltsin to get rid of. Now, we don't get rid of it in round one because we don't think that that's politically smart, and we don't think that's the right way to go through a transition. But we believe it's going to wither on the vine because we think people are voluntarily going to leave it — voluntarily.
Frakt is a genuine expert in the economics of healthcare and there's no reason to think his analysis here is in anything but good faith. So what am I missing?