Did Obama Use Kids As Political Props?
Some have criticized the President for delivering his gun control speech before a group of children.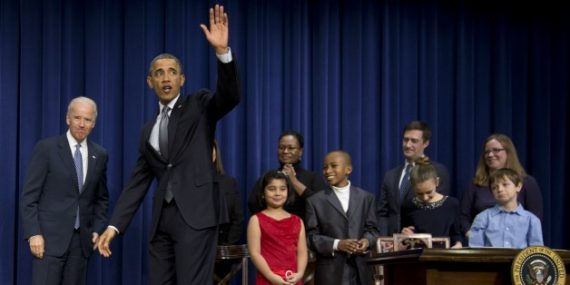 Even before he took to the podium this morning, many people on the right were angry with President Obama. Not simply because of the details of the gun control plan that had started to leak out as early as last night, but because, as announced late yesterday, the President would be speaking to a group that included children who had written him after the Newtown shootings as well as families of victims and survivors from Newtown. Indeed, during his speech today, the President mentioned many of the Newtown victims and survivors who were in the audience by name, and his speech included excerpts from the letters from each of the four children who had joined him on the stage along with Vice-President Biden. The criticism essentially boiled down to the idea that the President was using the children, and the memory of the victims of Newtown, as a political prop to advance his agenda and several people seemed offended at the very idea of including children in political events whatever the issue. However, as National Journal's Matthew Cooper notes, children and politics have long gone together:
For as long as politicians have been kissing babies, they've been using kids for political advantage. So what is the best, right way to use children in a political debate?

That seems particularly salient this week, now that the NRA has released its ad calling the president an "elitist" for having his "kids"—it didn't say daughters—protected by arms while being "skeptical" about armed guards in schools. For his part, Obama invited children to help promote his plan to curb gun violence. On Wednesday the president had four of them join him on stage—representatives of the large numbers of children who wrote the White House following the Newtown massacre. And next week, marchers—many of them young people bused in by school and church groups—opposed to Roe v. Wade will march on Washington to protest the 40-year-old ruling.

Every parent, every person has to decide what you consider untoward and inappropriate. If you put your child in a Reelect Mayor Quimby shirt, that's your business, of course.

(…)

Putting Kids Onstage. It's an honor and the memory of a lifetime to be on stage with the president, as four young Americans were on Wednesday. And their parents surely supported it. So who's to complain—especially since the issue at hand is protecting children from gun violence? It's not like you're putting them out there for tax reform.

Still, it was awkward when the president had them on stage on Wednesday. Somehow, to enlist children—to essentially use them as props, albeit with their parents' consent—to support nearly two dozen executive orders and legislative proposals on gun control seems questionable. It seemed less questionable when the vice president cited one of the Virginia Tech shooting survivors who was in the audience and who still has bullet fragments in him. There, you're at least dealing with an adult.
It's always a delicate situation when any politician utilizes victims of a tragedy to make a political point, more so when you're dealing with children. It's very easy to go overboard and appear to be exploiting a senseless tragedy for political gain, or to be accused of "waiving the bloody shirt." Indeed, the none too subtle message of the President's event today appeared to be if you don't agree with me, you want more children like this to die. Nonetheless, I think most of the criticism of Obama's use of children at his event today was wildly overblown. For one thing, this wasn't the first time that a President has surrounded himself with children to advance a policy initiative. It's something that President's of modern vintage have done quite frequently since the Reagan Administration. Pointing to this event as if it's something new is simply disingenuous. Second of all, it's not like these kids were forced to appear. They were invited by the White House and their parents consented. If it's okay with the parents, then I'm not sure it's my place or anyone else's to say that it's inappropriate. 

There's are plenty of lines involving children in politics that ought not to be crossed. The National Rifle Association crossed that line today with the ad that they released regarding the President's daughters, in my opinion, and I'd say it's generally the case that any time a politician's family members is brought into a race it's usually inappropriate. In this particular case, though, I don't particularly see what the President did wrong, especially since it's something that politicians have been doing for quite a long time now.