Did Police Do Too Little to Stop Charlottesville Violence?
Authorities are being second-guessed over their handling of Saturday's protests. Virginia gun laws are the more obvious problem.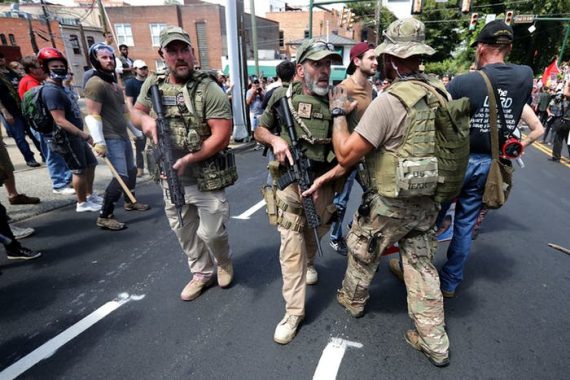 I spent the weekend blissfully disconnected from the news, so while I saw Saturday morning that there was a rally of neo-Nazis and KKK members in Charlottesville, I was only tangentially aware of the mayhem that ensued. Fourteen people were injured when the white supremacists attacked counter-protesters and a woman was killed and nineteen others injured when a neo-Nazi drove his car into a crowd. In addition to criticism of President Donald Trump for blaming "both sides," many are criticizing police and government officials for not doing more to prevent violence.
ProPublica reporter A.C. Thompson delivered a damning first-person account ("Police Stood By As Mayhem Mounted in Charlottesville"):
CHARLOTTESVILLE, Va. — There was nothing haphazard about the violence that erupted today in this bucolic town in Virginia's heartland. At about 10 a.m. today, at one of countless such confrontations, an angry mob of white supremacists formed a battle line across from a group of counter-protesters, many of them older and gray-haired, who had gathered near a church parking lot. On command from their leader, the young men charged and pummeled their ideological foes with abandon. One woman was hurled to the pavement, and the blood from her bruised head was instantly visible.

Standing nearby, an assortment of Virginia State Police troopers and Charlottesville police wearing protective gear watched silently from behind an array of metal barricades — and did nothing.

It was a scene that played out over and over in Charlottesville as law enforcement confronted the largest public gathering of white supremacists in decades. We walked the streets beginning in the early morning hours and repeatedly witnessed instances in which authorities took a largely laissez faire approach, allowing white supremacists and counter-protesters to physically battle.

Officials in Charlottesville had publicly promised to maintain control of the "Unite the Right" rally, which is the latest in a series of chaotic and bloody racist rallies that have roiled this college town, a place deeply proud of its links to Thomas Jefferson and the origins of American Democracy.

But the white supremacists who flooded into the city's Emancipation Park — a statue of Confederate General Robert E. Lee sits in the center of the park — had spent months openly planning for war. The Daily Stormer, a popular neo-Nazi website, encouraged rally attendees to bring shields, pepper spray, and fascist flags and flagpoles. A prominent racist podcast told its listeners to come carrying guns. "Bring whatever you need, that you feel you need for your self defense. Do what you need to do for security of your own person," said Mike "Enoch" Peinovich on The Right Stuff podcast.

And the white supremacists who showed up in Charlottesville did indeed come prepared for violence. Many wore helmets and carried clubs, medieval-looking round wooden shields, and rectangular plexiglass shields, similar to those used by riot police.

Clad in a black, Nazi-style helmet, Matthew Heimbach told ProPublica, "We're defending our heritage." Heimbach, who heads the Traditionalist Workers Party, a self-declared fascist group, said he was willing to die for his cause and would do whatever it took to defend himself. He was surrounded by a brigade of white supremacists, including members of the League of the South and the National Socialist Movement.

By the time Heimbach and his contingent arrived in downtown Charlottesville shortly before 11 a.m., what had started hours earlier with some shoving and a few punches had evolved into a series of wild melees as people attacked one another with fists, feet, and the improvised weapons they'd brought with them to the park. White supremacists and anti-racists began blasting each other with thick orange streams of pepper spray.

The police did little to stop the bloodshed. Several times, a group of assault-rifle-toting militia members from New York State, wearing body armor and desert camo, played a more active role in breaking up fights.

Shortly before noon, authorities shut down the rally and the related demonstrations and marched the white supremacists out of the park and into the streets.
Now, Thompson's report, filed under the category heading "Documenting Hate," makes it clear that he wasn't there as an objective observer. But his account squares with other media reports. Peter Hermann, Joe Heim and Ellie Silverman of the Washington Post ("Police in Charlottesville criticized for slow response to violent demonstrations"):
Police in Charlottesville came under criticism for failing to keep apart warring white nationalists and counterprotesters who battled it out in the city streets Saturday amid what at first seemed an anemic response from authorities.

Anger over how the police responded came from all directions and intensified after the death of a woman struck by a car that plowed into a group of counterprotesters. Experts said police appeared outnumbered, ill-prepared and inexperienced.

"The worst part is that people got hurt, and the police stood by and didn't do a g——- thing," David Copper, 70, of Staunton, Va., said after an initial morning melee at a park that went unchecked by police for several minutes.

Fourteen people were injured in clashes, and 19 others were hurt in the car crash. Later, two Virginia State Police troopers died when their helicopter smashed into trees at the edge of town and burst into flames. The loss of the police officers only compounded the calamity on a day that pushed police, city officials and residents to their limits.

Cable news replayed a seemingly endless loop of the early violence at Emancipation Park, which police in riot gear had surrounded on three sides, although they seemed to watch as groups beat each other with sticks and bludgeoned one another with shields. Many on both sides came dressed for battle, with helmets and chemical irritants.

At one point, police appeared to retreat and then watch the beatings before eventually moving in to end the free-for-all, make arrests and tend to the injured. Gov. Terry McAuliffe (D) declared a state of emergency about 11 a.m. and activated the Virginia National Guard.

"The whole point is to have overwhelming force so that people don't get the idea they can do these kinds of things and get away with it," said Charles H. Ramsey, who headed both the District and Philadelphia police departments.

Demonstrators and counterdemonstrators "need to be in sight and sound of each other, but somebody has to be in between," he said. "That's usually the police."

Complicating the dynamics was the fact that several dozen groups of armed militias — men in full camouflage toting assault-style weapons — were in the middle of the crowds. Some claimed that they were there to keep the peace, although none appeared to try to stop the skirmishes.
Indeed, people from both extremes complained about the police:
Cornel West, the Princeton professor and writer who attended a morning church service at First Baptist Church in Charlottesville with a large group of clergy members, said "the police didn't do anything in terms of protecting the people of the community, the clergy."

West said that "if it hadn't been for the anti-fascists protecting us from the neo-fascists, we would have been crushed like cockroaches."

Richard Spencer, the white nationalist and one of the leaders of the rally, said police failed to protect groups with which he is affiliated. "We came here as a demonstration of our movement," Spencer said. "And we were effectively thrown to the wolves." The police, he said, "did not protect us."
The Guardian's Edward Helmore ("Charlottesville leaders defend police response to rally that turned violent") dutifully reports the side of the authorities:
Government officials in Charlottesville, Virginia have rejected criticism that police failed to act to break up white nationalists and counterprotesters to prevent clashes that injured 14 people. The violence culminated with the death of one woman and an additional 19 individuals hurt when a car plowed into a crowd.

"Law Enforcement did respond to and break up various fights in and around Emancipation Park prior to the unlawful assembly declaration," Al Thomas, Charlottesville's police chief, said in statement on Sunday.

Thomas claimed that "once the unlawful assembly was declared, we gave people sufficient opportunity to disperse. When circumstances warranted, our officers moved back into the park to address those who had not complied."

His comments were backed by Michael Signer, Charlottesville's mayor who rejected claims on CBS's Face the Nation that the police response had been ineffective.

Signer said: "That's totally mistaken … We had the single largest assembly of law enforcement officers since 9/11, almost 1,000 law enforcement personnel," he added. "I regret that that happened. But we had … a very strong security plan in place with a lot of folks, to allow people to express their … views."

[…]

The police department further denied reports that it had failed to act until after Terry McAuliffe, Virginia's governor, declared a state of emergency.

On Sunday speaking on NBC News, McAuliffe commended police for their handling of the situation. "They had to give people an opportunity to clear out the park. Everybody had weapons here, and not a shot was fired."

During a brief press conference the previous evening, McAuliffe had claimed, "This could have been a much worse day. We planned for a long time for today's incidents."
This strikes me as a situation in which hindsight is 20/20. Charlottesville isn't Los Angeles or New York City. A thousand officers seems like a massive mobilization ahead of a demonstration. Clearly, however, they were overwhelmed when the protesters—and, yes, the counter-protesters–showed up themselves heavily armed and in riot gear.
Indeed, my first reaction was incredulity that people are allowed to carry "assault weapons" to protests. Given my long association with the military, many of my friends own rifles, like AR-15s, that fit the description and I think law-abiding citizens who have passed background checks and completed training programs ought to be allowed to own such weapons, fire them at approved ranges, and even use them for hunting and other sporting activities in reasonable locations. But it's just nuts to allow firearms in what could easily escalate to a riot situation.
But, indeed, Virginia law permits doing so in all but a handful of cities:
It shall be unlawful for any person to carry a loaded (a) semi-automatic center-fire rifle or pistol that expels single or multiple projectiles by action of an explosion of a combustible material and is equipped at the time of the offense with a magazine that will hold more than 20 rounds of ammunition or designed by the manufacturer to accommodate a silencer or equipped with a folding stock or (b) shotgun with a magazine that will hold more than seven rounds of the longest ammunition for which it is chambered on or about his person on any public street, road, alley, sidewalk, public right-of-way, or in any public park or any other place of whatever nature that is open to the public in the Cities of Alexandria, Chesapeake, Fairfax, Falls Church, Newport News, Norfolk, Richmond, or Virginia Beach or in the Counties of Arlington, Fairfax, Henrico, Loudoun, or Prince William.
I live in Fairfax County and work in Prince William County and spend a lot of weekend time in the City of Alexandria, so I've never seen people openly carrying an assault rifle. But Charlottesville is in Albemarle County; apparently, it's open season there.
Given that, I tend to side with McAuliffe (of whom I'm generally not a fan) on this one. I'm by no means an expert on law enforcement or crowd control but it strikes me that having police intervene more aggressively in a situation where both sides have come geared up for war would be more likely than not to escalate the probability of gunfire. That's especially true with Charlottesville and Virginia State Police, neither of whom have much experience with this sort of thing.
Ramsey brings a different perspective. His career in law enforcement was in major cities–Chicago, DC, and Philadelphia—with far different sets of challenges, notably major gang activity, and massively more resources. And it's worth noting that his tenure in DC was highly controversial, including being successfully sued on multiple occasions for violations of the Constitutional rights of the citizenry.
There will naturally be multiple investigations of police conduct in this incident and it's quite possible that suggestions for reform will arise from them. But, again, the more obvious issue here is a legal environment that allows well-armed mobs to assemble to begin with. We have long allowed "time, place, and manner" restrictions on the free speech and assembly rights of the 1st Amendment, quite reasonably acknowledging public safety tradeoffs.  Surely, extending the "certain cities" restrictions on openly carrying assault weapons throughout the Commonwealth would not be an egregious infringement of the 2nd Amendment.